UPDATE (5/5): On Tuesday morning, Seneca Mortgage Servicing agreed to a 30-day postponement of the foreclosure to try and work out a permanent solution, according to Hayes' attorney Pam Madere.
Our original story follows below:
DALLAS — The one-time wife of former Dallas Cowboys legend Bob Hayes — nicknamed "Bullet Bob" for his speed and agility on the field — is facing foreclosure and eviction from her longtime home.
Altamease Hayes still has photos and paintings of her husband sprinkled throughout her Red Bird-area home. He died in 2002. She said she never expected to be in a position where she could lose her three-bedroom, 1,700 square foot home.
"The money can go easily. But I always had a job to help out," she said.
Hayes was laid off from Dallas County two years ago, and said bills were already mounting up after closing out the estates and funerals of her parents.
She and her attorneys have been unable to get a clear picture on just how much she owes to a series of mortgage lenders. Her home, built in 1959, was scheduled to be auctioned on Tuesday afternoon.
"It really is a very tough feeling," she said.
Hayes told News 8 she made a $15,000 payment at one point on her mortgage, and has tried to establish a payment plan to work down the remaining balance, but the lenders and their attorneys won't negotiate.
"I can't get a straight answer from anyone," she said.
News 8 reached out to the attorneys representing the mortgage lender, but didn't hear back.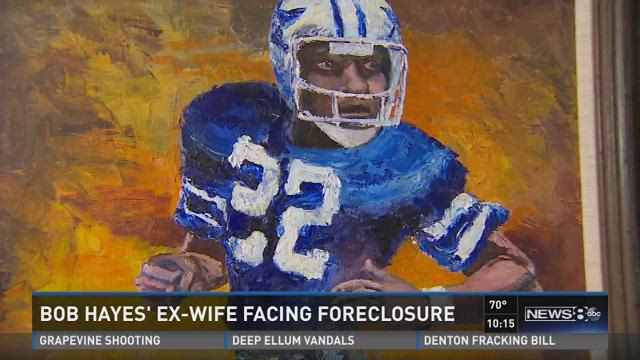 The auction is set for 1 p.m. on Tuesday, according to a sale notice posted by Dallas County. It lists $67,200 as the "original principal amount" of indebtedness.
The county appraised the property at $60,130 for tax purposes.
Hayes has reached out to other Cowboys players from Bob's era, but said there is no firm word yet on if she will get any financial help.
She and her attorneys are seeking a 30-day time period to try and find an answer.
"They were supposed to give me 30 days. Well, they haven't," she said. "I just hope this doesn't happen to anybody else."