A dump truck that drove past railroad crossing arms was struck by a passenger train in far east Fort Worth on Saturday, killing two people in the truck and sending seven people on the train to the hospital, officials said.
The victims were identified as Arnell Tolliver, 49, of Dallas, and Charlene Alexander, 50, of Denton, according to the Tarrant County medical examiner's office.
About 30 other people on the train were treated and released at the scene, MedStar spokesman Matt Zavadsky said.
The crash happened shortly after noon near the 12700 block of Calloway Cemetery Road, near Trinity Boulevard and North Collins Street. The dump truck was driving over the railroad crossing when a westbound Trinity Railway Express (TRE) train was passing through, according to DART.
"In this situation, it's just a very avoidable accident," DART spokesman Morgan Lyons said. "The crossing arms were down...Our trains do not take more than a few seconds to get through an intersection. There is nothing – nothing – on the other side of that intersection that is worth risking your life."
Lyons said TRE trains are authorized to travel up to 79 mph where the crash happened, but it was unclear how fast the train was traveling at impact.
The truck dump truck was badly damaged in the crash and appeared to be burned. The TRE train – which runs from downtown Fort Worth to Dallas and makes several stops along the way – was damaged on its side, where several glass windows on the train were busted.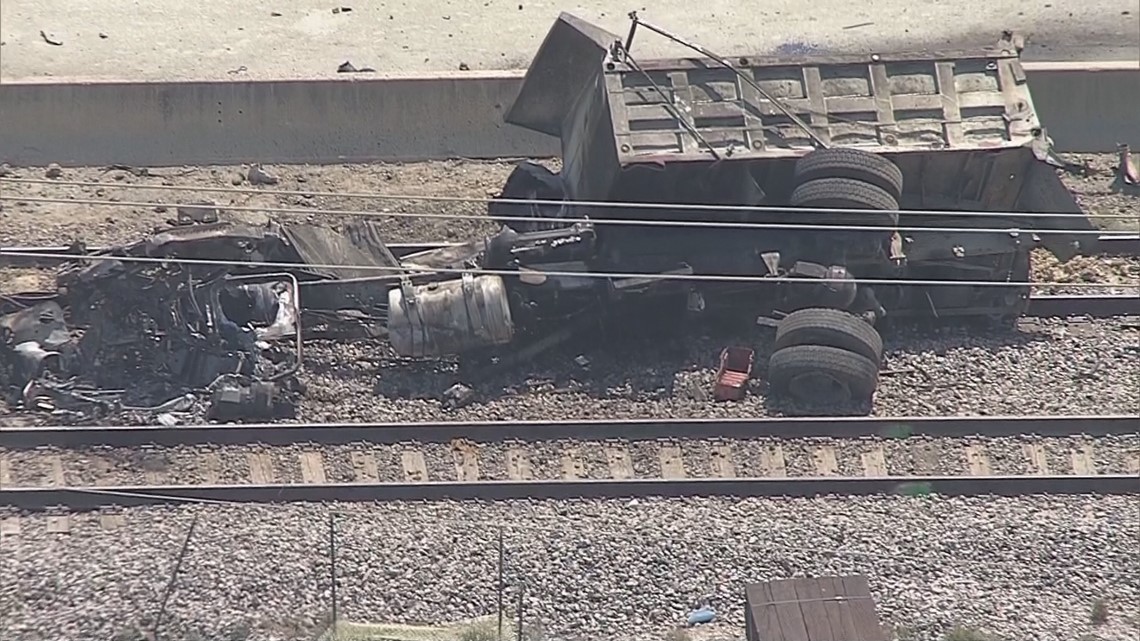 The two people in the truck died at the scene. The seven people on the train who were taken to hospitals suffered non-life threatening injuries, according to DART.
Brandon Haynes, a passenger on the TRE train, said he and his family were sitting on the train when they heard "a loud boom."
"Glass shattered, both sides of the train started shaking," Haynes said. "Out of the corner of my eye, I saw a fireball but it went away."
This is a developing story. Check back for more details. Be sure to download the WFAA app for the latest breaking news across North Texas.