DALLAS — Childhood photos are difficult for him to look back on.
"Only when you personally have gone through something like this do you understand what it looks like to not want to exist anymore," said the 33-year-old man, who asked that WFAA not publish his name.
In a lawsuit he filed last year under the name John Doe, he is suing the Catholic Diocese of Dallas alleging that a priest named Timothy J. Heines, "sexually, emotionally, and physically abused" him.
"Ten years of my life were taken by a man that I thought cared for me and loved me in a church that I thought protected me and wanted to shepherd me as a young Christian," the plaintiff told WFAA.
At age 12, his parents separated, and he said his mother got him involved in a local Catholic parish where he met Father Heines.
The priest soon began taking the young teen to dinner and buying him haircuts and expensive clothes while in high school.
"When we got back to the rectory at nighttime, he would encourage us to try on the clothes in front of him," he said, "and he'd take out a camera and take pictures."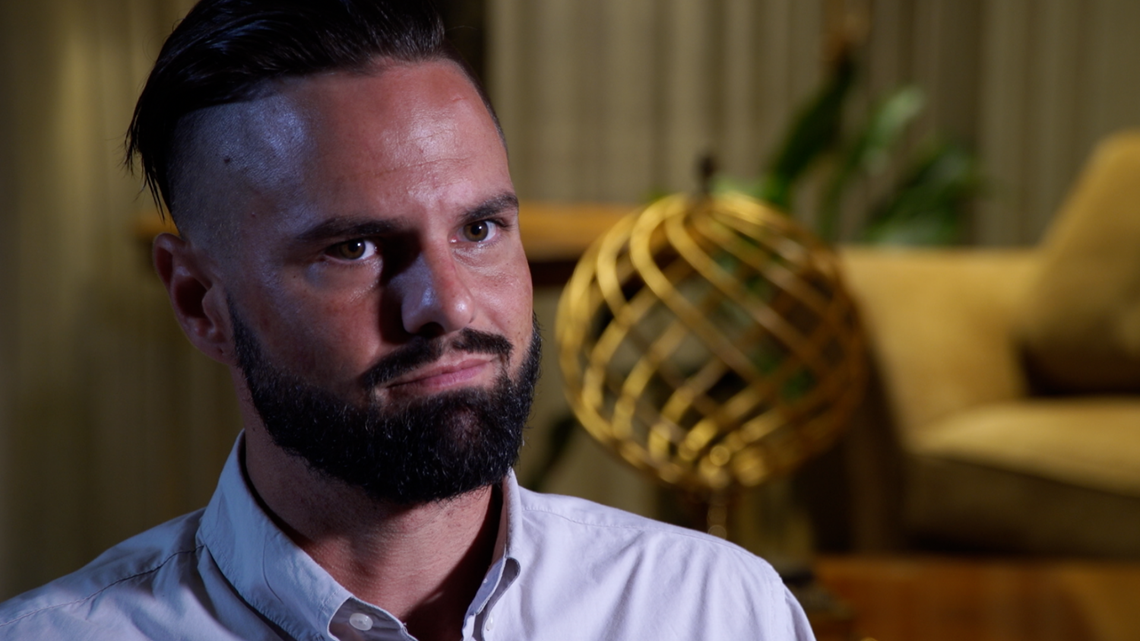 Father Heines also took photographs of him on trips and sporting events and would have him pose shirtless.
The priest eventually compiled a scrapbook titled "about a boy," filled with dozens of images of the teenager, even some in sexually suggestive poses. Others show Father Heines fulfilling a father figure role for the boy.
The alleged victim said he did not comprehend the dark side of the relationship.
According to his lawsuit, "Father Heines regularly performed hot oil massages" on the underage victim in the church rectory and would "often touch John Doe's penis during these massages."
The priest "showed John Doe a pornographic video game and played the pornographic video game in his presence" at the rectory, the lawsuit continued.
But after high school, the victim said, their relationship got more physical.
"After being sexually assaulted in a hotel room, I woke up from being passed out, inebriated, drunk and I pushed him away from me and ran out of the hotel room," he said.
In 2015, this young man decided to tell the Catholic Diocese of Dallas what happened and handed over the scrapbook with the pictures the priest took of him when he was underage.
But the victim said he was surprised and troubled by the response from the Diocese.
"They essentially told me I was a consenting adult," he said, despite the lawsuit's allegations and the scrapbook photos of him underage.
"They didn't really address that," he added.
The Dallas Diocese would not go on camera to discuss the allegations, only releasing a written statement, which said, in part, that it denies the plaintiff's allegations that it "failed to follow its policies and principles in addressing Mr. [John] Doe's claims."
"The Diocese of Dallas is committed to investigating any incident of sexual misconduct," the Dallas Diocese statement said, "cooperating fully with law enforcement and acting in an open and transparent manner to address these issues."
The Diocese also told WFAA that it removed Heines from the ministry and said it has begun the process of asking the Vatican to defrock him.
But the Diocese was reportedly vague with its own parish, only telling worshippers the priest resigned because of a "boundary violation" and an "inappropriate relationship with an adult," the lawsuit said.
WFAA tried to call and email Heines and his possible family members but received no response.
Lacey Turley Most, the plaintiff's attorney, told WFAA she is troubled by the Dallas Diocese's response to the allegations.
"The Diocese has a copy of that scrapbook and has had one since my client came forward in 2015," Most said. "With having that scrapbook, I don't understand why they would describe this as a 'boundary violation' and say my client is a consenting adult."
Turley Most and her family's law firm have handled Dallas Diocese abuse cases in the past.
Her grandfather, Windle Turley, represented young men repeatedly molested by Father Rudolph "Rudy" Kos. In that 1998 case, the jury found the Catholic Diocese engaged in fraud and conspiracy to hide the priest's crimes, and the court ordered the Diocese of Dallas to create a sexual misconduct policy.
Turley Most, however, said the Diocese failed to follow its own rules and submit her client's complaint to its internal review board.
"Bishop [Edward] Burns described the review board as a board made up of lay persons who are responsible for holding the Diocese accountable for keeping a safe environment, so it's a big problem if then-Bishop [Kevin] Farrell made the decision to not report that abuse," Turley Most said.
But attorneys representing the Diocese responded to the plaintiff in court, saying the victim "never once told the Diocese that the Priest had sexually abused him as a minor."
Attorneys further pointed out that the Diocese paid "a significant amount of money to support the Plaintiff and fund his therapy in 2015 and 2016."
But there's no mention that the Diocese ever called police to launch a separate investigation – even after receiving the scrapbook of photos.
"Churches of one kind or another are evading legal responsibility and really missing their Christian responsibility to stand tall and put the blame where the blame is," said Ezio Leite, a licensed counselor for sexual abuse victims in Fort Worth.
Leite is not involved in this case but said the Dallas Diocese failed to assess and address what happened especially after getting a copy of the scrapbook.
"With my knowledge of sex offenders and my knowledge of human sexuality, I know for a fact this is all about setting up this person for a sexual encounter in the future," Leite said.
The plaintiff said he keeps his faith and still sporadically attends church – one that he said re-victimized him after he came forward to help it heal.
The case is set for trial in June.