DALLAS — Campbell Fearing is a musician, the son of a famous Dallas family of restaurateurs, and a 22-year-old considering a career in Christian ministry. But what he's concentrating on now is beating leukemia, perhaps with your help.
"Some women especially tell me they like it," he joked while rubbing his now completely bald head, the result of chemotherapy treatments. "So that's all I need to hear," he said making light of his current appearance.
But what he'd really like to hear, is that there is a cure for the leukemia diagnosis he got just weeks ago. We met in the lobby of the Jackson Building at Texas Health Presbyterian Hospital in Dallas where he is completing his second round of chemotherapy. Once the chemo has done its work, a bone marrow transplant is what Campbell will need next. But no one in his immediate family has proven to be a close enough match.
Still, a brave 22-year-old told me this:
"I'm very, I'm very blessed you know, which sounds funny," he said. "It's very humbling. It's very perspective setting. I've taken to account what matters in my life personally."
"It gives you more compassion for other people in similar circumstances," his mom Lynae Fearing said.
Which is why they are holding a blood stem cell registration drive this Sunday at Lovers Seafood and Market on Lovers Lane in Dallas. A simple and painless swab of the saliva in your mouth puts you on the registry list. And if you are a match for someone, a blood draw is usually all that's needed.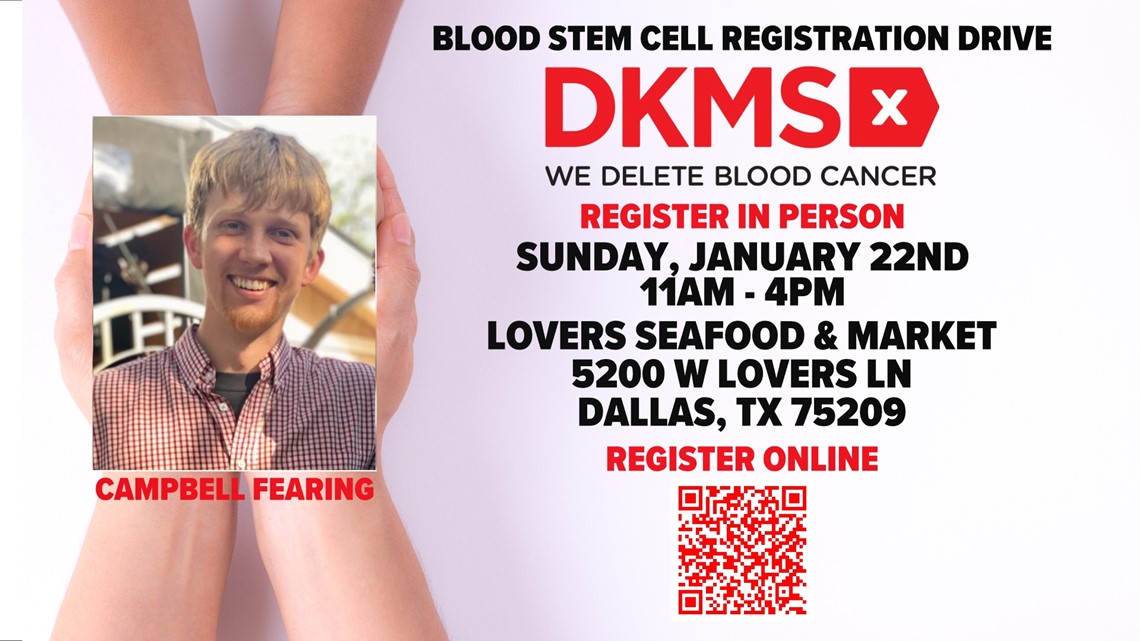 "I know some people are very anxious about getting blood drawn," Campbell said. "But I mean, you're gonna save someone's life, so I think they can power through it, you know what I mean," he said with a laugh.
If not for him, he says, then perhaps for someone else. Different ethnicities often account for more exact matches. Asian and Pacific Islander populations, for example, are not as well represented in the registry as caucasians.
"That's why I just want to kind of bring everyone, you know, of all ethnicities into this, because that actually does play a part in finding a match," Campbell said.
Campbell attends Dallas Baptist University. He hopes to be a youth minister some day. And he says he has thought about the possibility that this leukemia diagnosis is the start of his ministry. The worldwide donor website DKMS.org has his story today on their front page.
"It can be something that adds to my testimony and my ministry," he said.
"It's an amazing way to give back and potentially save a life," Lynae Fearing added.
And they ask you to join them Sunday to help save lives too.