HOUSTON — A flutist played a concert during brain surgery at Memorial Hermann Hospital in Houston Tuesday.
Anna Marie Whitlock Henry, a professional flute player from Lubbock, was undergoing a deep brain stimulation procedure to reduce tremors in her head and hands.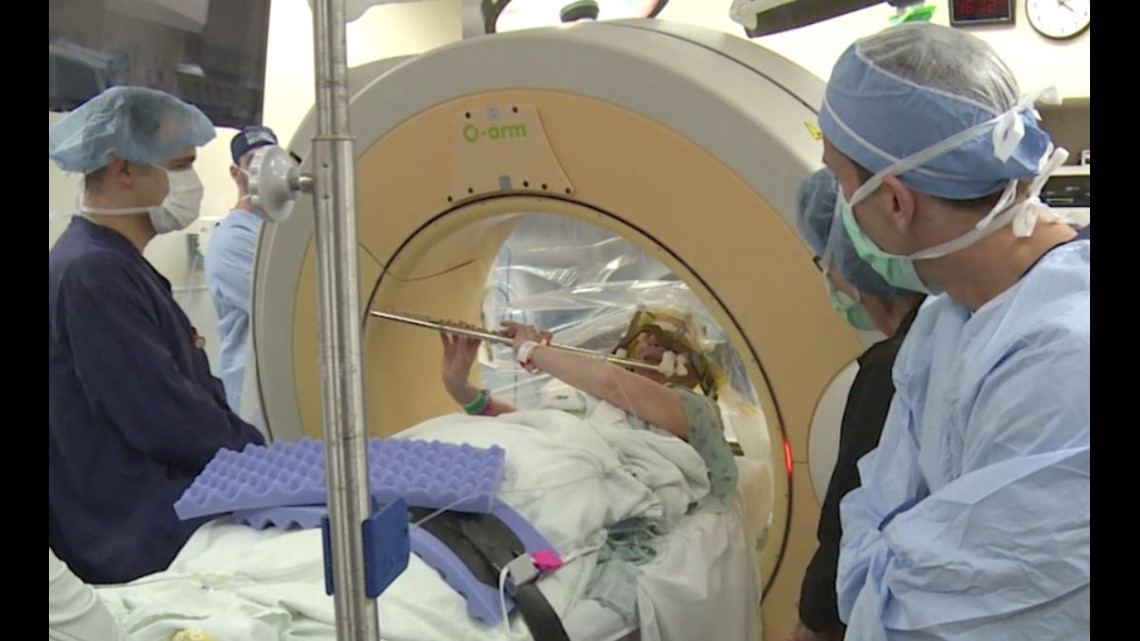 Anna says the condition runs in her family.
She had been dealing with tremors since childhood, but it started impacting her music significantly several years ago.
"I can fight it, but I'm tired of doing it. And it is getting worse. I know it's a matter of either admitting I can't do it anymore, or doing this [surgery] so that I can," Anna said.
During deep brain stimulation procedures, doctors implant electrodes in the brain to try and control tremors.
The patient must be awake during surgery, so doctors can see the effects of the electrodes.
"It is brain surgery, but it's a way we can really improve a patient's life, quality of life, where otherwise they're going to be on medications that may have a modest effect on improving their tremor," said Dr. Albert Fenoy, neurosurgeon with the Mischer Neuroscience Institute at Memorial Hermann and UTHealth.
Ideally, surgeons see an immediate reduction in tremors in the operating room.
"I'm just very grateful there's this opportunity to do something about it that my father never had," said Anna.
Deep brain stimulation is primarily used to reduce symptoms for patients with Parkinson's Disease and tremors. However, the procedure is currently being tested to help people battling depression.