FORT WORTH, Texas — A judge has ordered a Fort Worth hospital to keep a 9-year-old child on life support for 14 more days after the child's family lawyer filed a temporary restraining order Monday.
The parents of Payton Summons said their battle began after their little girl collapsed at home last week during a cardiac arrest.
"I was destroyed," said Tiffany Hofstetter, Payton's mother, on Sunday.​​​​​​ "​I was shattered."
Hofstetter and Payton's father, Joseph Summons, have been agonizing over their daughter's future since she was rushed to Cook Children's Medical Center.
"She was without oxygen to the brain for almost an hour," Payton's father said.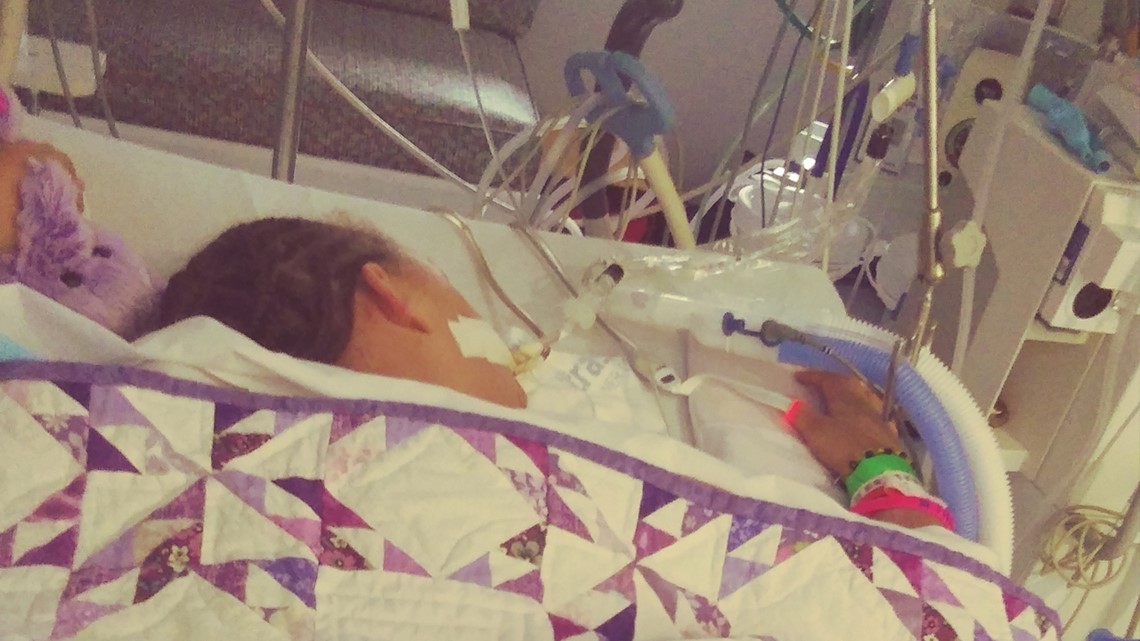 Doctors at the hospital were eventually able to get back a heartbeat, and the girl has been stable and on a ventilator ever since.
"She has a mass behind her heart that is twice the size of her heart," Tiffany said. "They speculate that is what caused her to stop breathing."
The girl's parents desperately want her to remain on life support, at least until they see some additional physical signs she's deteriorating.
"Her heart rate was still great," Tiffany said. "Her organs were functioning. She's still alive. Give her a chance."
But the family said they've been under pressure since shortly after their arrival to take the girl off life support. The lack of oxygen to the brain during that hour had a devastating impact, leaving her with massive brain swelling.
Payton's parents say the hospital stopped treatment for the mass and the brain swelling after a "brain death" test was conducted.
Following a series of meetings Thursday afternoon, the girl was allowed to remain on the ventilator through the weekend as part of an effort by staff and family to find another hospital to take her. That hasn't happened.
"We tried two in Dallas and one in San Antonio," Tiffany said.
Cook Children's issued an updated statement Monday after the judge's order:
Cook Children's will comply with Judge Wilkinson's order to maintain Payton on ventilator support to allow her family time to explore whether she can be transported to another facility. During that time, we will hold off on performing the second brain death examination. The purpose of the second exam is to provide an independent examination to confirm the first test that showed zero brain activity which, under Texas law, means that Payton is considered brain dead.
Our physicians and nurses will continue to administer the best possible care for Payton. In addition, our staff will assist Payton's family and their attorney in their effort to get her transferred to another facility. We respect the effort of Payton's family to do what they believe is best for their child. We experience this kind of parental passion every day and always work alongside the parents.
A GoFund me page has also been set up to help the Summons family, as they face an uncertain 24 hours.
"They're going to do another brain death test, and then they can pull the plug, stop the breathing machine," Joseph said before the judge's order Monday. "We want them to restart treatment."
The family retained attorney Justin Moore, who filed a temporary restraining order on Monday in Tarrant County.
"It is our hope the Courts will grant Joseph and Tiffany an extension in order to find a hospital to place Payton in so she can recover," Moore said in a statement.
Payton already survived cancer when she was a toddler. Her parents said she's strong enough to beat the odds again, no matter how steep.
"I believe a miracle will happen for my daughter," Joseph said.