DALLAS -- Just how exactly wrongful allegations of rape, assault and kidnapping targeting a DPS trooper surfaced publicly last month, remains murky, unclear and essentially bottoms down to who to believe.
Sherita Dixon-Cole, who just three weeks ago was living a quiet existence as a 37-year-old mother of two, now spends most of the hours of the day avoiding her cell phone, social media, and even public places.
The woman became entrenched in a social media firestorm in May after allegations of sexual assault and kidnapping surfaced against a DPS trooper.
In an interview with WFAA, Cole said she never authorized anyone to speak publicly about her DWI traffic stop, and wasn't even aware of the developing outcry-which turned out to be false-until it was far too late.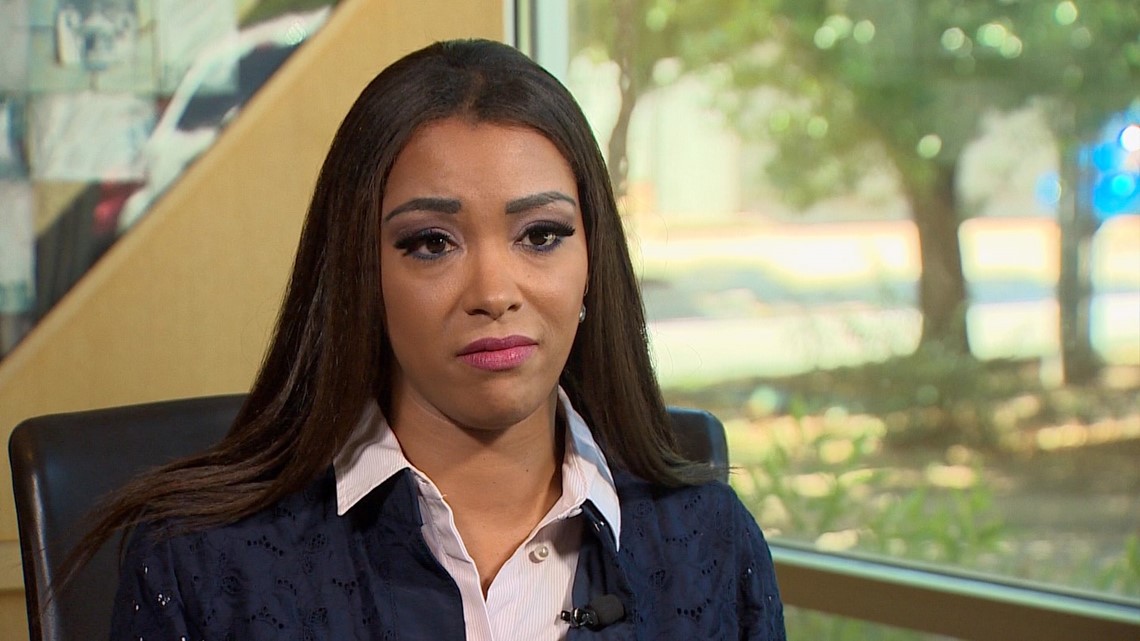 "I can't speak for for why anyone would feel it's okay to release a statement with any type of accusation of anything: kidnap, rape," said Cole.
Cole was pulled over and arrested for DWI early on the Sunday morning of May 20 in Ellis County.
Only hours later, social activist Shaun King posted to social media that Cole had been "raped" and "kidnapped" by the trooper. He cited the information as coming from his longtime friend, local civil right's attorney Lee Merritt.
Cole says she was behind bars when a "narrative" of what supposedly occurred started to develop online.
"Looking back, I was an instrument," she said.
Cole said she only talked to her boyfriend on the phone while in custody.
She wouldn't go into details about what was said during those conversations, but insists she never used words like "rape" or "kidnapping" to describe her ordeal.
DPS body camera footage of the nearly two-hour interaction between Cole and the lawman show no indication of anything improper, but instead a relatively routine arrest and booking into the Ellis County Jail.
"I feel like I definitely have to take accountability of my actions," said Cole.
She is adamant that she never actually hired Lee Merritt as her attorney, and only spoke to him after getting out of jail late Sunday, well after the social media firestorm erupted.
Merritt contends he was authorized to be Cole's attorney, showing WFAA a text message from her then boyfriend saying as much.
He said detailed allegations of the supposed assault, that he also released officially through his law firm the Monday following the arrest, only came after talking to Cole.
"Those are things she told me directly," he said.
Merritt has since publicly apologized for his role in circulating the false allegations. "I was wrong with running with this information I received from the boyfriend," he told WFAA.
The Ellis County District Attorney has opted not to charge Cole, in part because she never actually lodged a false complaint with law enforcement.
The DA's office did say in a statement that while in custody, Cole made "...detailed false claims about the officer."
Detention officers ever made the decision to take her to a local hospital for an exam, one which she refused.
But how the claims became so public, and who was ultimately responsible for fanning the outcry, remains somewhat of a mystery given Cole now insists she didn't give anyone authority to speak on her behalf.
"The story was written as if I provided it, approved it and [then] wrote it. I did not," she said.
Cole has since lost her job as a human resource specialist.
During the interview, she apologized to her friends and family for the worry and concern caused by the public way the incident was handled.
Cole stopped short of directly apologizing to the officer.
Merritt has publicly apologized for his role, and Shaun King posted a length blog post at the time expressing his dismay at what occurred.