FORT WORTH, Texas — The Texas A&M University System is planning to expand its footprint in downtown Fort Worth with a new research campus, along with a new law school building, Texas A&M officials announced Wednesday morning.
Texas A&M has signed a memorandum with Fort Worth and Tarrant County leaders, outlining their plans to move forward with the project.
The plans would still need to get final approval from the Fort Worth City Council and the Tarrant County Court of Commissioners.
The university said it expects to break ground on the first building summer 2022. The rest of the project's timeline, including its completion, is still in the works. The project is estimated to cost between $250 to $300 million, according to a university spokesperson. Texas A&M chancellor John Sharp called the development "a Texas-sized commitment to Fort Worth."
"Welcome to Aggieland North," Sharp said. "From here, we're gonna train the workforce of tomorrow."
The project would be built in phases, beginning with the Texas A&M System Research and Innovation Center. An Education Alliance Building - which would host conferences and courses from the Texas A&M School of Law, Tarleton State University, Texas A&M and the Texas A&M Health Science Center - is also in the plans.
And the plans include a new law school building at 1515 Commerce Street. Texas A&M acquired its downtown Fort Worth law school from Texas Wesleyan in 2013.
Fort Worth Now Co-Chairman John Goff said the project is a game-changer.
"This will be the cornerstone of Fort Worth's financial future," Goff said.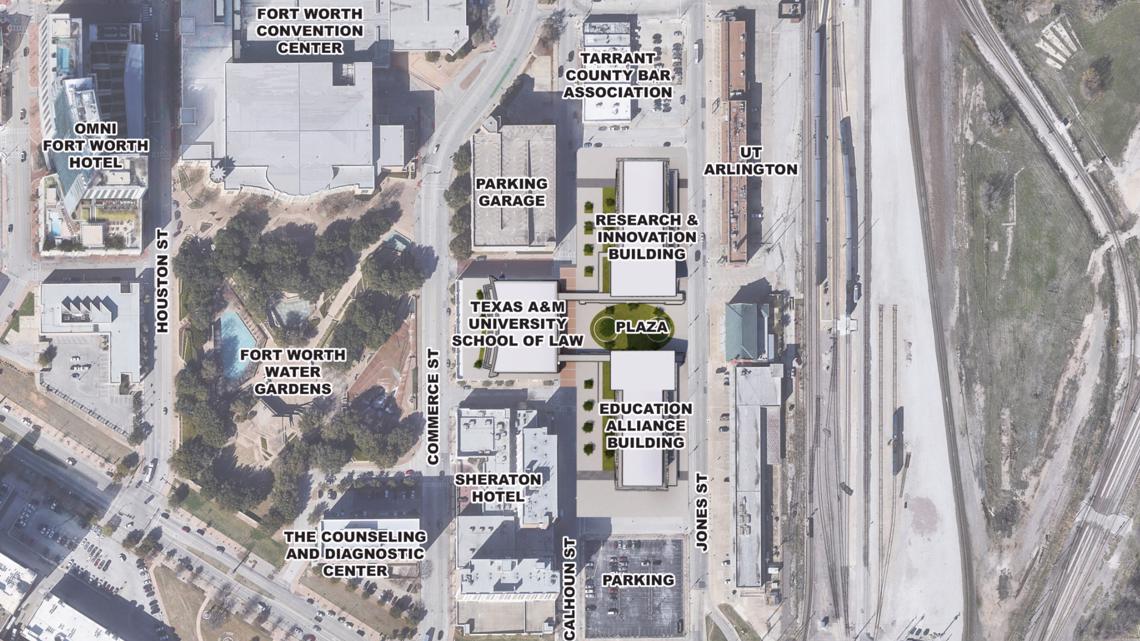 The Texas A&M release Wednesday said Fort Worth leaders "are looking for help from a top research university to strengthen the area's industrial and employment base," citing statistics that show that nearly half of Tarrant County adults don't have a college degree.
The new research center would be home to several career initiatives in fields such as emergency response communication, medical technologies, manufacturing, nutrition and biotechnology, according to the release.
Fort Worth Mayor Mattie Parker said the project will revitalize the area, create jobs, and spur business growth.
"You have to have an anchor, and we didn't have that before. This is the impetus to make all of that happen, and truly it will transform Fort Worth and downtown," Parker said.
It's a project former Fort Worth Mayor Betsy Price helped bring to fruition.
"This is about the long view for our community. This is about looking over the horizon," Price said.
Texas A&M has a full list of possible offerings at the new Fort Worth campus here.
Within the plans, Tarleton State, which recently opened a campus in southwest Fort Worth near the Chisholm Trail Parkway, would move its health courses to the downtown campus to be closer to students' hospital and clinical assignments.