Most of the weekend will be rain-free, but not completely rain-free.
During the daytime hours Saturday, mostly to partly sunny skies will around along with gusty winds from the south. Highs today will be in the 70s and winds from the south will be around 15 to 20 mph with gusts of 30 mph possible. Daytime plans will be just fine with besides having to deal with gusty winds.
By this evening, a cold front will start to move through North Texas from west to east. Scattered showers and storms are possible along that front. First in western North Texas (7 p.m.-8 p.m.). Then across the middle of North Texas including the DFW area (8 p.m.-11 p.m.). Then eastern North Texas (10 p.m.-2 a.m.).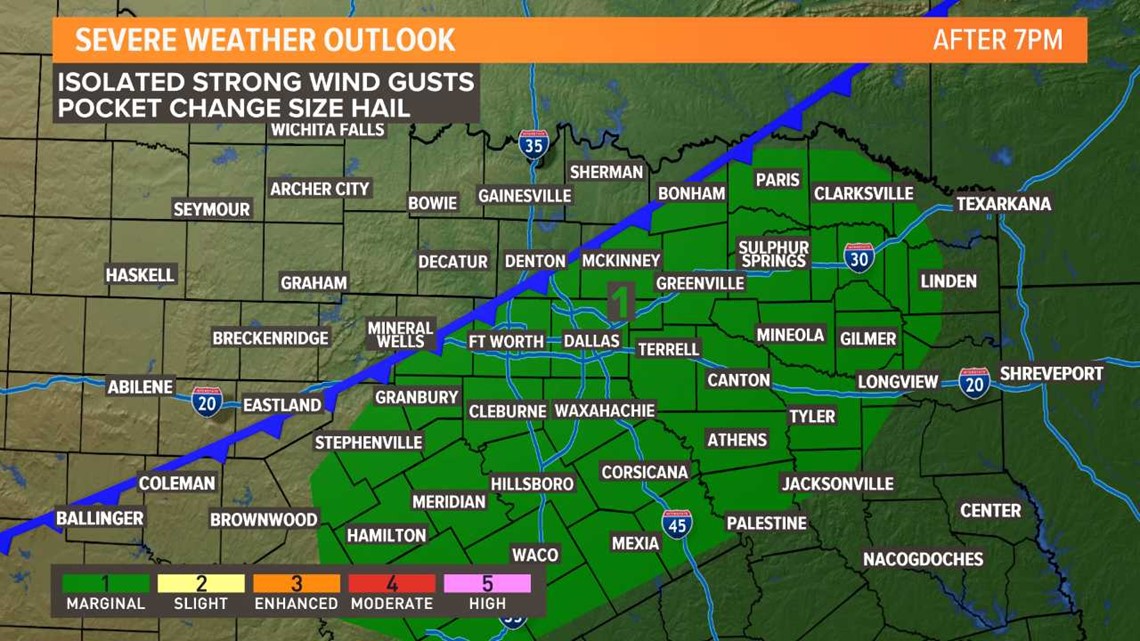 Those with late evening plans may have to dodge showers or storms, so keeping the umbrella at the ready is a good idea. Along with knowing where you would go if your plans include outdoor activities.
Coverage of rain looks highest from DFW to the east tonight. Activity will be more scattered for western North Texas this evening.
Some storms could be strong to severe with isolated strong winds gusts and hail possible, but the overall severe threat is quite low.
Band of showers and storms will quickly move east through the nighttime hours with everything gone from North Texas by sunrise Sunday morning.
Because of the passing cold front, it will be cooler tomorrow, but still a pleasant fall day. Highs on Sunday will be in the 60s with skies becoming mostly sunny into the afternoon.