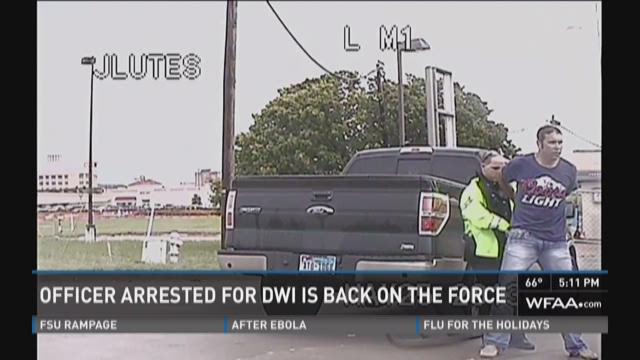 DALLAS -- Sr. Cpl. Adam Conway was searched, cuffed and then tested for alcohol after he crashed into the back of a car causing a 3 car accident.
A witness told police he was rear-ended by Conway.
There is dash camera footage of his arrest. In the background, you can faintly hear Conway slurring his words as he speaks.
Officers on the scene say his eyes were also bloodshot.
"You will be asked to give specimen of your breath and or blood," an officer said in the video.
The 15-year Dallas police veteran is seen wearing a Coors Light t-shirt. Witnesses say he, "smelled like alcohol and it was difficult to understand his speech."
Conway, who was a motorcycle officer, told Rockwall officers he had escorted the body of fallen firefighter Stanley Wilson earlier that day at his funeral.
He said he then went to a bar with other officers for a few beers.
At the crash scene, he refused to take a breathalyzer test. Rockwall officers had to draw his blood and test it.
It came back as a .18, more than twice the legal limit. He told internal affairs investigators the test was wrong.
"That is what it came back as and I still maintain as does my attorney maintain that's inaccurate. That is not true," Conway said, insisting the test was not done properly. "It's the way it was drawn. I don't want to speak out of turn, but there are inconsistencies with the way it was drawn."
The Rockwall County D.A. acknowledged there was a procedural error with the blood test and ended up dropping the case.
Dallas Police Chief David Brown had fired Conway, but Conway appealed and this week a civil service board gave Conway his job back with full back pay.