ROCKWALL — Kim Williams, the wife of convicted killer Eric Williams, took the stand on Tuesday, pointing the finger at him as the triggerman and admitting that she had been his willing helper in the 2013 assassinations of Kaufman County District Attorney Mike McLelland, his wife, and a top assistant.
Jurors listened with rapt attention as she calmly walked through the guilty footsteps of her husband. She offered a step-by-step accounting of how the one-time police officer developed his murderous plot and how he carried out the killings.
Kim Williams explained how they celebrated after the killings, and how Eric Williams had planned to kill two others — including his former boss and the current Kaufman County district attorney.
She detailed his prior threats and violence:
how he once pulled a gun on a couple in parking lot
how he killed cats because he didn't like them
how he had threatened at times to kill her... and himself
Kim Williams told jurors she had made no plea deal with prosecutors, and simply had decided it was time to tell the truth.
"Those families deserve this," she said. "They've suffered a terrible, terrible loss, and they deserve this."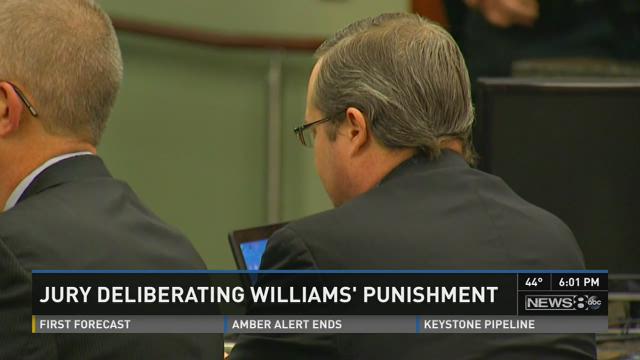 Her testimony was clearly aimed at convincing jurors that Eric Williams remains a very dangerous man and should be sentenced to death.
Eric Williams has already been convicted of capital murder in the deaths of Mike McLelland and his wife Cynthia. The jury deliberated for more than two-and-a-half hours Tuesday afternoon before being sequestered for the night. They returned at 8:45 a.m. and gave their verdict of death.
All 12 jurors had to agree for the death sentence to be imposed.
KIM WILLIAMS TELLS HER STORY
When she took the stand, Kim Williams was wearing a striped jail jumpsuit. She spoke calmly and matter-of-factly.
She described how she became addicted to prescription pain killers during their marriage after being diagnosed with cancer. She told how their once-happy marriage soured — in part — over his having an affair.
Kim Williams told jurors what happened when her husband, then a newly-elected justice of the peace, was accused of stealing county computer monitors in 2011.
"He called on my cell phone and told me he had been arrested," she testified. "He told me to be quiet and listen to him. He said, 'The big computer monitor that's on the bar? Get it and put it in the cardboard box that's lying next to the bar.'"
She said her husband instructed her to take the monitor to her parents' home. She said he later gave it to a fellow member of the Texas National Guard. Kim Williams said he believed she was often in a drug-induced stupor, rarely saw other people, and believed everything Eric Williams told her — including when he told her that he didn't steal the monitors.
DECIDING WHO TO KILL
After his March 2012 theft conviction, she said he began drinking and became angrier and angrier. He soon began talking of killing those who had crossed him.
Kim Williams said her husband initially talked of killing his former boss, retired state District Judge Glen Ashworth, because he had told prosecutor Mark Hasse and District Attorney Mike McLelland about a gun-related incident that had been used against him in his theft trial.
She didn't take his threats seriously at first — until he made napalm and put it in pickle jars, and bought bolt cutters and a crossbow, she said.
"He was going to wait for him and shoot him with the crossbow, blow out his stomach with the napalm," Kim Williams testified. "He had thought about kidnapping him and bringing him back to the house and putting him in the freezer."
HASSE SELECTED AS FIRST TARGET
But she said her husband decided that he would kill prosecutor Mark Hasse first. Eric Williams called it his "Tombstone" plan — named after a Western movie depicting the shootout at the O.K. Corral, she said. He wanted to cause shock and terror.
On January 31, 2013, the day Hasse was killed, the Williamses got up early.
They drove to an auto parts store where they had secretly stashed a getaway car that Eric Williams purchased a few days before the killings. He donned a black Halloween mask, a black nylon jacket and bulletproof vest, she said. She drove the car to downtown Kaufman.
"He was excited," Kim Williams said. "He was just happy... excited happy... nervous."
They parked, lying in wait for Hasse to park in his "usual spot" in a county lot near the courthouse. She said her husband got out and approached Hasse. She did not see the rest.
"I couldn't watch him kill someone," Kim Williams said.
Afterward, they drove to a Seagoville storage unit, where he wiped down the car for fingerprints and changed clothes. She described the mood in the car on the way back home as "happy, quiet, satisfied."
"I asked him if Mark said anything and he told me Mark said, 'No, No, please no,'" she said.
TAKING OUT THE DISTRICT ATTORNEY
Later that night, they watched the news conference where District Attorney Mike McLelland pledged that the killer would be caught. Kim Williams said her husband shook his head, smiled, and appeared cocky.
Eric Williams then began formulating his plan to kill McLelland — the other man that he blamed most for his downfall, she said.
"He was happy," she said. "He had already killed one person and he was ready to kill Mike McLelland."
Eric Williams initially considered killing McLelland in a similar fashion as Hasse, but decided against it because of the increased law enforcement presence. Kim Williams said her husband decided that he would kill the district attorney in his Forney home on Easter weekend because he didn't think he'd have law enforcement protection.
They drove by the McLelland home to check it out before the killings, she said.
His plan was to impersonate a police officer, figuring that Cynthia McLelland would answer the door. He planned to tell her that there was a gunman in the area so he could enter the house, Kim Williams told jurors.
IMPERSONATING A POLICE OFFICER
On the morning of the killings, Eric Williams donned his uniform — complete with helmet and a bulletproof vest with a sheriff's patch on the front. They drove to the McLelland home and he went to the front door, she testified.
Kim Williams said she heard the gunshots. Law officers would later recover 20 shell casings from the McLelland home. Mike McLelland had 16 gunshot wounds; Cynthia McLelland had eight.
"He told me that he had to shoot her an extra time because she was still moaning." Kim Williams told jurors Cynthia McLelland had to die because she was a witness.
"He described it as collateral damage," Kim Williams testified.
Members of the McLelland family sobbed and cried as they listened to her description of how the couple died.
Kim and Eric Williams ate steaks to celebrate that evening; they drove to Lake Tawakoni that night to dump evidence, she said.
Divers later recovered the Hasse murder weapon, a gun belonging to Kim Williams, and the mask used in the killing of Hasse.
Kim Williams described her husband's arrogance after the killings, and how he gave TV interviews in which he denied guilt and offered condolences to the victims' families.
"He said that he was going to do it to mess with them," she said. "He liked showing off his Segway. He acted like nothing had happened."
Kim Williams told jurors her husband wasn't finished with his hit list. He began making preparations to kill the others who he felt had crossed him, including former state District Judge Glen Ashworth and newly sworn-in District Attorney Erleigh Wiley, who had angered him several years ago.
DEATH PENALTY OR LIFE IN PRISON?
In their closing statements, defense attorneys asked jurors to sentence Williams to life in prison without parole, saying that the prison system could keep him from being a danger to anyone ever again.
They argued that all life is sacred — "even the life of a convicted capital murderer." Defense attorneys said Kim Williams was not to be believed because she was an accused accomplice.
"You can be merciful, and we will ask you to do that," said John Wright, one of the lawyers making the appeal on behalf of Eric Williams.
But prosecutors argued that Williams remains a very dangerous man, one who remorselessly carried out the killing of three people. Lead special prosecutor Bill Wirskye told jurors that Williams will remain a danger as long as he lives.
"He will always be a danger to people that cross him, to people that stand up to him like Mike McLelland or Mark Hasse," Wirskye said. "He will always be a danger to people he feels have slighted him, real or perceived."