PONDER, Texas – A man walked into a home Wednesday morning and shot his three children, his ex-wife and her boyfriend before turning the gun on himself, according to the Denton County Sheriff's Office.
The only survivor is the man's ex-wife, Amanda Simpson. She took to Facebook Live from her hospital bed to express her grief at the loss of her three children and boyfriend.
"I have to start funeral arrangements and don't know where to begin with that," said Simpson in an emotional post. "I see my babies. I see them dead."
Late Wednesday night, the Tarrant County Medical Examiner identified the two men involved as Justin Painter and Seth Richardson.
The children have been identified as 8-year-old Odin, 6-year-old Caydence and 4-year-old Drake, each found shot multiple times in their mother's Ponder living room. The older two children went to Keller ISD's Parkview Elementary School in Fort Worth.
Painter and Simpson divorced last year, according to court documents. According to court documents, the kids primarily lived with their father. Court records show Painter asked for a temporary restraining order against Simpson during the divorce, but in the end, she shared custody of the kids.
"I made it very clear to the judge he was mentally unstable, and they didn't listen, so now I don't have my babies," Simpson said in one of the Facebook Live broadcasts.
Richardson is originally from South Carolina and was dating Simpson. He had just driven 16 hours from South Carolina to Texas the very day before he was killed, his family said Thursday.
"My brother left wanting to start a new life and when he got there and fell asleep, that's exactly what he got," said his sister Ashleigh Stevens. "God Bless him, he never saw it coming."
"I will miss him forever," she said.
While the kids were found shot in the living room, both Painter and Richardson were found in the bedroom. Richardson was shot in the left side of his face. His family says he was shot while he was sleeping.
Simpson now faces surgery to remove the bullet from her shoulder-- and faces a life without her children or boyfriend.
"They were my everything, my purpose to breathe," she said.
In her Facebook post, Simpson said she had been shot and was likely facing more surgeries. She tightly held a picture of her three children.
Authorities were called to a home at 610 Lonestar Park Lane about 8:30 a.m. for a call about a self-inflicted gunshot wound.
Denton County investigators were still working to piece together what caused Painter to open fire as they cleared the scene Wednesday evening.
A candlelight vigil attended by roughly 50 neighbors and friends was held in the Remington Park subdivision.
Photos: Ponder death investigation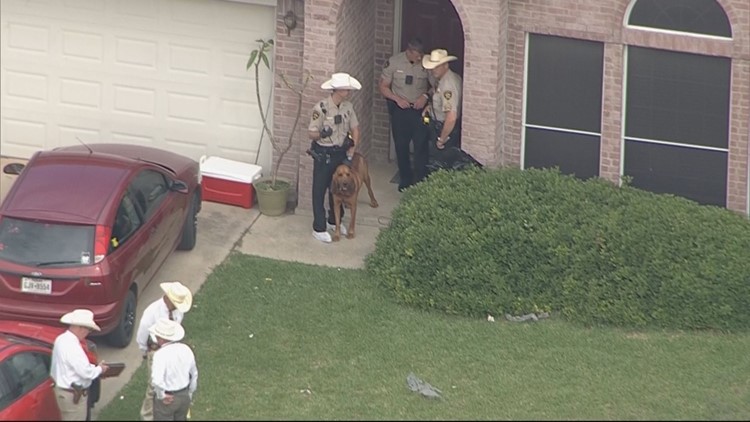 The Ponder Independent School District said it was placed on "heightened alert," but the area was later determined to be secure.
Superintendent Bruce Yeager said in a statement that the address where the shooting took place doesn't come up in the district's system as belonging to any students or staff members.
Funeral arrangements for those killed are still being planned.