DALLAS — It is more blessed to give than to receive. That's what a Bible verse says. And watching the smiles of a now healthy 8-year-old boy, that's what a recent bone marrow donor will gladly tell you too.
"I felt like the earth underneath my legs was pulled out and like I didn't know what to do," said Anitha Nagilla of Frisco of the 2017 chronic myeloid leukemia diagnosis for her then 6-year-old son Akshaj.
After chemotherapy and other treatments, he would need a bone marrow transplant to regenerate his immune system. But no one in his family, including his older sister, was a close enough match. Also, the likelihood of someone with Asian Indian heritage having a matched, available donor is only 41%.
The Nagilla family moved to north Texas from southern India 13 years ago.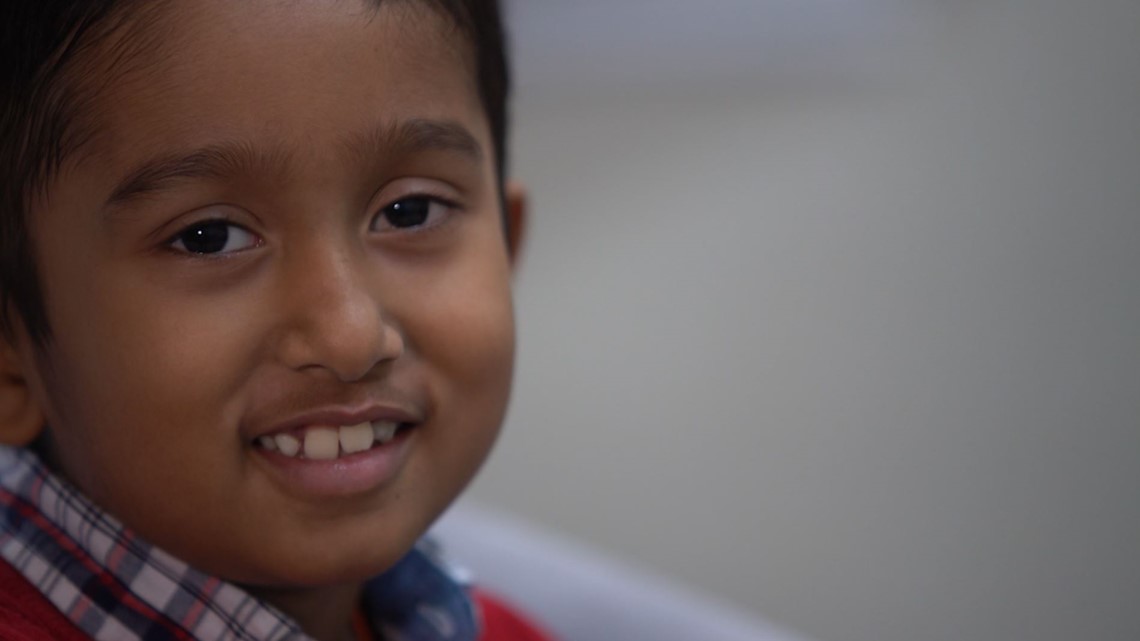 Every three minutes, someone is diagnosed with a blood cancer, like leukemia or lymphoma. For many patients, finding a bone marrow donor who is a match is their only chance for a cure. Finding a match can happen anywhere in the world at any time.
In nearby Colleyville, another immigrant, unknowingly, was about to help save the Akshaj's life.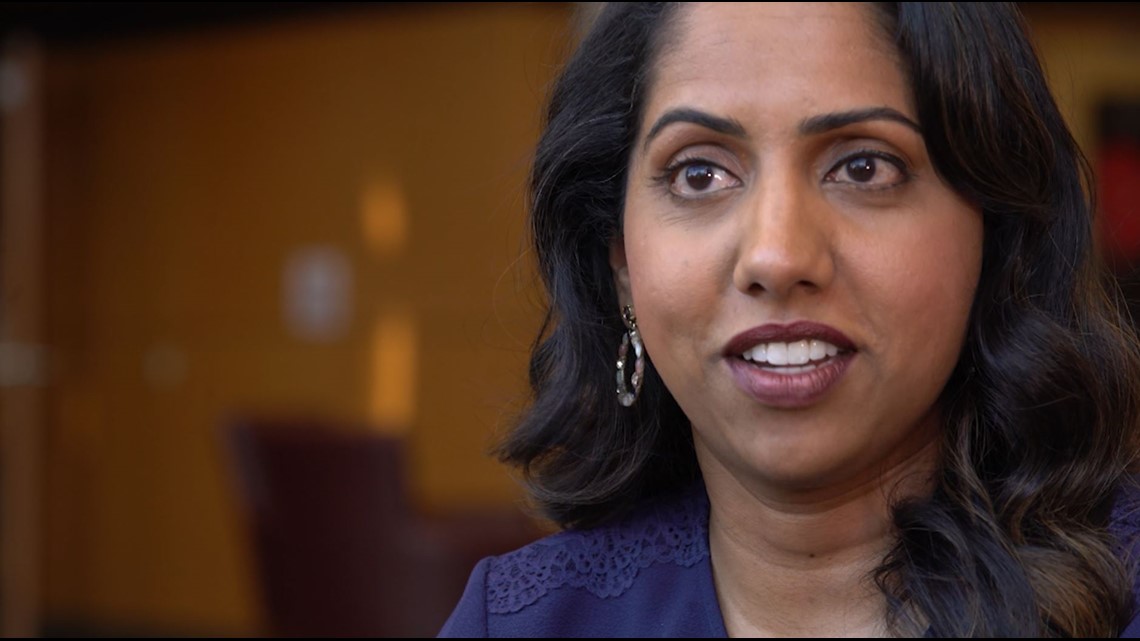 "Typical immigration story. Parents moved for a better life for their children and for themselves," said Dr. Prasanthi Ganesa, an oncologist who works at the Center for Cancer and Blood disorders in Fort Worth.
Dr. Ganesa moved to the U.S. as a 10-year-old child, also from southern India. She now works with adult cancer patients.
But as a medical student at Texas A&M, she and a group of friends decided to join the national Bone Marrow Registry. The donation of blood, stem cells, and bone marrow can help people recover from a variety of cancer-related illnesses.
"At that time it was pretty simple," Dr. Ganesa said of joining the registry approximately 17 years ago. "You fill out some paperwork. It's a (saliva) swab and they have my information. So I've been on it, really not thinking about it, until I got the call. It was a surprise. It was a delightful surprise."
The surprise was that she was a match for a young boy, the same age as her own youngest child. After an outpatient procedure where marrow was extracted from a location on each hip, she went home, then back to work, and waited to hear what happened to whoever it was that received her donation.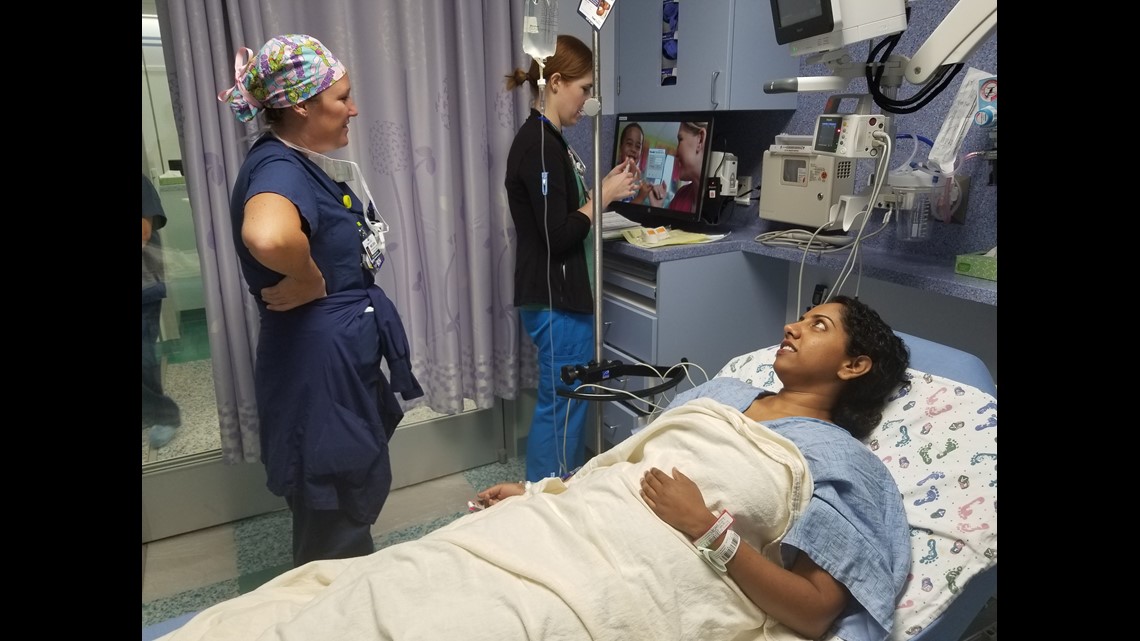 In a meeting room all decorated for Valentine's Day, they celebrated what is also known as "National Donor Day."
"Hi buddy, how are you?" Dr. Ganesa said as she reached out to hug 8-year-old Akshaj Nagilla. "Oh my goodness," she said as they embraced.
"Definitely is on the list of one of my happiest proudest moments in my life," Dr. Ganesa said. "And Akshaj I have you to thank for that. You know what this means right? We're gonna have to be friends forever," she said as the audience of doctors, nurses, and family and friends laughed and applauded.
Being on the marrow registry is easy. All it takes is a swab of saliva. And minority donors are needed the most. Dr. Ganesa was one of two marrow donors for Akshaj. She supplied the first donation.
Akshaj initially recovered but relapsed in the fall of 2018, when he received a second transplant from a different donor, also of Asian Indian heritage. But his family credits the first donation with starting his long road to recovery.
"She being close here in Dallas is undoubtedly remarkable, in that it happened to our family," Anitha Nagilla said.
"She saved my son's life directly. But she saved some other lives as well in the family," Nagilla said of the impact on her entire extended family. "She is a lifesaver for others as well."
Friday morning at their first meeting, the Nagilla family presented Dr. Ganesa with a gold bracelet and a card with a personal message from Akshaj inside. "I'm doing good and wish you well always", he wrote.
"How wonderful is this," Dr. Ganesa said as they embraced again.
The usually shy 8-year-old also mustered up the courage to climb up to a podium and address the entire crowd, but mostly his message was for Dr. Ganesa.
"I am very thankful because I am still alive," he said.
"I just encourage everybody of Indian origin, of southeast Asian origin, any minority group to get yourself on the registry because it could save a life," Dr. Ganesa said.
"It feels really good to be able to say I gave a part of myself and I saved this person's life. I think it's the ultimate meaning of being a human being. We are here to love all serve all. And what an opportunity that I have had. So I am so grateful that I've had that opportunity," Dr. Ganesa said.
She says she feels like she received more than she gave. As she, her own two sons and the Nagilla family gathered for a group hug, her own extended family maybe just got a lot bigger too.