After six years of design, development and testing in Amarillo, the Bell V-280 Valor is now in residence at the company's flight research center in Arlington. The aircraft, designed primarily to carry troops into combat, is Bell's entrant to replace the more than two thousand Blackhawk helicopters now in service with the U.S. Army.
Bell, headquartered in Fort Worth, is competing against a Sikorsky/Boeing design in the Joint Multi-Role Technology Demonstration. The two designs are radically different. The Valor is a tiltrotor, similar to the V-22 Osprey, which has been in service with the Marines for more than a decade. But the V-280 is "simpler, more reliable and more affordable" than the Osprey, said project manager Ryan Ehinger,
"It's a clean sheet design," Ehinger said.
He said V-22 Marine pilots and engineers have been in residence in Amarillo since day one of the Valor project, advising on potential improvements over the Osprey. The V-280 will carry a dozen troops into battle, half as many as the Osprey. Large side doors make it easier to get out of the aircraft and into combat.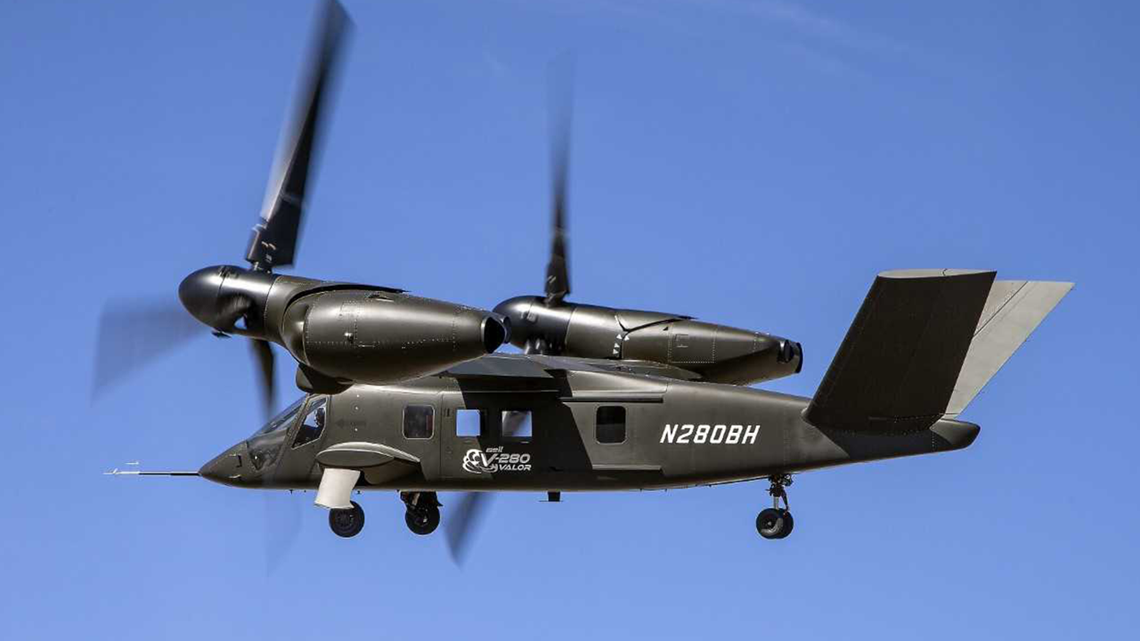 Like the Osprey, the V-280 is fast. The prototype has already flown 250 knots, 288 mph. As indicated by its name, the V-280 is designed to fly at least 280 knots, 322 mph.
"Speed is imperative to have on the battlefield, range is imperative to get to the battlefield," Ehinger said. The Valor's combat range is 600 to 900 miles, depending on payload.
The Sikorsky/Boeing design – the SB>1 /Defiant – has yet to fly. Sikorsky, which was bought by Lockheed Martin three years ago, says the Defiant will fly by the end of the year. A smaller version of the aircraft is in the air. It uses two counter-rotating rotors for lift, and a rear-facing propellor on its tail for speed.
The Valor and the Defiant are both partially funded by the government, with the goal of finding a replacement for the Blackhawk fleet sometime after 2019. At issue is not only which version will win, but if the Army decides to buy either one.
"I don't think the Army is ready to have its helicopter force re-invented yet," says defense analyst Richard Aboulafia, of The Teal Group, which follows the commercial and military aircraft industry. Either aircraft is likely to be considerably more expensive that the Blackhawks now it service. "I'm not sure when they do the math," he says, speaking of the Army, "that they'll be willing to pay for it."