Another portion of an Irving parking garage collapsed Tuesday afternoon, hours after an initial collapse that damaged 21 vehicles.
Footage from the scene showed three lanes of the garage's top level collapse. Three cars were parked on the area when it fell through. Several other vehicles were damaged in the second collapse, bringing the total count for the day to nearly 30 vehicles damaged.
A portion of the parking garage wall also fell down during the second collapse.
Earlier Tuesday, shortly before noon, a 40-by-40 foot section of the garage collapsed and crumbled, badly damaging vehicles, but injuring no one, officials said.
Cars could be seen badly damaged, including some that were partially crushed by the collapse. Some cars were piled on top of each other.
RAW VIDEO: Aftermath of parking garage collapse in Irving:
In an initial search of the garage, no injuries were reported, according to the Irving Fire Department. Crews continued to search the garage and no injuries had been reported. The amount of debris initially made the search difficult, and officials had feared a second collapse.
"There's thousands of pounds of concrete still affecting these vehicles," said assistant fire chief J. Taylor. "The challenge with this is, with this structure itself, is it safe for our rescuers to go inside."
Dozens of police and fire vehicles responded to the garage, which holds about 150-200 vehicles, Taylor said. The Dallas Fire-Rescue urban search rescue team was also there, helping with the search operations, along with a team of search dogs.
RAW VIDEO: Dog helps search collapsed parking garage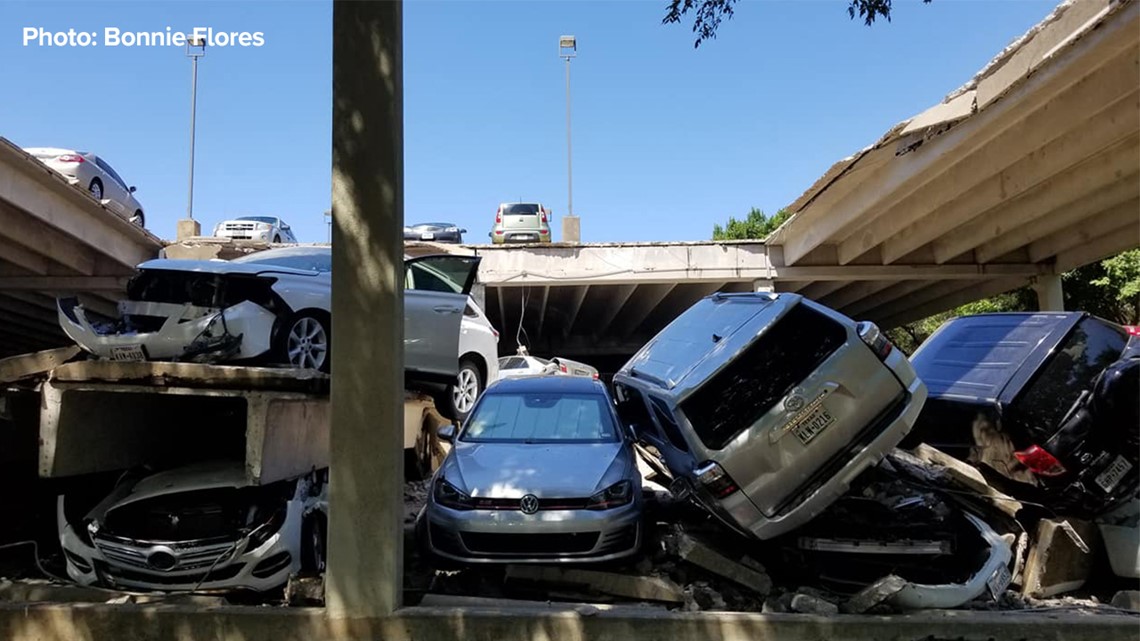 Garage inspections not required in Texas
Investigators had not yet determined that cause of the garage collapse, and WFAA was still trying to reach the owner of the garage. It was unclear how often the garage has been inspected.
In Texas, there are no laws or regulations that require routine structural inspections of public or private parking garages. Inspections are required during the construction phase. But after construction is complete, it's up to the garage owner to hire a structural engineer to routinely conduct an inspection and identify and maintenance issues caused by wear and tear.
One structural engineering firm told WFAA that an inspection for a garage the size of the one in Irving would cost roughly $3,000 every couple years.
Structural engineers told WFAA that the type of garage that collapsed in Irving is known as a "precast" garage and is very common across North Texas.
The most likely reason a garage would collapse is deterioration, the engineers said. For example, over time water can cause the steel connectors in a garage to oxidize and fail.
Excessive heat, experts said, would likely not be a factor in a garage collapse.
Many other states also don't require structural inspections of parking garages after construction is complete. However, last year New York issued new regulations requiring inspections every five years.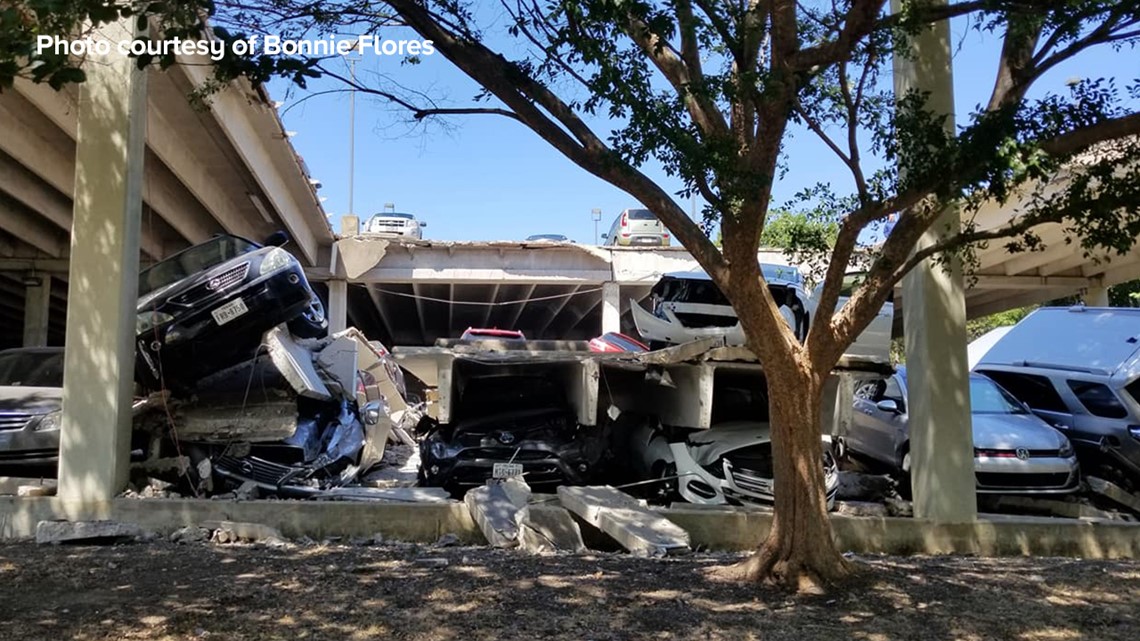 Elida Valdez' first instinct was to run out of her office building. "I heard this big loud boom," said Valdez. She thought it was an earthquake. "We have earthquakes in this area, and this building shakes when we have one. So I thought, 'Oh my God,' so I ran," said Valdez.
She grabbed her cell phone and begin shooting video of the garage next door seconds after it collapsed. "My first thought was I hope no one was hurt," she said.
Tommy Richardson watched from his office as the second level crumbled to the ground. "I heard this rumbling, and then I looked and I just watched it come down and crush the cars on the first floor," said Richardson.
Multiple witnesses say several women use the garage to walk during their lunch hour and had just walked out when it fell. "We saw it go down and the dust. Several of the men went running out to the garage while I called 911. It was terrifying," said Taylor Duncan.
Urban Search and Rescue teams from Dallas and Irving searched the garage and used dogs to make sure no one was injured. It was all clear. "It could have been catastrophic. Someone was with us today," said Irving Asst. Fire Chief J. Taylor.
There were about a 100 cars in the garage 24 of them smashed up. Some people whose cars were in the garage but not damaged got to drive them out when it was safe to do so. "We were lucky, We were lucky," said John Sterling. Sterling's car was one of the cars that was not damaged.
Asst. Fire Chief J. Taylor called it a spontaneous collapse and says investigators will go inside to determine what happened when it's safe to do so. Later Tuesday afternoon there was another collapse where three more cars from the second floor came crashing down.
The concern is that no firefighters get hurt so the recovery process will go very slow.