DALLAS — Happy holidays! Deloitte just gave retailers a big, early gift from Dallas-Fort Worth.
The Deloitte Insights 2021 Holiday Retail Survey shows that DFW shoppers plan to spend an average $1,586 in the holiday season. While that is down from the overall holiday spend by North Texans in 2020 ($1,655), it is 7% more than the $1,463 that the average American plans to spend for the holidays.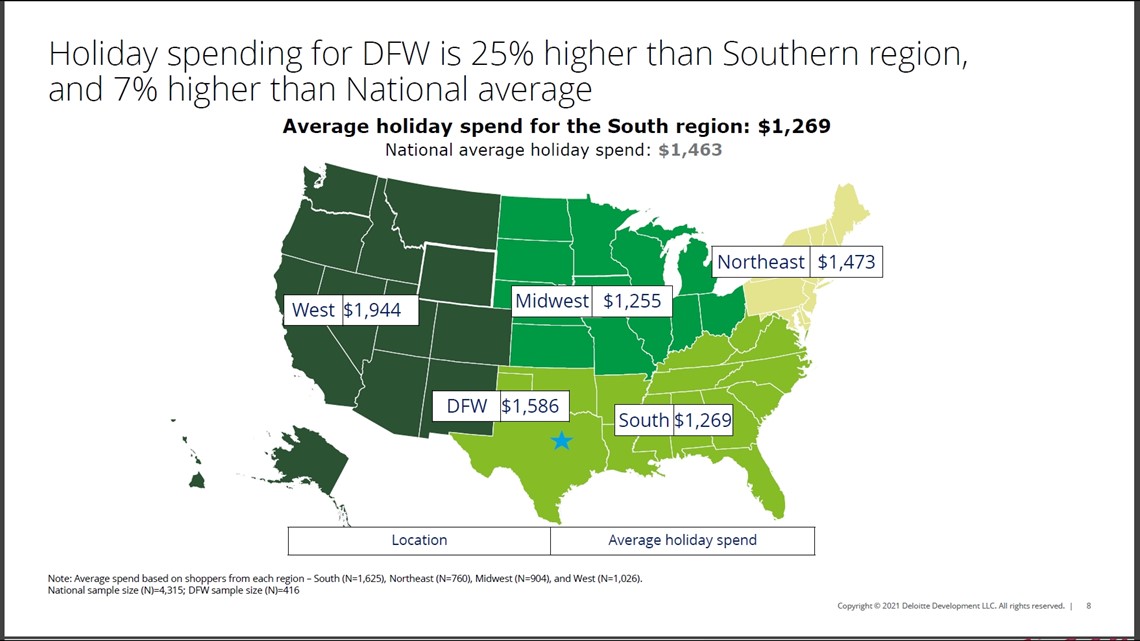 Even though the expected outlays by people in DFW will slip slightly from last year, shoppers in the Metroplex are planning to spend $581 on gifts this year. That is an increase from 2020 ($525) and 2019 ($470).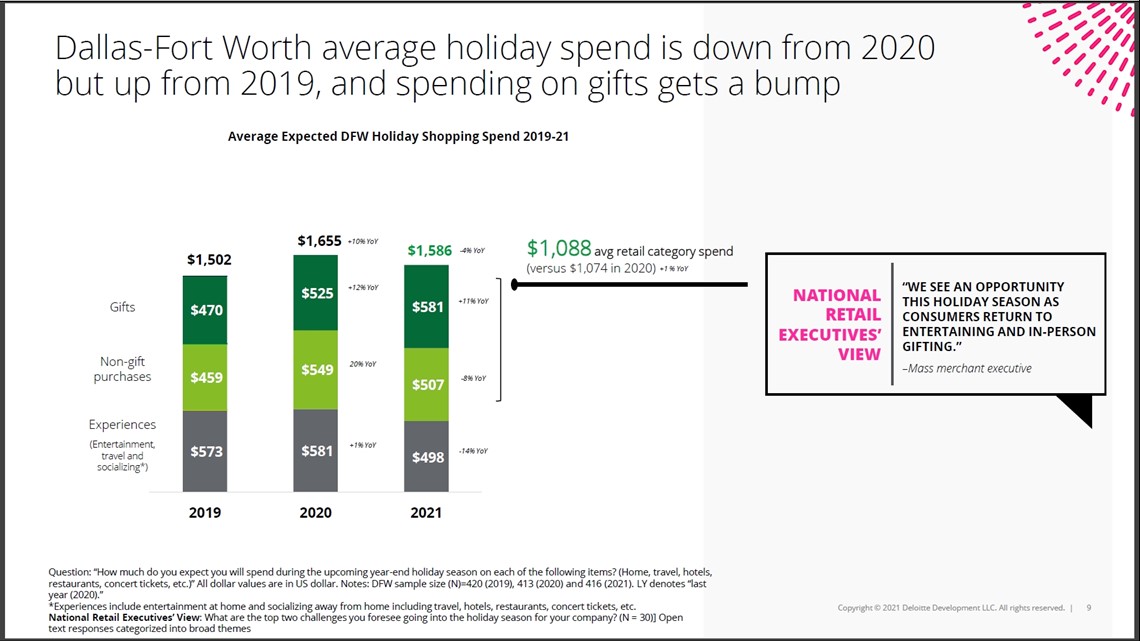 What are DFW shoppers concerned about?
After the pandemic caused great concern last year, 40% of DFW shoppers report they are anxious about shopping in-store this year because of COVID-19. That figure has declined from the 51% who expressed anxiousness about that in the 2020 holiday season.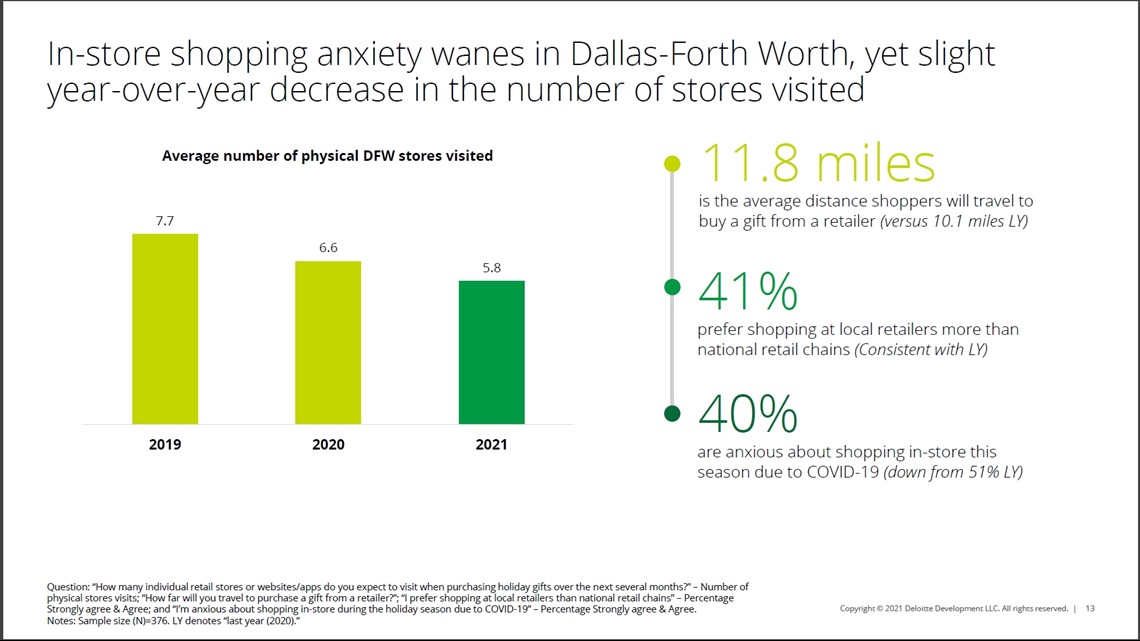 But shoppers report a couple of big concerns this year, as global supply chains continue to be a problem. Almost two-thirds (63%) of respondents in Dallas-Fort Worth plan to start their holiday shopping in late October or early November. That figure is considerably higher than the 37% who planned to start that early in 2020.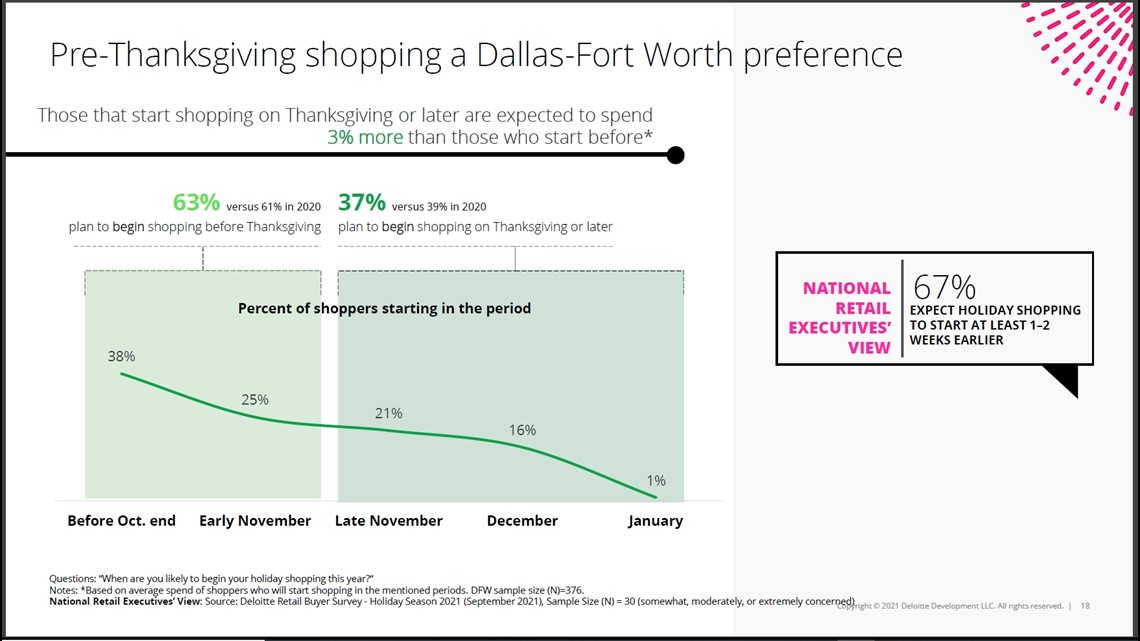 Of those getting a jump on buying, 45% say they are moving the timeline up to avoid the prospect that items will be out of stock. And 40% say they are moving up their shopping to ensure items are delivered on time.
Also, DFW shoppers are big on free shipping, with 77% of them saying no-fee delivery is more important than fast shipping.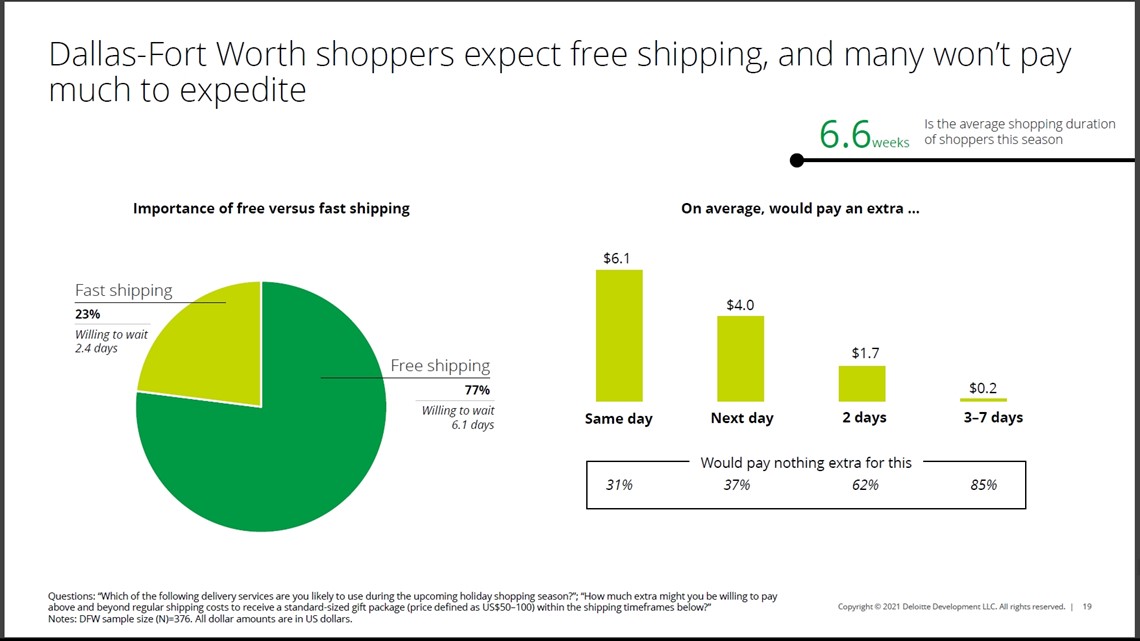 DFW shoppers feeling good about the economy
Perhaps part of the explanation for why North Texans appear poised to get into the holiday (shopping) spirit more than the nation as a whole is that 78% of DFW households surveyed report they have a similar or better household financial situation than last year.
And 62% of North Texans told surveyors they expect the economy to improve or remain the same in the year ahead.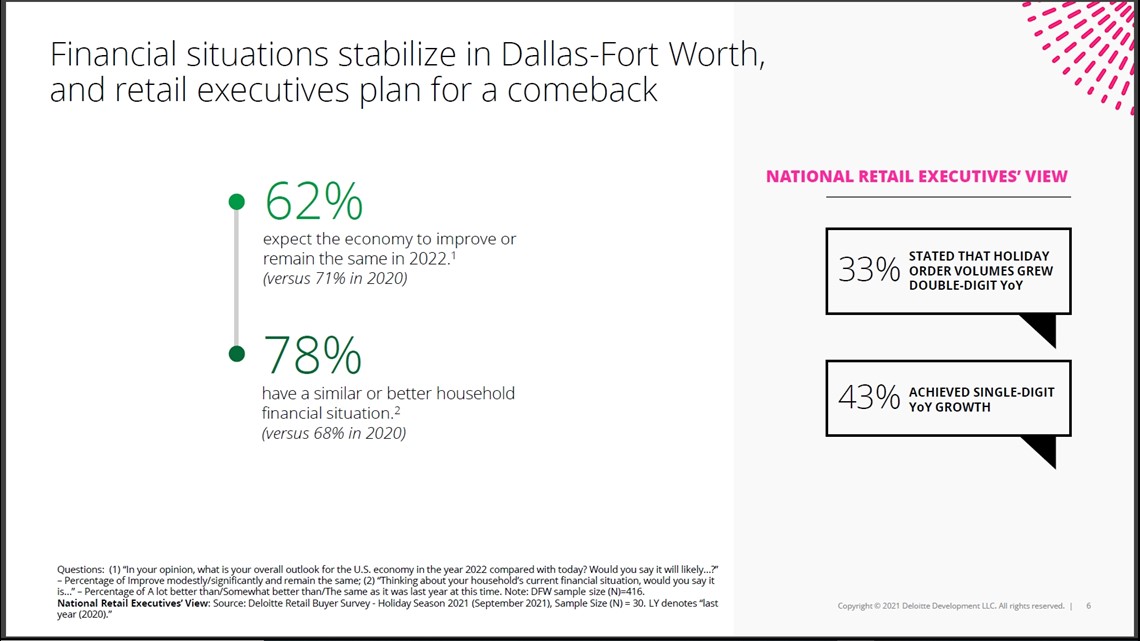 Sam Loughry, National Audit & Assurance Consumer Industry Leader for Deloitte & Touche, LLP., sums up the findings like this: "Many North Texans plan an early start to holiday season shopping, with optimism about the economy, lower anxiety about the pandemic, and with bigger budgets than the national average. Concern over supply chain disruption is driving some of the early shopping, as DFW consumers want to avoid stockouts and delivery delays. Gift-giving is up year over year, as is the share of spend on clothing and accessories."