MADISONVILLE, Texas — It takes about half a second to blink an eye.
In rodeo, that can be the difference between glory and gloom, and it's especially true in breakaway roping, where riders chase after a calf running out of a chute and try to rope it as quickly as possible.
One of the best in the sport is 24-year-old Tacy Kay Webb from Madisonville, about 45 miles northeast of College Station.
"You kind of have a timing in your head, like a clock in your head," Webb told WFAA. "You know if your fast."
Webb started riding back in seventh grade, learning from her parents, especially her father who had done rodeo competitively, too.
"I think I knew the moment I got on my horse when I was little," Webb said. "I used to always be on my pony. My dad could like basically not rip me off my horse."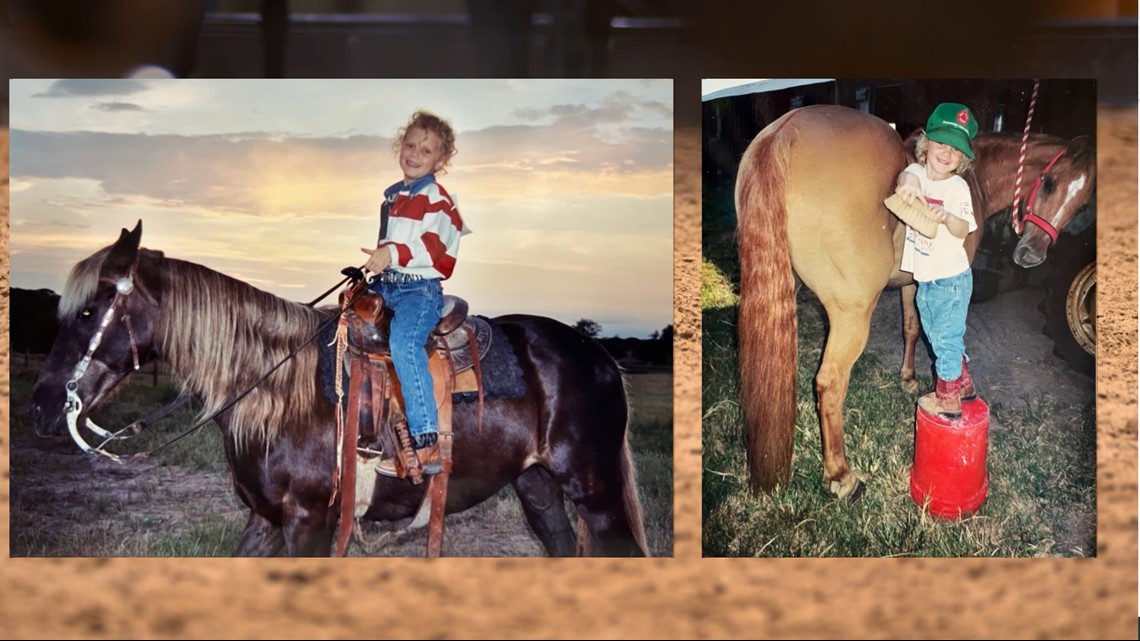 Despite being a top pro, though, rodeo is only a part-time job.
Webb started as ICU nurse at St. Joseph Hospital in Bryan, Texas, in January 2020, two months before the COVID-19 pandemic.
"I got a glimpse of what it was like to be a normal nurse without COVID and then it was all taken away," Webb told WFAA. "Seeing so many sad things over and over. It kind of starts to wear on you. I think it was really traumatic for me and for a lot of nurses."
Trying not to bring COVID home to her family, she lived out a trailer for more than six months as she worked at the hospital packed with patients.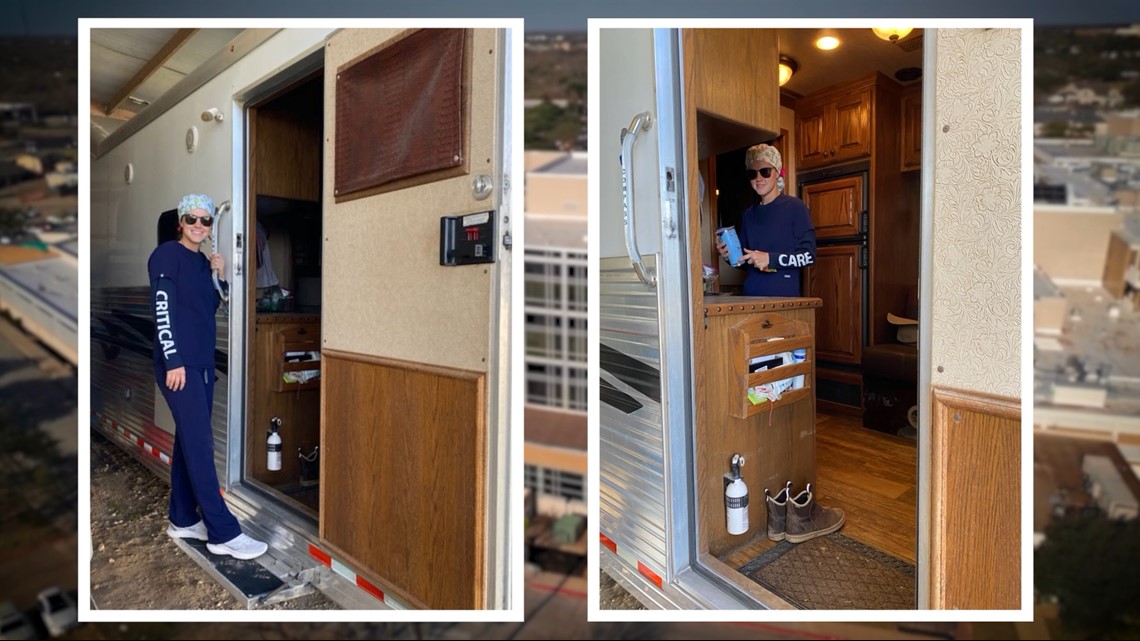 "I was so scared at first and I wanted to protect them," she said. "I didn't want to live with the fact that I gave them a disease and caused them to die."
The idea to become a nurse came just a few years after she began to get serious about rodeo when, in high school, her primary care doctor recommended it as a profession.
"You have to have people skills and I have like a very bubbly personality, so like talking and meeting people and making them feel comfortable, it makes me happy," Webb said.
In July 2021, with hospitals still full, Webb competed at the Days of '47 Cowboy Games & Rodeo in Salt Lake City, one of three rodeo majors. With a time of 1.95 seconds, she clinched first place. And after a year-and-a-half of overnight shifts in an overcrowded ICU, she won her first major.
In an interview after the competition, Webb broke down crying as the crowd applauded her for her work through the pandemic.
"I don't think that a lot of people even have a clue of what we went through and were going through," Webb said in an interview in April. "So for them to realize that and to appreciate that, it meant so much. There was no way I wasn't going to cry."
The win came with a nearly $28,000 prize, but it also set her up for something no one has ever done.
WCRA's Triple Crown of Rodeo pays any athlete who comes in first at three consecutive majors $1 million. No one has ever won the competition, and only five people have even ever won two in a row.
"It's cool to like think about. It's like, 'Wow I actually get to do that', so I'm trying to like live in the moment," Webb said. "It's going to be really hard to do but I'm shooting for it."
In a world that comes down to the blink of an eye, winning three times in a row takes more than just skill.
"There's so much room for error, so it really and truly just has to be like perfect and set up perfect to win first," Webb said.
In December, Webb was in Fort Worth for the Cowtown Christmas Championship, the next major she'd have to win for the million-dollar prize. She left with a victory and needing just one more win to become the first female millionaire in rodeo.
"I was pumped. I knew that I had to score good, and I knew if I scored good, then the rest would come together," Webb said. "My horse did great. I had a really good calf. He went perfectly straight and so they made my job easier."
It would be six months of working in the ICU through omciron's surge, practicing on weekends and nervous waiting before she'd get the chance to go for the triple crown at Rodeo Corpus Christi in mid-May. Draped along one side of the arena was a poster that read "Millionaire Cowgirl?"
"I feel like rodeo is very humbling, so I always try to remember how terrible it can go," Webb said. "My coworkers bring it up all the times. They're like, 'ok are you going to quit if you win the million dollars', and I'm like, 'No, I'm not going to quit'."
The competition required her to first qualify for the top two in her daily round before riding in the final round for the $1 million.
"I'm really just going to try to focus on my run before I go," Webb said before the competition. "I really think I will just lay it all in the Lord's hands because ultimately if it's my time, it's my time."
Her run of 2.68 seconds put her in second place, which would move her on to the final round. But there were two women left to go, and in rodeo, it's often the blink of an eye that decides a rider's fate.
Just behind Webb was Jade Kinney, a junior American champion. The crowd gasped when she finished her run in a time of 2.67 seconds, 0.01 faster than Webb and enough to end her ride for $1 million.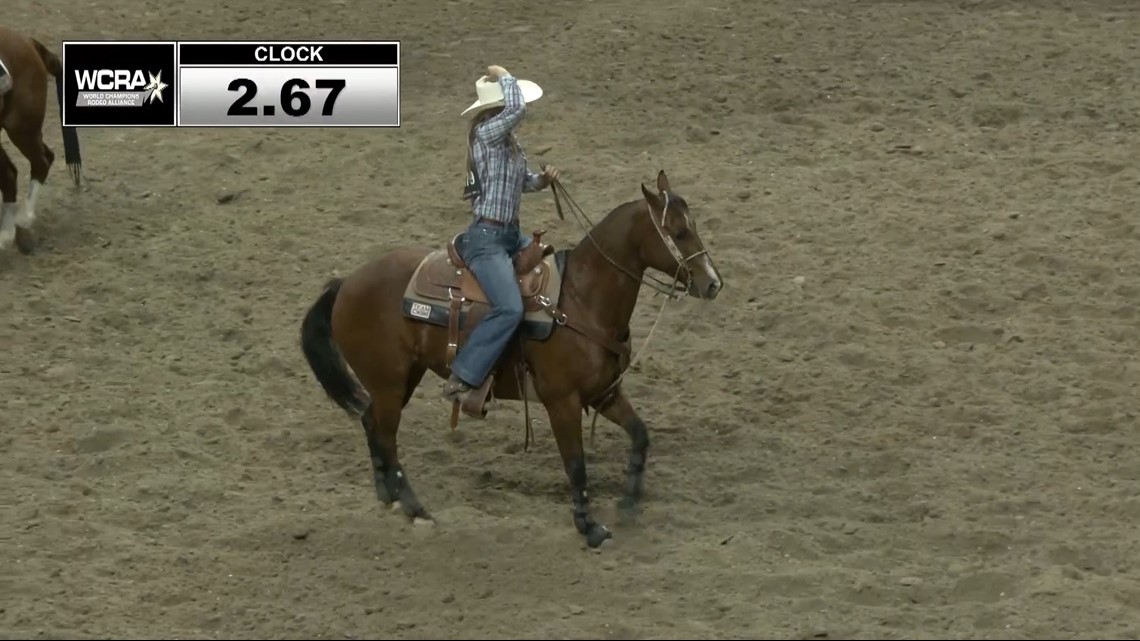 "I go against so many girls and they're all tough," Webb said. "It's been a really fun ride. Just gonna try to go rope another one."
Webb's ride may have ended, but it's far from over.