Updated at 4:00 pm Tuesday with the latest forecast.
A strong cold front is moving through North Texas bringing winter temps. Temperatures range from the lower 70s in the SE to upper 30s in the NW.
While the cold air is in place, a passing disturbance overhead will bring precipitation back to the area late tonight into Wednesday.
As it looks now, wintry weather chances are highest for western and northwestern North Texas, but the Dallas-Fort Worth area could see a transition to a wintry mix by Wednesday morning as well.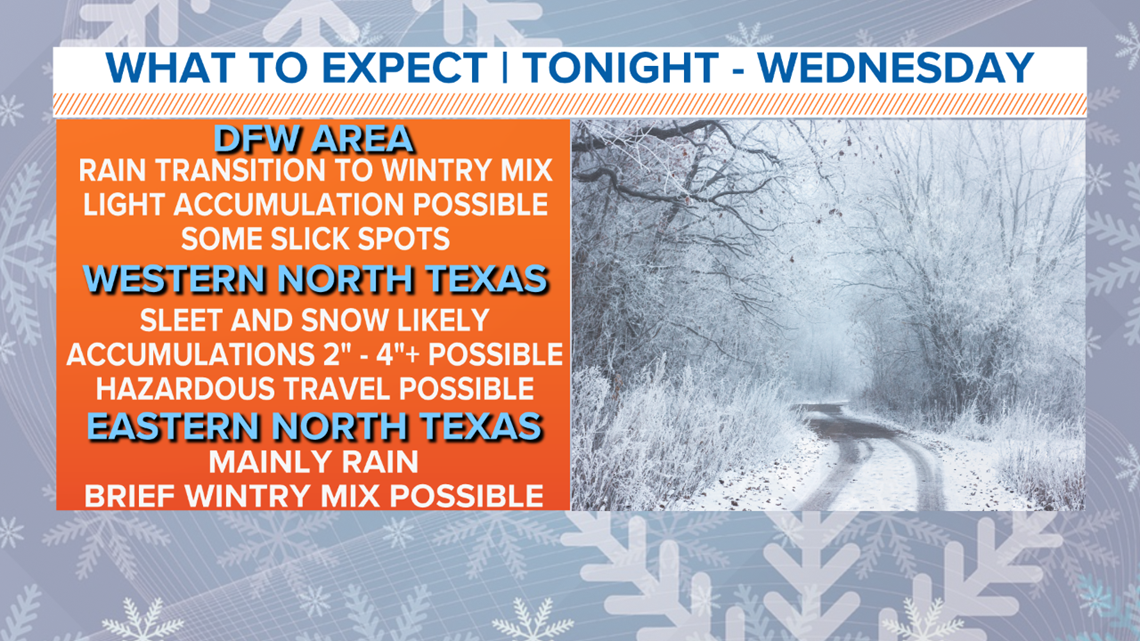 The latest data continues to suggest a slight "nudge" WEST with the wintry weather potential. While Denton and Tarrant Counties should still plan on a few slick spots possible, the highest concern will be farther west. Areas like Jack, Palo Pinto and Young Counties could see more significant travel issues.
Highest accumulations of sleet and snow will be across western North Texas where slick roads and hazardous travel will be much more likely.
A transition to a wintry mix is possible for the western part of the Metroplex, and could accumulate in minor amounts. High amounts are not likely, generally less than 0.5" if anything, but that is enough to cause some slick spots on bridges and overpasses in some spots.
Eastern and southeastern North Texas will likely see mainly a cold rain, but some sleet or snow could mix here or there with any leftover moisture Wednesday night into Thursday morning. However, accumulations are not likely.
How far south and east the freezing line will move into North Texas?
Right now, the freezing line looks like it will stay either just west of the majority of the Metroplex or along and west of I-35W. If the freezing line moves farther east, better chances for accumulations are likely for the D-FW area.
This will be watched closely!
Simply put, the farther west and northwest you live in North Texas, the better your chances for wintry weather and accumulations of sleet or snow.
Even minor amounts in Dallas-Fort Worth could cause travel headaches, so it's best to keep paying attention, and be cautious if driving Wednesday morning.
Keep staying tuned for updates, as winter events like this are always evolving!