Did you get to the grocery store yesterday? We've been talking about the anticipated low that could bring snow to North Texas for days and the storm has finally arrived!
Snow has been falling out to our west/southwest since Saturday night and the storm is now moving northeast into North Texas.
TIMING: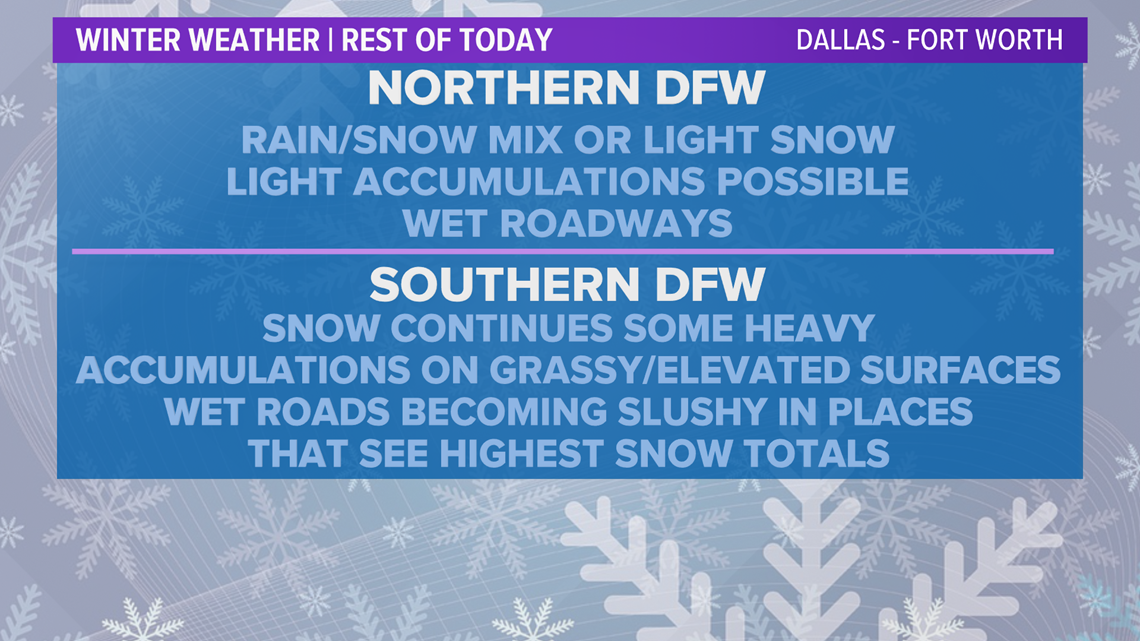 A light rain/snow mix will continue to transition to all snow across North Texas. It is snowing already in many locations and we are receiving a lot of pictures and video! Keep them coming!!!
Your photos: Snowfall blankets North Texas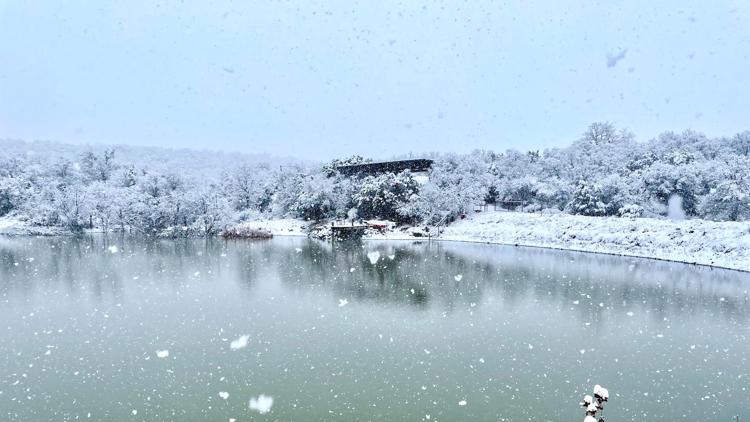 Rain/snow mix will transition to all snow around lunch and we will see light to moderate snowfall across North Texas through Sunday night.
Conditions clear late Sunday night, and by Monday morning the storm will have moved out, but you will still need to be careful on the roads because of slick spots.

Highest snowfall accumulations will mainly be in areas under the Winter Storm Warning. In those locations, western and southwestern North Texas could see 3 to 6 inches of snow.
The Dallas-Fort Worth area is in the Winter Weather Advisory, where 1-2 inches are possible. There may be some isolated higher amounts mainly confined to the south and western part of the Metroplex.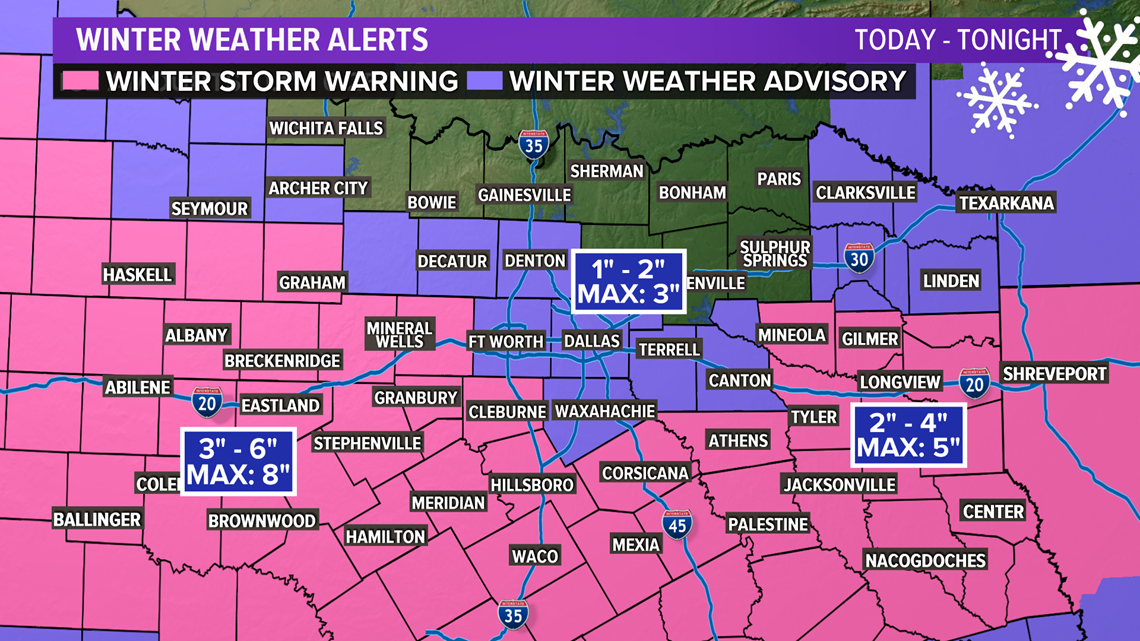 The farther north and east you go in the Metroplex the less accumulating snow you will see. We will continue to watch as this storm unfolds today and remember these snow totals will change based on where heavy bands set up.
SNOW TOTALS AS OF 2:30 PM:
Aledo: 0.5 inch
Mineral Wells: 1 inch
Centerville: 1 inch
Fairfield: 1 inch
Fort Worth: 1 inch
Waxahachie: 1 inch
Hood Army Airfield: 1 to 2 inches
Edgecliff: 2 inches
Belton: 2 inches
Burleson: 3 inches
Gustine: 3 inches
Alvarado: 3 to 4 inches
Granbury: 3 to 4 inches
Joshua: 3 to 4 inches
Weatherford: 3 to 4 inches
Waco: 3 to 4 inches
Cleburne: 3 to 4 inches
Hillsboro: 4 inches
Whitney: 4 inches
Nemo: 4 inches
Hewitt: 4 inches
Breckenridge: 4 inches
Palo Pinto: 4 inches
Clifton: 4 inches
Bluff Dale: 4 to 5 inches
Woodway: 4 to 5 inches
Comanche: 5 inches
Eastland: 5.5 inches
Glen Rose: 5.5 inches
Chalk Mountain: 6 inches
Hico: 6 inches
De Leon: 6 to 7 inches
Hamilton: 7 inches
Mosheim: 7.5 inches
Cisco: 7.5 inches
Stephenville: 8 inches
It will continue to snow in all of these locations, so these totals will go up throughout the day.
TEMPERATURES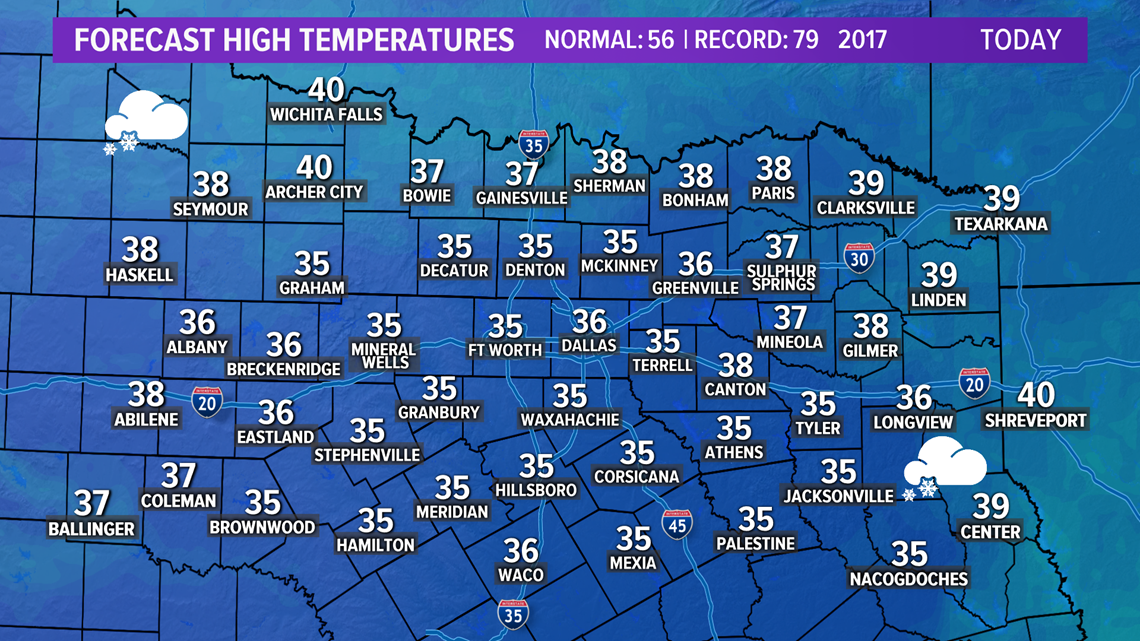 High temperatures Sunday areawide will stay above freezing at the surface, which will help with road conditions. You may be asking how we will see snow if the temperatures are above freezing?
When meteorologists put together a forecast as a storm like this develops, they don't just look at what is going on at the surface, but in several layers above the surface. The best way to describe it is by looking at a stack of pancakes and each pancake has it's own temperature, moisture content, wind, etc.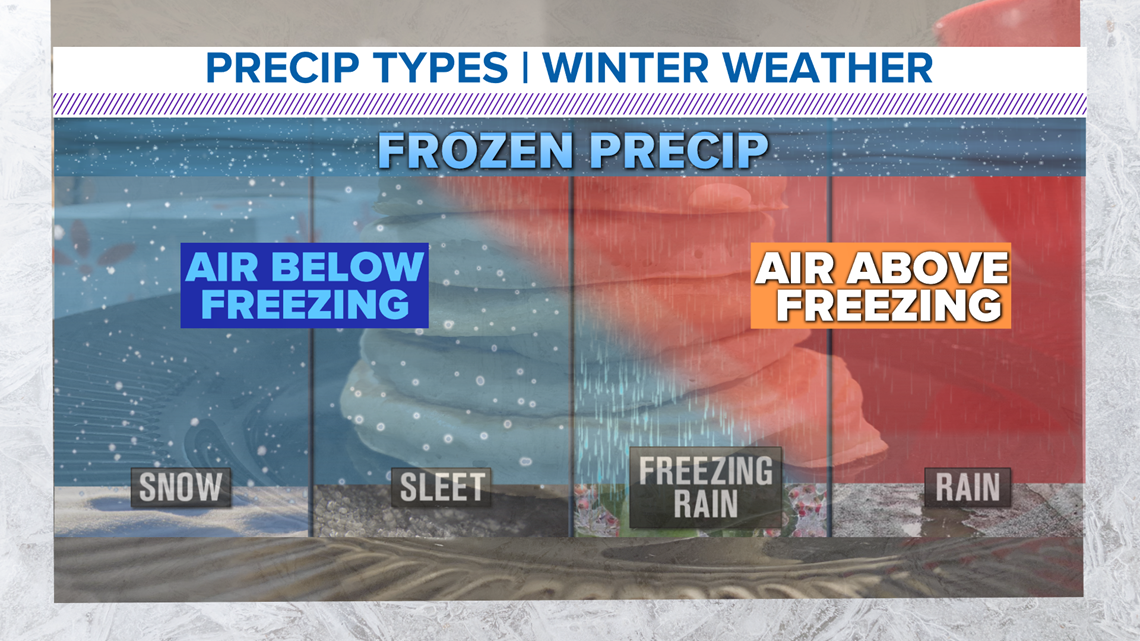 Take a look at the image above with the pancake stack in the background. On a day like Sunday, we need all of the pancakes above the surface to have temperatures below freezing. The entire column is cold enough to support snow. That is happening Sunday, and the snow doesn't have enough time to melt before hitting the ground.
So, it is very possible to get snow when surface temperatures are above freezing.
Travel Conditions
The temperatures staying above freezing at the surface will actually help our road conditions during the storm. The Dallas-Fort Worth area will see wet roadways with the biggest impact on bridges and overpasses. Slush and some snow will cause slick conditions on these elevated surfaces.
South/western locations in North Texas
Despite the above freezing temperatures, snow covered roads will be a problem, especially in locations that see heavy bursts of snow. Hazardous travel will linger into Monday morning, so plan on leaving early and taking it slow as you head out, even though the storm has passed.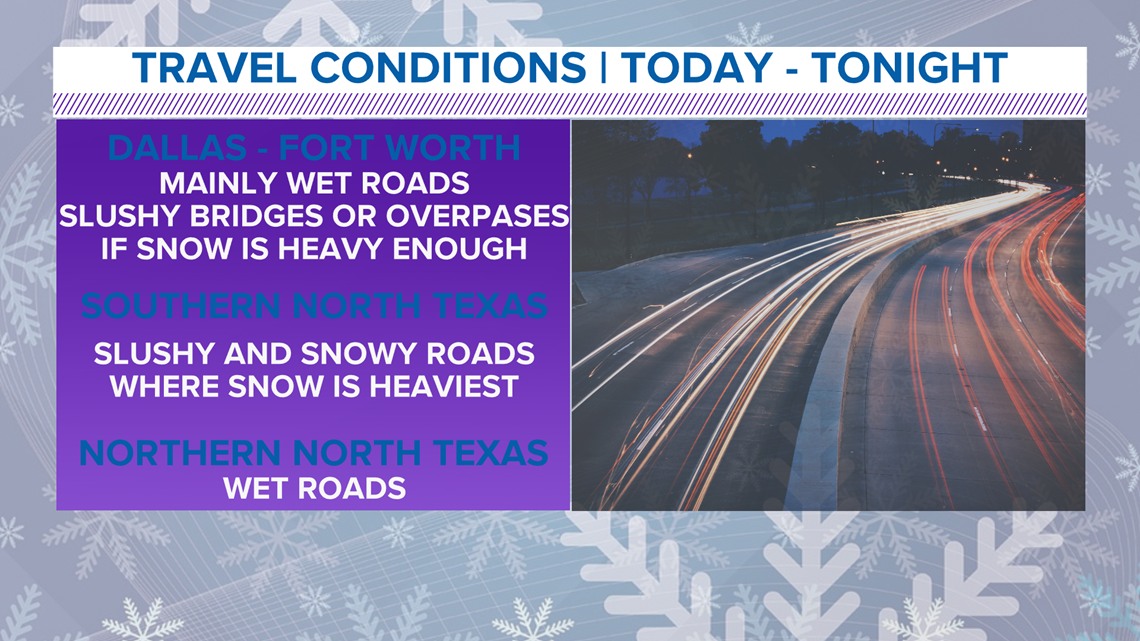 If you travel Sunday or early Monday morning, here are some tips to remember when driving in winter conditions.
Make sure to reduce your speed and leave plenty of room between you and the car in front of you.
Avoid braking too hard or suddenly.
If you begin to skid, do not jerk the wheel. Gently steer in the direction of the skid to regain control.
Put a blanket, extra water, jumper cables and a flashlight in your car just in case you get stranded.