As several bands of heavy rain pass through North Texas Friday and Saturday, flash flooding is a real danger across much of the area. We will maintain a blog providing the latest updates as we learn them.
Helpful Links:
• WFAA WEATHER
• RADARS
• WEATHERCASTER MOBILE APP
• TRACK THE STORM: MY OWN RADAR
• 24-HR WEATHER CHANNEL
• LOVE FIELD FLIGHTS
• DFW FLIGHTS
• UPDATED HIGH SCHOOL FOOTBALL SCHEDULES
11:30p Navarro County Office of Emergency Management says it has responded to 20 swift water calls as of 11:30 p.m. Friday.
10:30p An update on the latest Flood Warnings in North Texas:
10:00p Navarro County OEM says southbound Interstate 45 has reopened after flood water affected the area most of the day Friday.
9:55p Love Field tells News 8 that 20 total flights were cancelled Friday due to the weather. The airport operates roughly 180 flights per day. Travelers are encouraged to arrive early Saturday.
9:00p The nearly three inches of rain recorded by 9 p.m. at Dallas-Forth Worth International Airport set a new record, according to the National Weather Service of Fort Worth. 
8:45p TxDOT announced detours around the flooding along I-45 in Corsicana. Extended delays were to be expected. The detours from TxDOT are as follows:
Southbound I-45 local traffic: Exit Business 45. Take Business 45 southbound until it merges back onto I-45.
Northbound I-45: Exit US 287 northbound to SH 31 eastbound. Take SH 31 until it merges back with I-45.
In addition, northbound I-45 traffic headed from the Houston area to Corsicana and Dallas will be advised to detour onto US 84 in Fairfield. Motorists should take US 84 to I-35.
8:30p ONCOR reports thousands of customers affected by power outages. 
A total of 10,914 total outages were recorded in North Texas. An update just after 8 p.m. showed 419 active outages. The most widespread outages in North Texas were reported in Dallas, Kaufman and Tarrant counties:
Dallas County  1,992
Kaufman Co.    3,114
Tarrant             1,903
8:10p Navarro County reported five successful water rescues, including the mother stranded with her child. No injuries have been reported in the multiple swift-water rescues in Navarro County.
7p Corsicana Municipal Airport has recorded 13.25 inches today.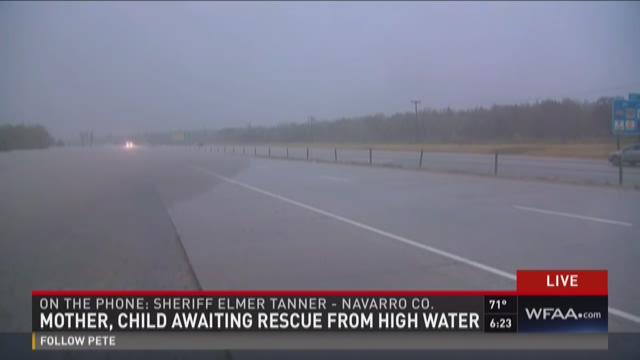 6:30p High-water rescues at scene where mother and 3-year-old son stuck on vehicle on Southeast 0020 in Navarro County. A swift-water boat crew answered the rescue call, says Sheriff Elmer Tanner. Tanner says there are several other rescues underway. - WFAA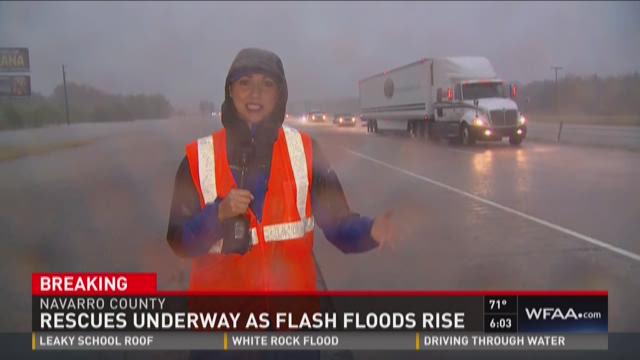 6p Because of inclement weather, Dallas Park and Recreation Department has cancelled two outdoor events scheduled for Saturday, Oct. 24: It's My Park Day and Boo-vie Bash at City Hall Plaza. - Dallas Parks and Rec.
5:38p The North Texas Municipal Water District has experienced an unauthorized discharge of domestic waste water from its South Mesquite Regional Wastewater Treatment facility, located at 3500 Lawson Road, Mesquite, Texas. At approximately 1:45 p.m. on Friday, Oct. 23, 2015, as a result of excessive rainfall inundating the collection system, an estimated volume in excess of 100,000 gallons of domestic wastewater was released into Mesquite Creek. NTMWD personnel moved quickly to respond and are onsite conducting environmental assessments, and working to correct the situation as quickly as possible. The discharge is highly diluted due to excessive rain water within the sanitary sewer system, and no environmental impacts are anticipated.
The public should avoid contact with waste material, soil, or water in the area potentially affected by the discharge. If the public comes into contact with waste material, soil, or water potentially affected by the discharge, they should bathe and wash clothes thoroughly as soon as possible.- North Texas Municipal Water District
4:44p Flooded roadways in Dallas:
SBX - Bexar St.
Illinois @ Linfield
Sargent @ Southerland
4700 Hatcher
Luna @ Y
Tantor @ X
Goodnight @ Walnut Hill
Inwood @ Park
Sylvan Bridge @ Trinity River
4400 Skillman
7400 Merriman Pkwy
West Lather @ NW Hwy.
Goforth @ Lanshire
SFPX - Farmers Mkt @ Pearl
4:41p Dallas Zoo's Halloween Nights event canceled. "The spooky affair will resume Saturday and Sunday evenings as planned." - WFAA
4:40p I-35 is impassable in West, just north of Waco in McLennan County, due to water across the roadway there. - WFAA
4:38p DPS reports northbound I-45 is closed from mile markers 228 to 231. Southbound I-45 is down to one lane. - WFAA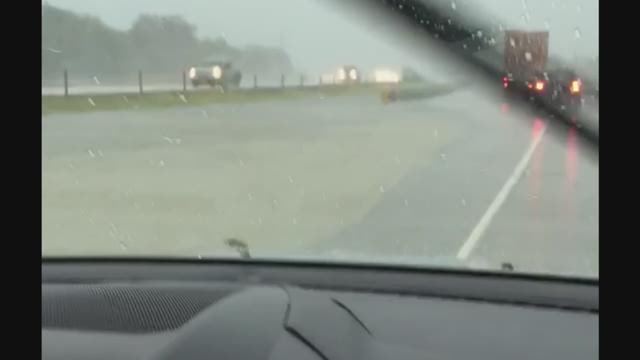 4:31p Another large rain shield with embedded heavy thunderstorms is moving northeast and will overspread all of North Texas tonight with an additional two to five inches of rain for the Metroplex, and an additional three to seven inches to the south and southeast.
Lesser amounts are expected to the north and northwest. Needless to say, a Flash Flood Watch continues through Sunday morning.
Hurricane Patricia will continue to move deeper into Mexico, and the remnants are expected to take a right hand turn over the mountains of Mexico, which should keep the core of this storm well south of North Texas, generally across south central and southeast Texas, where very heavy rains will also lead to flooding problems in those areas this weekend. So. after the heavy rains tonight and tomorrow morning, we should see just a few lingering showers through Sunday morning before finally drying out.
Note: The National Weather Service Doppler Radar was knocked out of commission for several hours, and thus the estimated rainfall totals from the radar is underestimating the totals since heavy rain was falling when it was offline. - Meteorologist Steve McCauley
4:11p
The Texas Department of Public Safety is sending Highway Patrol Officers from surrounding Counties to Navarro County to assist in responding to flooding in the area.
The officers will initially be reporting to the Navarro County Courthouse @ 601 North 13th Street in Corsicana. - WFAA
4:07p American Airlines has issued a travel waiver policy for Puerto Vallarta and Mazatlan:
At this time, we have cancelled four flights to/from Licenciado Gustavo Díaz Ordaz International Airport in Puerto Vallarta. Two depart from PHX, two depart from DFW. We have also cancelled our evening departure to Guadalajara International Airport; we have five daily flights, so just one was cancelled.
Our operations center in Fort Worth continues to monitor the movement of the storm, and we will make adjustments to our schedule based on forecasts from our team of meteorologists. - American Airlines
4p Flash Flood Warning for Navarro through 6 p.m. Emergency for Corsicana! More than eight inches has already fallen with two more inches on the way. - Meteorologist Pete Delkus
3:43p James Colunga, with DPS in Corsicana, reports extensive flooding and closure of northbound I-45 from exits 228 to 231. DPS working on alternate routes for drivers. - David Goins, WFAA
3:39p Eric Myers, the emergency management coordinator for Navarro County, says there's extensive flooding in Corsicana right now. He's urging people not to attempt navigation through the high waters. The county has requested state resources to handle the flooding. The area has already seen several high-water rescues today. - Cynthia Izaguirre, WFAA
3:15p High water has shut down northbound and southbound traffic around marker 225 in Corsicana. - WFAA.com
3:14p Governor Greg Abbott has announced an elevated activation of the Texas State Operations Center (SOC) as severe storms are expected to impact parts of Texas this weekend. Governor Abbott has also approved the use of state resources that have been staged for rapid deployment as needed to assist local officials during this significant weather event. Texans are also encouraged to prepare for severe weather in their area. - Office of Gov. Greg Abbott
1:51p Counties that remain under Flash Flood Warning:
Navarro until 4:30pm
Henderson until 4:30pm
Bosque until 4:30pm
Hill until 4:30pm
McLennan until 4:30 pm
Delta until 3:30pm
Hopkins until 3:30pm
Hunt until 3:30pm
Lamar until 3:30pm

1:05p Astronaut Scott Kelly tweeted an image of Hurrican Patricia from space.
1:03p Rain in downtown Fort Worth at the Railroad Bridge overlooking E. 7th. Street.
1:01p News 8's Jenny Doren reports on rain and flood conditions from the White Rock area of Dallas in News 8 Midday:
12:57p Denton Guyer is taking on Byron Nelson in a football game that started at 11 a.m. Friday to avoid the evening downpour.
The game was originally scheduled for Thursday night, but they pushed the game to Friday afternoon.
The game started off with rain, but it quickly cleared up, and it looks like they'll have a break from the weather as they head into the second half.
Dozens of high schools in the area are scrambling to reschedule their games this weekend. Check the social media accounts of schools, school districts, and district athletic departments for updates. - Philip Townsend
12:32p At least another 36 hours of wet weather! These rain bands will come in waves. Looks like parts of North Texas will see a break right after lunch before another band of heavy rain moves in this afternoon and evening. In addition to the several inches of rain that's already fallen, another 3"-6" is possible through Saturday night. - Ashton Altieri
12:28p With more than 200 high school football teams in the area, we're having trouble keeping up with the numerous game start time changes due to weather. If you're wondering about a particular team or school, check the social media pages for the school districts and district athletic departments of the teams involved, or the school's pages for updates. We will try to get a full list as the day goes on. - WFAA Staff
12:24p Here is Ashton's weather update from News 8 Midday Friday:
11:58a Delays at D/FW Airport are between an hour and an hour-and-fifteen-minutes long and growing, the airport said on Twitter.
CHECK YOUR FLIGHT STATUS: Love Field | Dallas-Fort Worth
11:49a Friday's weather is forcing a lot of changes to high school football schedules around the area. A few updated kickoff times:
Irving/Nimitz - 6 p.m.
South Grand Prairie/Mansfield - 6 p.m.
Grand Prairie/Midlothian - 5:30 p.m.
Cedar Hill/DeSoto - 5 p.m.
As of this time, all Dallas ISD football games are still scheduled as planned. Check the DISD Athletics Twitter account at this link for the latest updates. - WFAA Staff
11:39a Torrential rain continues moving east across North Texas. Rainfall rates are up to 2.5" per hour in some areas, and there is frequent lightning along the George Bush Turnpike corridor. This line is moving east at 25 mph, and after it passes, expect another break from the storms. - Ashton Altieri
11:02a A Flash Flood Warning has been issued for Dallas and Tarrant counties until 12:45 p.m. There is also a warning for Johnson County until 1:15 p.m. As heavy rain moves across the DFW area from both the west and the south, some areas will see rainfall rates of at least 1.5" per hour. Remember, never drive through a flooded roadway and stay off the roads altogether if you can until this band passes. - Ashton Altieri
10:57a The City of Dallas has closed six streets already due to potential flash flooding. Crews are monitoring those locations and others around the city for dangerous conditions. Barricades are in place at the following locations:
1600 Tantor
1100 Luna
1600 Luna
7400 Merriman Parkway between Abrams and Fair Oaks
4900 West Lawther Drive at Goforth Road
400 West Ledbetter between Village Fair and Parkwood
10:30a

Initial story:
A Flash Flood Warning was put into effect in Dallas, Tarrant, and Johnson counties Friday morning after the first bout of rain in weeks hit the area. The National Weather Service also has most of North Texas under a Flash Flood Watch.
News 8 Meteorologist Ashton Altieri said commuters may have lucked out Friday morning as the rains in the area died down as traffic began to ramp up. However, more rain is expected throughout the day and as the ground becomes more saturated, flooding could become more prevalent.
"Two bands of very heavy rain are moving straight for North Texas," Altieri said. "As they merge, we're in for a lot more rain through noon [Friday]. 'Torrential' will describe the intensity of some of this rain, along with frequent lightning. This heavy rain is already impacting the west side of Fort Worth."
The National Weather Service predicts an additional three to six inches of rain for much of the area, with a few spots seeing as much as a foot of rain.
"Transportation officials should be prepared for the possibility of slow traffic due to heavy rain, especially in traditional low lying areas, as well as construction zones," a NWS release said. "Outdoor events through Saturday will likely be affected with periods of heavy rainfall and thunderstorms, including frequent lightning strikes."
Northbound Loop 12 and westbound Highway 114 were closed at the Highway 183 exit due to high water.
The biggest threat remains flash flooding, the National Weather Service said.
"Any area which flooded in May (not including lake runoff) may experience additional flash flooding this time around," the NWS release said. "[...] Main impacts are expected to be in the smaller tributaries to the main rivers. Flash flooding on small streams and urban areas(especially low lying and construction zones) remains high."
Delays and cancellations of events were already being reported Thursday, and nearly 20,000 Oncor customers were without power for a time overnight.
Dallas police reported accidents were up 50 percent overall on Thursday over Wednesday, and freeway accidents in particular were up 107 percent.
Love Field and D/FW airports reported increasing general departure delays Thursday night, as the delays climbed over an hour long. Two-and-a-half inches of rain were recorded at D/FW Airport Thursday.
CHECK YOUR FLIGHT STATUS: Love Field | Dallas-Fort Worth
Three North Texas high school football games were postponed with the storm's arrival in the area.
Lightning forced the postponement of the game between Byron Nelson and Denton Guyer, as well as Keller's game against Denton Ryan. Current plans were to move the Byron Nelson-Denton Guyer game to 1 p.m. Saturday. Keller and Denton Ryan were set to play at 7 p.m. Friday, weather permitting.
A game between Frisco Centennial and Liberty High School set to be played at Toyota Stadium was also postponed, but has not been rescheduled as of yet, according to Frisco ISD. The game between Trinity and Coppell at Buddy Echols Stadium is now scheduled to kick off at 6 p.m. due to potential delays.
The anticipation of bad weather over the weekend caused other event cancellations.
The Trinity River Wind Festival, scheduled for Saturday, was cancelled with bad weather in the forecast. Burleson's "Boo Bash" was also moved pushed back one week. It is now tentatively slated for Oct. 31.