WAXAHACHIE, Texas — Storm chasers following Monday night's intense storms knew they had to do something after coming across a dire crash off Interstate 35E near Waxahachie in Ellis County last night.
Flores said he's been chasing storms for about 10 years now, but was a volunteer firefighter before that. Flores said he and a fellow chaser were following the storm as it moved through Ellis County when they came across the wreck.
He said they "immediately knew we had to help" and jumped into action to pull one of the semi truck drivers from the wreckage.
"We tried everything we can to get them out," he recounted.
Listen to the interview below.
The crash came as a round of severe weather tore through the Dallas-Fort Worth area Monday night. The active system spawned several funnel clouds - captured by WFAA viewers - and an EF-2 tornado with 130 mph winds that the National Weather Service said touched down near Blum in Hill County.
According to officials, three semi trucks and a van were all involved in the crash. Two of the trucks and the van - heading south on I-35E - were pushed into the center barrier. The third truck - heading north - was pushed off the roadway and into a field.
North Texas storm damage: Roofs ripped off, buildings destroyed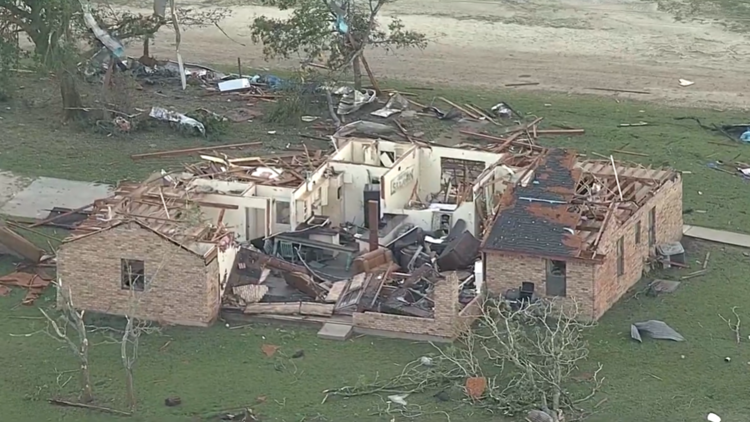 Video from WFAA's crews showed the trucks overturned on the roadway, with the concrete barrier crumbled beneath the wreckage. Weather officials are still trying to confirm whether a tornado touched down near the site of the I-35E crash.
Two of the three truck drivers had minor injuries, while the third had "serious injuries," according to officials. All three were taken to Baylor Scott and White Hospital in Waxahachie. The driver of the van and the passenger were not hurt.
As for Flores, he said "right now, we just have to pray that everyone's safe and sound."