DALLAS — Several Dallas schools will be closed until at least Wednesday and some will be closed indefinitely after three tornados touched down Sunday night in North Texas, including one in North Dallas.
Dallas Independent School District Superintendent Michael Hinojosa said in a press conference Monday that Walnut Hill Elementary School will likely be a total loss.
"There's no way for school to happen there in any capacity," he said.
Students from that school will move to Tom Field Elementary School, which was shut down last year. All students from Walnut Hill Elementary will move to Tom Field starting on Wednesday.
"When I drove by the school today, people were walking around kind of like zombies, people were just like, 'Oh my God, what happened?' just in disbelief," Hinojosa said.
In addition, Edward H. Cary Middle School is the DISD school that was "probably the most damaged," Hinojosa said. "When I drove by there this morning I saw a police vehicle that was lifted from the parking lot and thrown near the school. There was significant damage throughout that school. We also anticipate that will be a total loss."
Cary Middle School's 500 students will be split up and moved between Medrano Middle School and Franklin Middle School, Hinojosa said.
DISD is in the process of moving those students within the next 24 to 48 hours.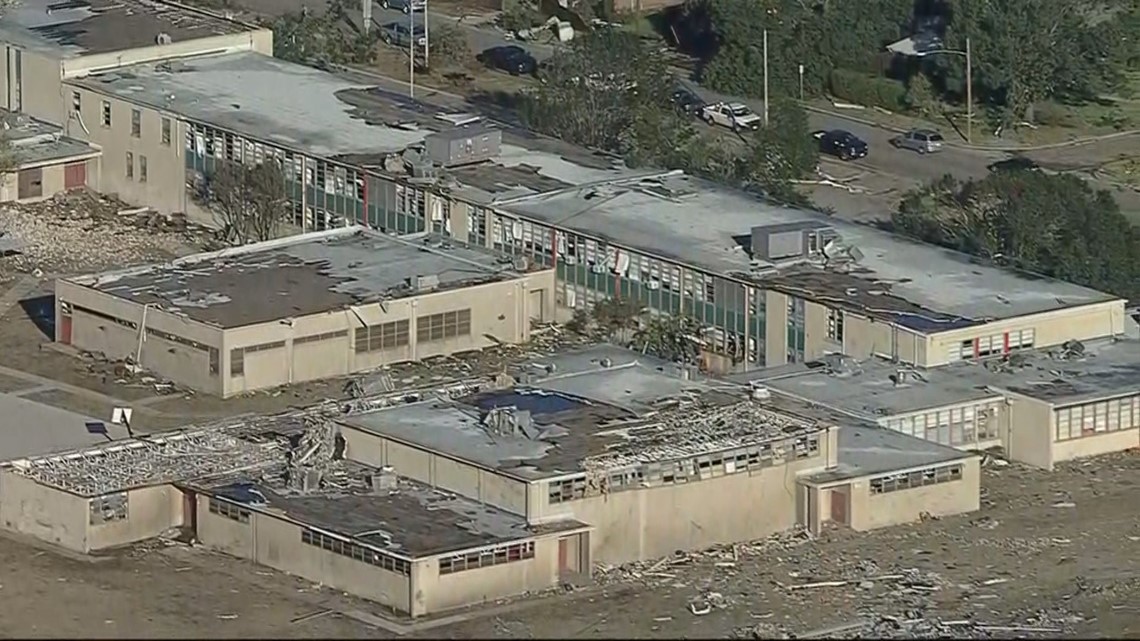 Thomas Jefferson High School is also uninhabitable, at least until next August, Hinojosa said.
"That school also received significant damage, but a structural engineer will have to tell us how much damage and if we can even have access to that school or not."
The plan for Thomas Jefferson's 1,800 students is to move them into Thomas Edison Learning Center by Wednesday, Hinojosa said.
"We've been working ever since we had a chance to physically see the facilities We have a lot of options and are going to make the best of the situation."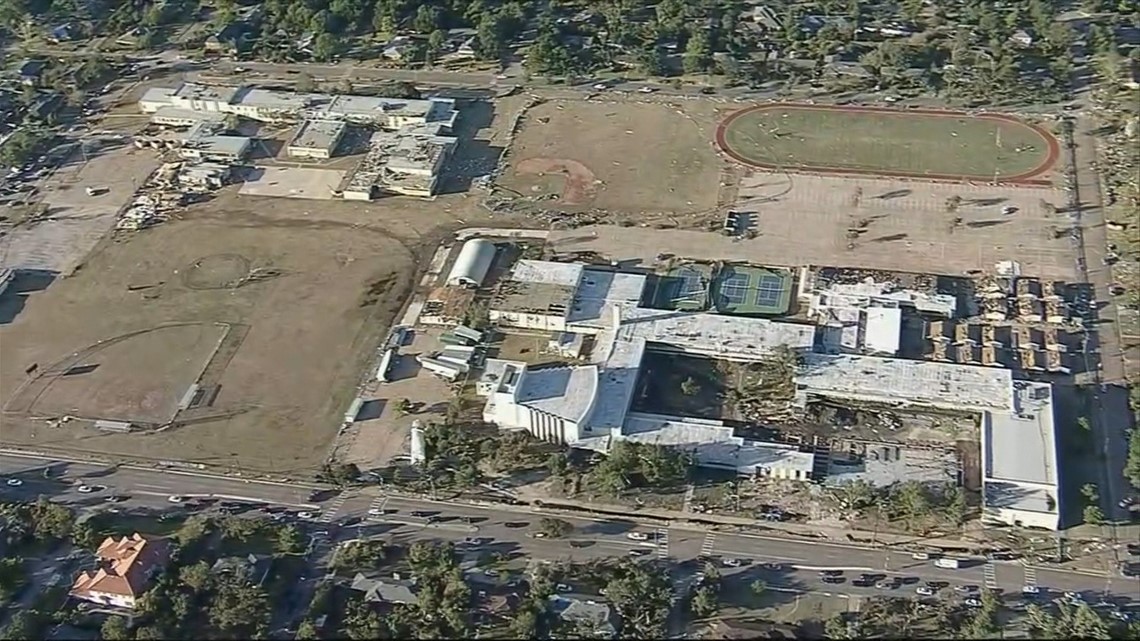 When the day began, 14 other schools didn't have electricity. Oncor is still working with the district to make sure that all of the impacted schools get power back on. The extensive damage and lack of electricity is what led to at least 21 schools closing Monday.
DISD now faces a huge hurdle when it comes to relocating students and getting them a permanent place to finish the school year.
Some football players from Thomas Jefferson High School surveyed the damage to the school around noon Monday.
The football practice field, tennis courts and baseball fields are all a mess and have been suffocated by debris.
"It doesn't look the same, it looks like a wasteland," senior John Cordell said. "The field goal is totally bent over. It makes me want to cry a little bit."
Thomas Jefferson High School Principal Sandy Massey is counting it as a blessing, though, that the devastating tornado didn't touch down during school hours.
"We're so lucky this happened on a Sunday night when literally no one was here," Massey said. "No matter what, we're going to find a way to overcome this."
Athletic officials could be seen salvaging what football equipment they could from Thomas Jefferson High Monday afternoon. This Friday is the school's homecoming game, and Cordell hopes that plan hasn't changed.
"I don't think we're going to have as good of a time as I thought we were going to have," Cordell said. "We just have to keep going, and I think we should be alright."
If you would like to donate school supplies to the Dallas ISD, the school district will have a volunteer phone number up and running by 10 a.m. Tuesday.
See below for a full list of closures and school restructuring within DISD:
Twenty schools were closed on Monday. The following have power restored and are expected to open Tuesday:
Victor Hexter Elementary School
Thelma Richardson Elementary School
Roosevelt High School
Mark Twain School for the Talented and Gifted
South Oak Cliff High School at Village Fair
John Ireland Elementary School
The following campuses experienced damage or power outages and will be closed Tuesday:
Dealey Montessori
Benjamin Franklin Middle School
Hillcrest High School
Kramer Elementary School
Jose Joe May Elementary School
Francisco Pancho Medrano Middle School
Leonides Gonzalez Cigarroa Elementary School
David G. Burnet Elementary School
John J. Pershing Elementary School
Thomas Jefferson High School
Edward H. Cary Middle School
Walnut Hill Elementary School
The following schools will hold classes at the Alfred Loos Field House starting Wednesday, Oct. 23:
David Burnet Elementary School
Leonides Cigarroa Elementary
John J. Peshing Elementary School
More on WFAA: