Will there be rain in North Texas today? Yes.
Will everyone see rain? No.
Will you see rain? Maybe.
Pop up showers and storms are possible mainly during the afternoon into evening hours today. While rain will be out there, coverage will be more miss than hit. That means most places stay dry today. However, some locations will see a passing shower or storm.
If you have outdoor plans, don't cancel those plans. Keep an eye on the sky, and the radar in your pocket.
Have an indoor alternative for plans just in case a shower or storm pops up overhead, and you need to dodge the rain for a little while.
Severe storms are unlikely, but if you find yourself under a stronger thunderstorm expect very heavy rain, lightning, and gusty wind.
As we lose the heat of the day, most showers or storms will come to a close by mid to late evening.
The overnight hours will generally be quiet with muggy and mild conditions for most. There could be a lingering shower or storm out there, but most places are looking dry.
Heading into the early morning hours tomorrow, we are watching for a group of storms coming out of Oklahoma that could graze Red River locations first thing Sunday morning.
The morning could start with a weakening group of showers or storms in northern North Texas before those storms come to an end as they move east and southeast during the rest of the morning.
While pop up showers or storms are possible on Sunday, coverage looks lower and mainly across the eastern half of North Texas.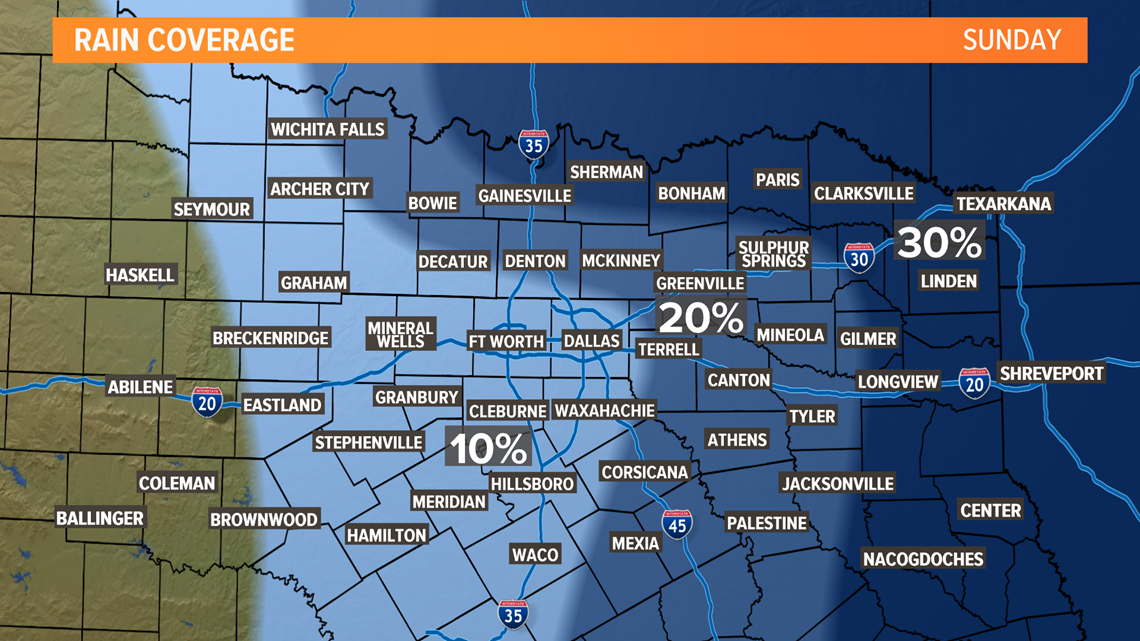 Sunday will also be a hotter day with highs climbing back into the upper 90s and heat index values above 100°.