DALLAS — Watch out for flooded areas and ponding roads as you head out Thursday morning.
A Flood Watch is in effect through Thursday evening for most of North Texas. The area could see 2 to 4 inches of rain, with isolated amounts up to 5 inches by Thursday.
The rain totals could lead to flooding in poor drainage areas and low-lying, urban locations. North Texans could see rises in creeks, streams and rivers that may spill out of their banks.
A stronger cold front will move through Friday morning with cool fall air.
On Thursday, the heaviest rain will slowly drift east with most of North Texas drying out by midday into the afternoon.
Check out this video for the rain timing through Thursday: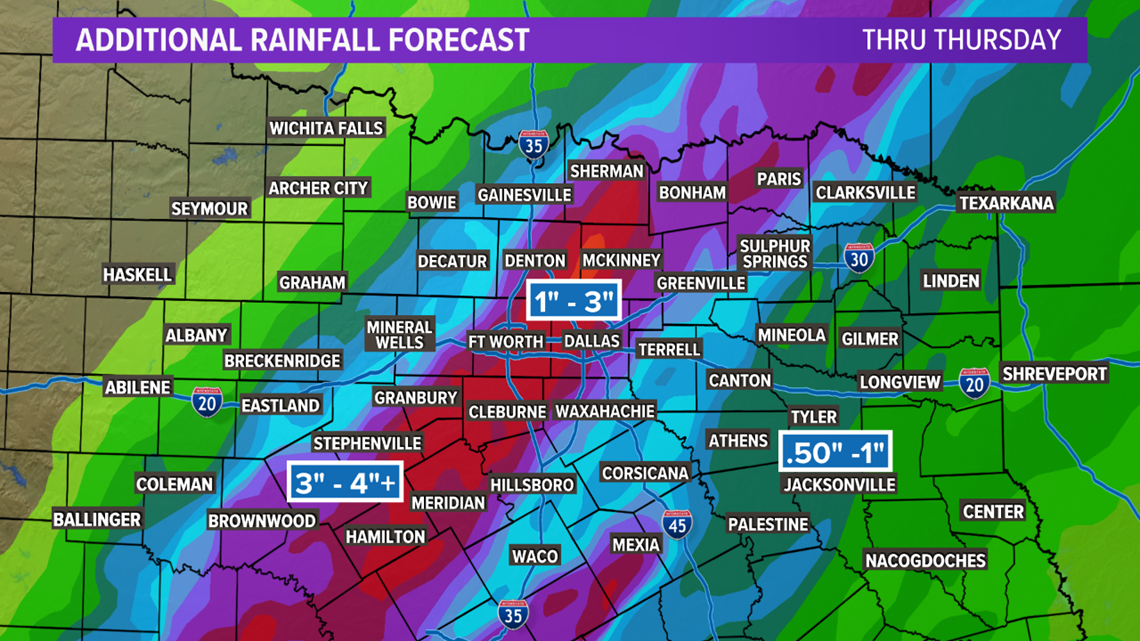 Overall, North Texas could see 2-5 inches of rain through Thursday night.
High water on the roads Thursday
There were some ponding on roadways that drivers should be mindful of and give plenty of time for the morning commute.
Northwest Highway at Harry Hines Boulevard in Dallas remained closed due to overnight flooding.
Remember to turn around, don't drown.
Cooling temps
There is sunlight at the end of the tunnel. with clearing skies going into the weekend. The other good part? A cooling off in temperature.
A nice taste of fall is coming our way as temperatures will cool down by the end of the week as daytime highs struggle to get out of the 70s by Friday. Fall might be here to stay, as high temperatures are expected to remain in the 70s as we head into next week as well.