Updated at 3 p.m.. Friday
A cold front is currently moving across North Texas. Temps behind the front are not drastically cooker, but there is a bit of a cool-down.
Along that front, spotty thunderstorms may form between now and around 6 p.m.
There is not of instability in place to fuel thunderstorms, so any storms will be isolated to scattered. IF they can form, a couple could become strong with strong wind gusts the main threats.
By around 6-7 p.m this evening, any storms will have moved east of most of North Texas, so any evening plans should be dry!
Temps will fall and skies will clear with lows in the upper 30s to low 40s by Saturday morning.
This Weekend
Saturday will be dry, but much cooler. Temps on Saturday will actually be seasonable for this time of year.
Changes will arrive on Sunday.

Showers will become possible again especially during the morning into early afternoon. A cold rain is possible for most of North Texas.
While a cold rain is what most areas will see, it is not impossible for some places to see some snow flakes!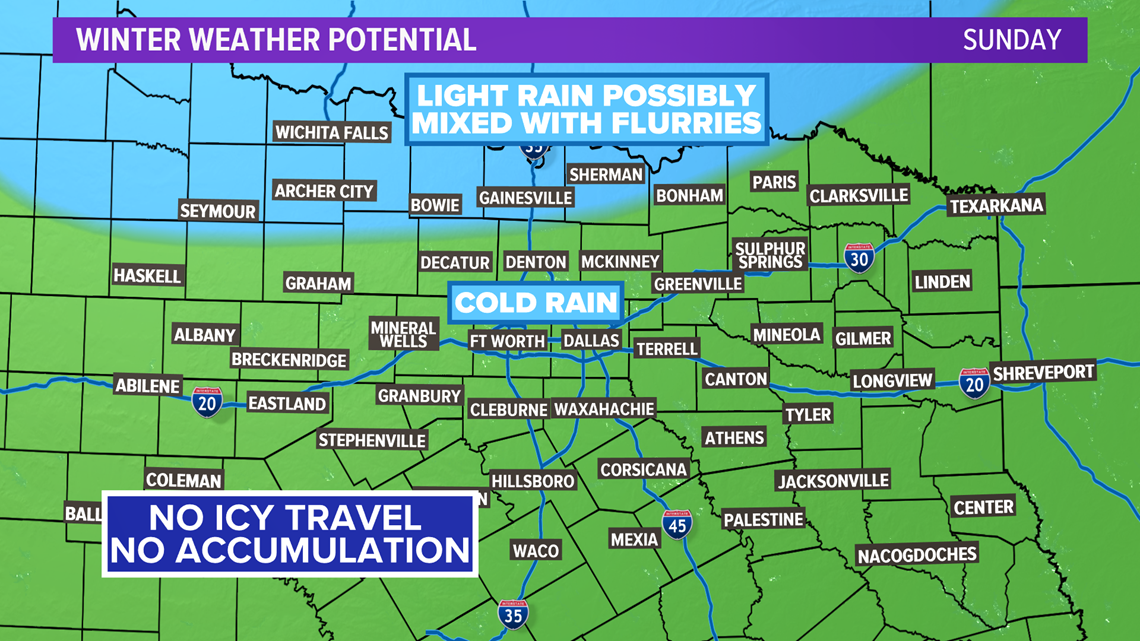 Northern North Texas (north of HWY 380) COULD see some snow flakes mix in with rain during the morning hours on Sunday. However even if this occurs, accumulations are very unlikely. So any icy spots or a winter-wonderland does not seem to be a possibility.