The remnants of Tropical Depression Imelda unleashed torrential rain Thursday in parts of Texas, and now the storm system is headed toward the Dallas-Fort Worth area.
What does that mean for our forecast?
The remnants of Imelda will track through the center of East Texas over the next 36 hours. Areas underneath and east of the center of low pressure could see heavy rain and isolated flooding. This would include Corsicana, Canton, up to Paris and areas east of that.
But ares to the west, including DFW, will likely only see scattered showers and storms.
Rain chances in North Texas increase late Thursday to the east and peak Friday across most of the area.
We'll be watching for a broken axis of showers and storms to develop late Friday morning into the afternoon. Those lucky enough to find themselves under these storms could easily pick up to 1 inch of rain in a short period of time.
So, yes, the rain could be heavy Friday in parts of North Texas, but the chance of flooding is low.
A storm with some gusty winds up to 45 mph can't be ruled out, especially on Friday, but severe weather is not likely in North Texas.
Check out these maps that show the timing of it all:
Friday's rain chances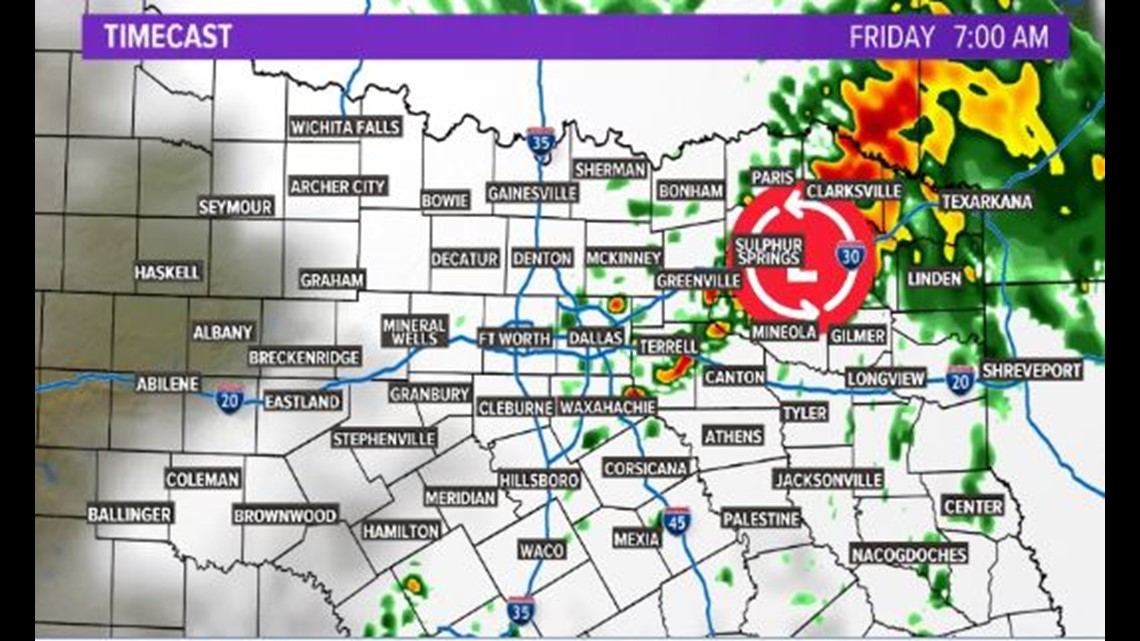 Friday night plans should be just fine.
A lingering shower may be around into the early evening, but the rain chances dwindle after 7 p.m.
The weekend will also be dry in North Texas as the remnants of Imelda lift well north of the state.
What North Texas will see:
Scattered showers and storms Thursday night. Higher coverage Friday
Not everyone will see rain
The rain coverage and higher rain totals go UP the farther EAST of the metroplex you go
Some of the storms that do pop up Friday could produce really heavy downpours (metroplex included)
No severe weather
Friday night and weekend plans are likely to be dry
Also on WFAA: