That's why Galveston County has issued a voluntary evacuation for residents on the Bolivar Peninsula.
The voluntary evacuation is for residents in zip codes 77623, 77617 and 77650. It began at 9 a.m. today and runs through Thursday at noon.
According to Galveston County Mark Henry, people who feel they don't have enough food and supplies for three days should consider evacuating. It's especially recommended for the peninsula's vulnerable population and those with medical needs, as they could be cut off from the rest of the county.
On the Bolivar Peninsula, higher-than-normal tides are expected to be four to six feet starting Saturday night and lasting through the middle of next week, which could make State Highway 87 impassable soon.
Low-lying areas of the county could also be impacted by coastal flooding. That includes areas like Bacliff, San Leon and Freddiesville. No evacuation order has been issued for those areas but residents should stay tuned to KHOU 11 for the very latest on the storm.
As for the Bolivar Ferry, Henry says that's state-run, so it's up to them how long it keeps running.
Tropical Storm Beta started Friday as a tropical depression in the Gulf, but strengthened into a tropical storm by Friday afternoon. It's expected to strengthen more into a hurricane before weakening again.
Where it goes from there is still anybody's guess.
Here's the official forecast cone from the National Hurricane Center.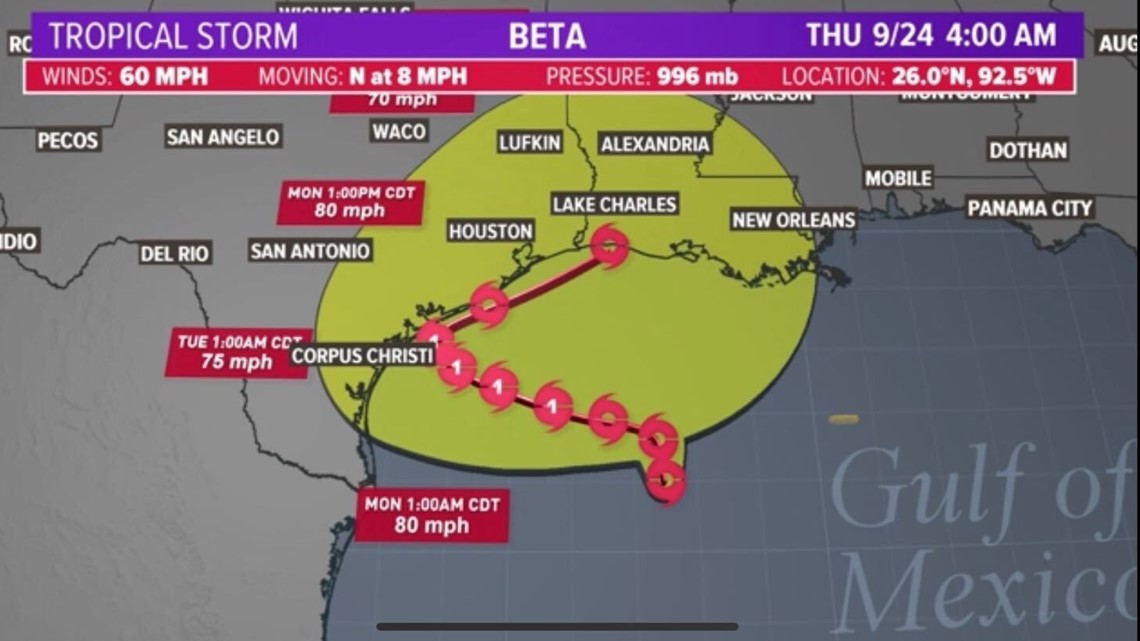 Expected rainfall from Tropical Storm Beta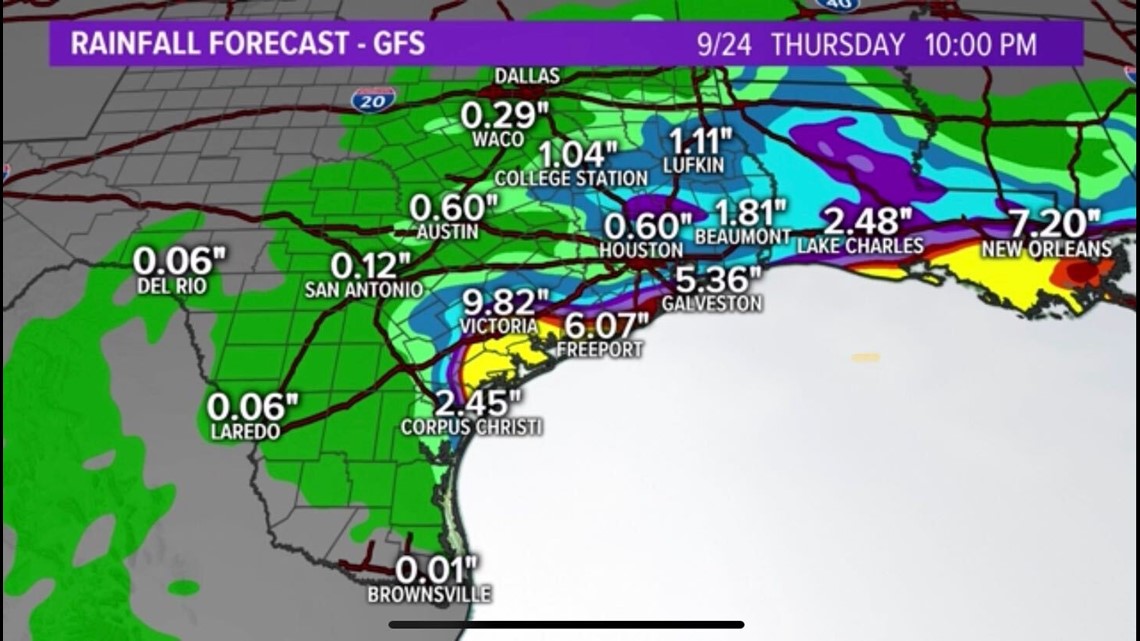 Here is the full disaster declaration
Be prepared if tropical weather does come our way
Make a home inventory
Have a current copy of your declarations page that has your policy number and your agent's number
Review your policy with your insurance agent to determine if you have adequate coverage
Repair loose boards, shingles, shutters and downspouts to prevent them from becoming an issue in high winds or torrential rain
Have an evacuation plan, and include plans for your pets
Make sure your emergency equipment is in working order, including a battery-powered radio, flashlights and extra batteries. Also, make sure to gather all medicine, replenish your first-aid kit and stock a week's worth of non-perishable food and water
Charge your cell phone and fill your car with gas
Program all emergency phone numbers
If you are advised to evacuate, leave as soon as possible. Retain all related receipts - they may be considered in your claim. If you aren't in a recommended evacuation and you plant to stay home, stay informed by listening to weather alerts
Keep windows and doors closed at all time, and, if possible, board them up with wooden or metal shutters
Stay away from the windows and in the center of the room, or, stay in an interior room
Avoid flood water, as it may be electrically charged from downed power lines
Check on family members and friends
Check to be sure your family members are safe
If you did evacuate, wait for official notice that it is safe to re-enter your neighborhood and your house
Document damaged property, and take photos and videos. Don't dispose of any damaged items without approval
Keep a record of any temporary repairs or expenses to prevent further damage to your property