DALLAS — With quite a few events going on in North Texas today, make sure you have a plan and stay weather aware.
Round #2 of storms is moving into parts of D-FW and will move across D-FW between now and 9 p.m.
Some storms are severe with the threat for large hail and damaging winds.
Heavy rain and lightning will be a given with any severe storms.
We'll also be watching for any of those storms to strengthen with the potential for a tornado threat as well.
Severe storms or storms are not guaranteed for all of D-FW, but they are possible so keep your guard up!
Severe storms Sunday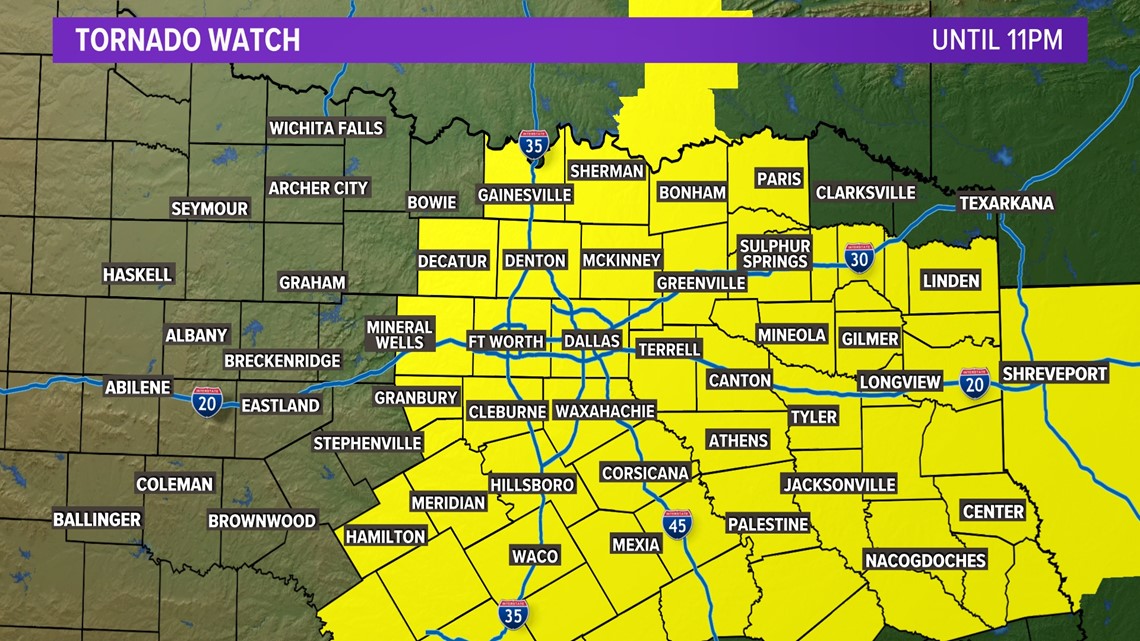 A Tornado Watch continues for most of North Texas until 11 p.m. Sunday evening. Western parts of North Texas have been dropped from the Tornado Watch as the threat has ended for those locations.
While there is a threat for tornadoes with the strongest storms, very large hail and damaging winds will be possible as well.
Hail could be up to the size of golf balls or larger.
Timing
Scattered storms are ongoing Sunday afternoon in and around D-FW and other areas of North Texas.
This first round mainly had a hail threat with hail up to the size of golf balls possible in strongest storms.
Another round of storms will be possible later, perhaps more in the evening hours. For D-FW, this looked to be between 5 p.m. and 9 p.m.
The second round could have the potential for stronger storms than the first round with large hail, damaging winds, and a tornado threat.
Any rain will move east during nighttime hours with most of North Texas dry into the overnight hours.
This week
Next week, an active weather pattern continues with very warm temps to start the week and much cooler weather to end the week.
We'll have to watch for the potential for severe storms as well.
IF isolated storms can form on Monday or Tuesday, they would have the potential to become severe. Another round of rain is possible late week even into Easter Weekend, but the severe threat at this point looks low due to much cooler temps.