DALLAS — Quick recap of what we're expecting:
A chilly and rainy day on Tuesday
Rain/snow mix or snow is possible for parts of North Texas. Freezing rain or sleet (icy conditions) do not look likely.
Temps stay above freezing all day Tuesday
Significant snow totals or travel issues are not likely for most
The set-up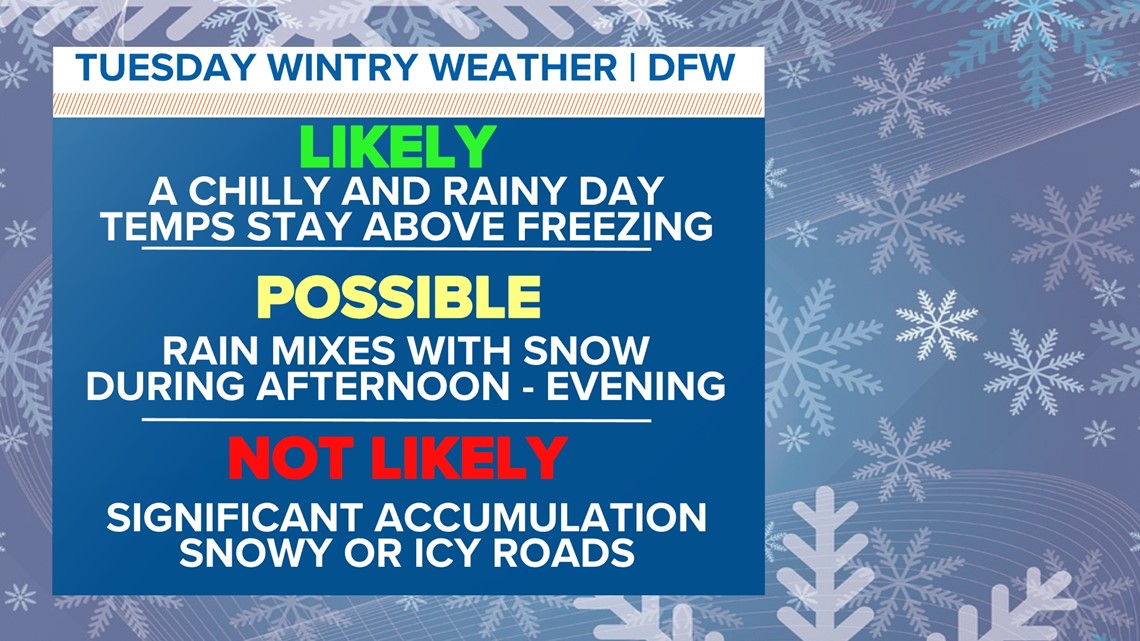 We are still multiple days away from this event, so the forecast will continue to be fine-tuned as we get closer. Keep checking back for updates!
Timeline
Rain will start to move into North Texas from west to east. Some t-storms may be possible for southern North Texas into Central Texas, but the severe threat looks low.
Rain will spread across North Texas. It will be chilly and rainy with temps in the 30s and 40s but above freezing.
Rain may start to mix with snow across western and northern North Texas. If this occurs, accumulation looks to minor and on grassy or elevated surfaces. Travel issues are not likely.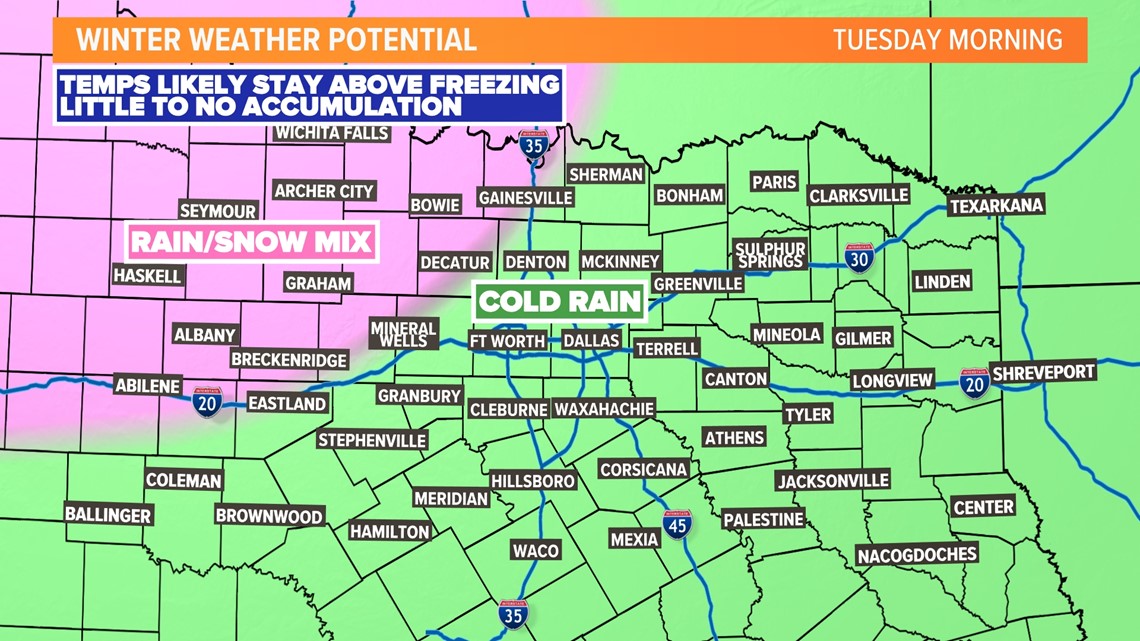 Tuesday afternoon - evening:
It will continue to be a chilly and rainy day. But as the storm system moves overhead, rain may mix with snow from D-FW to the north. A transition to mostly snow may occur across western and northwestern North Texas.
Temps will continue to stay above freezing for most, so if snow is falling, most will melt immediately on contact with the ground or roads.
However, any heavier bursts of snow could cause some to accumulate on roads, bridges, or overpasses causing slushy conditions. IF this occurs, best chances are in northwestern North Texas.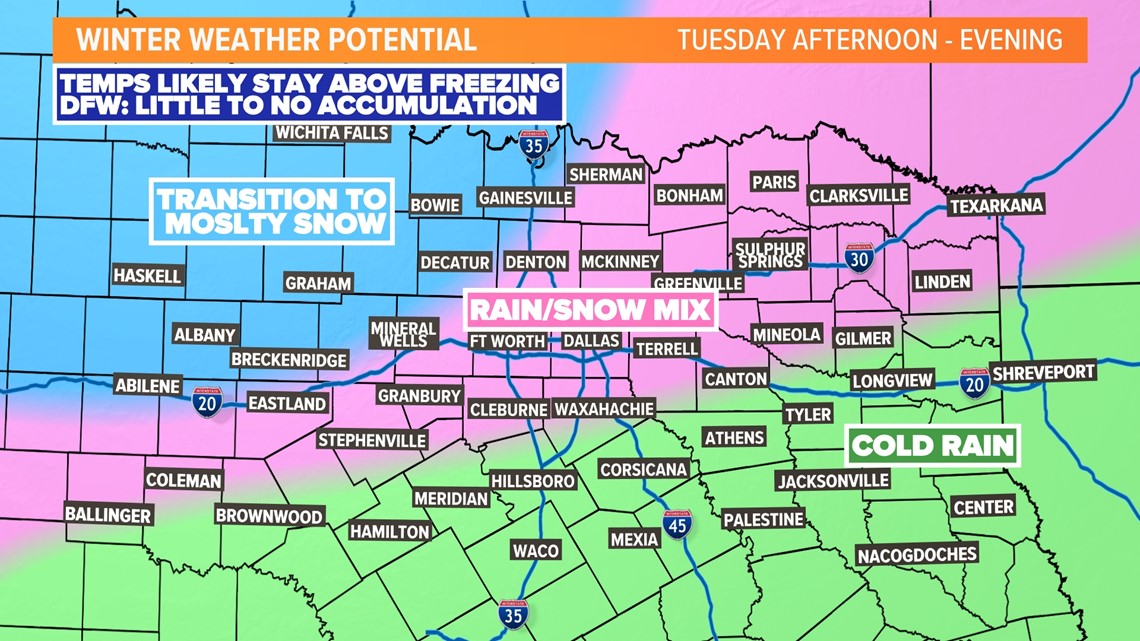 Any rain/snow mix will taper off during the nighttime hours with all of North Texas dry by Wednesday morning, but some light amounts may continue to accumulate in northern areas.
Temps overnight will mostly stay above freezing, so most roadways will continue to be just wet.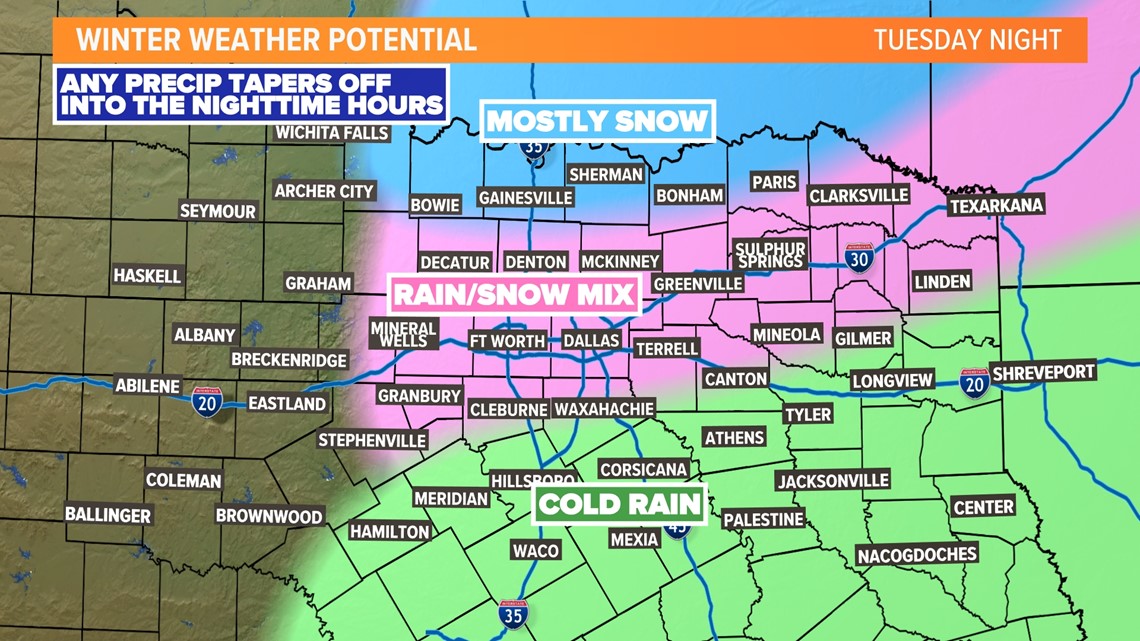 Possible snow amounts
We'll continue to fine-tune details, but here's what things look like right now...
For most of North Texas, snow accumulation looks to be little to none. The farther north you are, the chances increase a bit for some light amounts on grassy or elevated surfaces. Far northern and northwestern North Texas, look to have the best chance for accumulating snow, but most will melt on contact with roads or the ground.
Because temps are expected to stay above freezing, widespread travel issues are not likely due to snowy or icy roads.
However, if any heavier bursts of snow occur, that could fall quickly enough to cause some slushy roads, bridges, and overpasses. The best chance for that to occur will be across northwestern North Texas.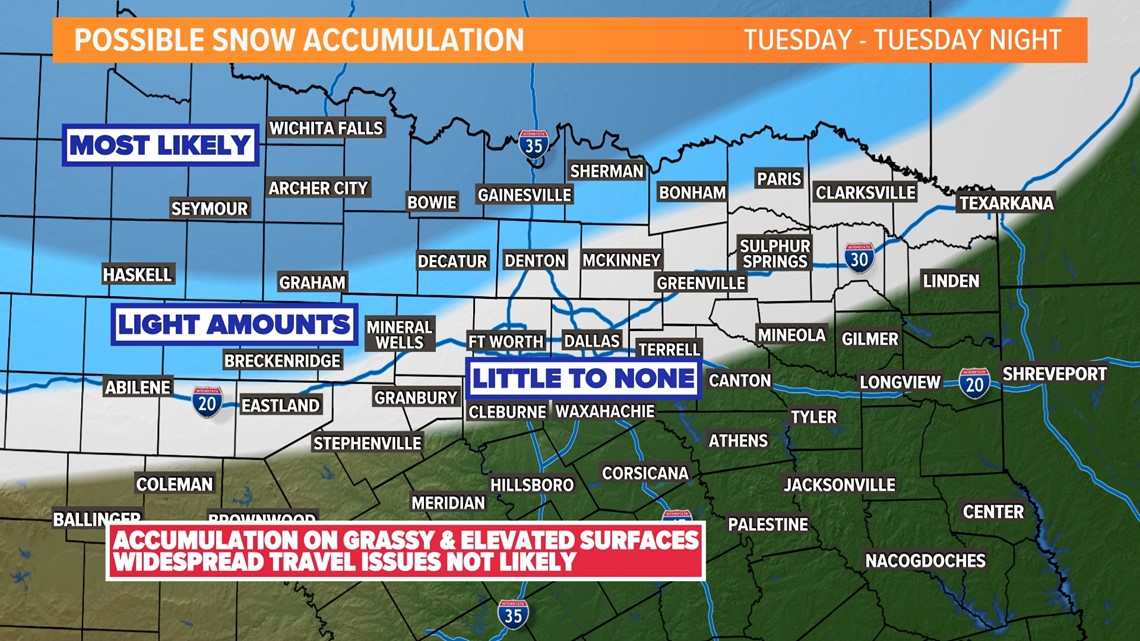 Rainfall totals
The chances for snow grab the headlines, but this does look to be our first chance for a widespread, soaking rain this year. Rainfall totals of give or take 1in look possible for most.