All winter weather warnings have expired for North Texas. Icy, not snowy, wintry weather is still impacting areas of North Texas and will continue to cause problems across the area through Friday morning.
Here's what you need to know to be best prepared:
Rounds of freezing rain and sleet will continue through Thursday early afternoon
Roads will continue to be slick and hazardous
Ice accumulations will generally be lower
Conditions will improve Thursday afternoon, but exactly how much is uncertain
Keep checking back for updates as the forecast will continue to be adjusted!
Timing
Thursday
Looks like we will finally warm up above freezing during the afternoon!
Any freezing rain that doesn't melt during the afternoon will causes ice covered roads as well as trees and powerlines. This can cause power outages and infrastructure damage as ice weighs down utility lines and tree limbs.
During the day as temps warm above freezing and any freezing rain will transition to just rain.
However, it will still take a while for everything to melt from the last several days. Roads will continue to stay slick and hazardous, especially during the morning Friday. Exactly how much improvement happens during the afternoon is uncertain. Could be a lot. Could be not as much as we want.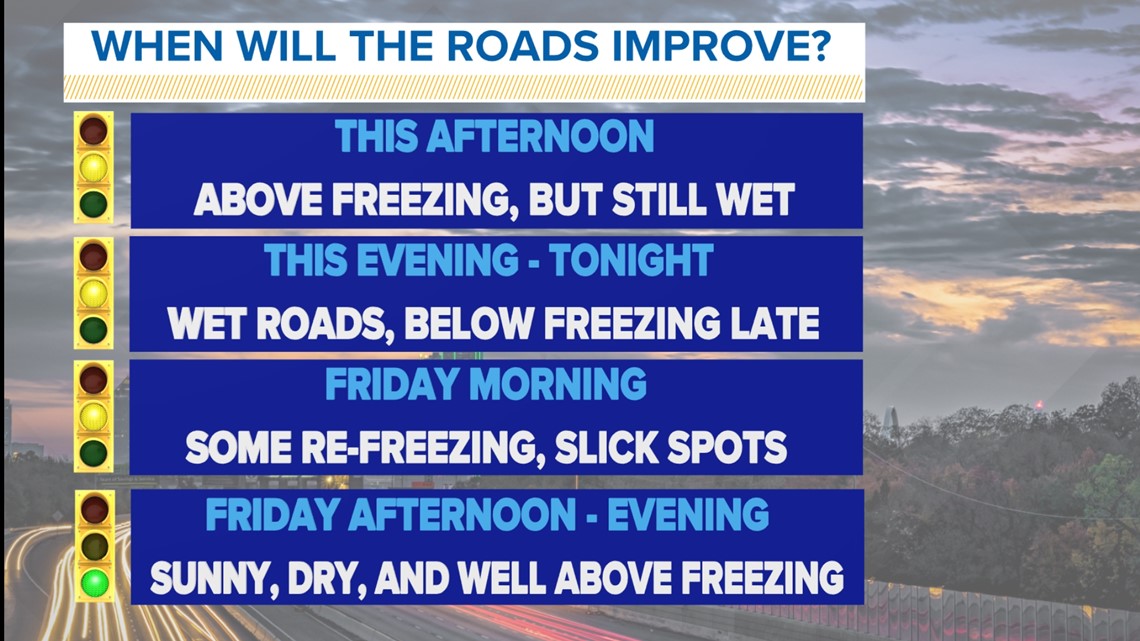 Ice totals
Ice totals through Thursday morning will be highest in areas under the Ice Storm Warning.
Areas with the highest ice totals will be the most susceptible to power outages, infrastructure damage, and significant road problems through Thursday.
GOOD NEWS - Widespread improvement for North Texas is expected through the weekend.