A south wind returns Sunday bringing climbing temperatures. A combination of warm and windy weather will increase fire danger on Sunday mainly west of the D-FW area.
Otherwise, it will be a sunny and warm day with highs into the 80s area-wide.

An Ozone Action Day is in effect for all of D-FW and the surrounding area as well. Please be aware if you are sensitive and have outdoor plans. If you want to help out with ozone pollution, avoid unnecessary car trips, running combustion engines outside, and refueling during the day.

Most of North Texas will be dry Sunday evening into Sunday night, but it is not impossible for a storm or two to move into far northwestern North Texas during the evening into nighttime hours. If that occurs, those storms could be strong to severe with a hail and wind threat.

Storms and severe threat
A better chance for thunderstorms for all of North Texas returns mainly late Monday afternoon into Monday night.
Monday will be a return to mainly cloudy, warm, breezy, and muggy weather.
Can't rule out a stray shower or sprinkle during the day, but most places will be fairly quiet.
We'll be watching for t-storms to form across western North Texas during the afternoon, then move from west to east during the evening into nighttime hours.
For D-FW, timing for any storms looks to be after 6 p.m., perhaps closer to 9 p.m. - 10 p.m.

Some storms could be severe with strong winds and hail being the main threats. However, the tornado threat is not zero. Isolated tornadoes are possible as well.
This round does look to bring more much needed rain to the area. While it won't get us out of the drought, we will continue to take whatever we can get.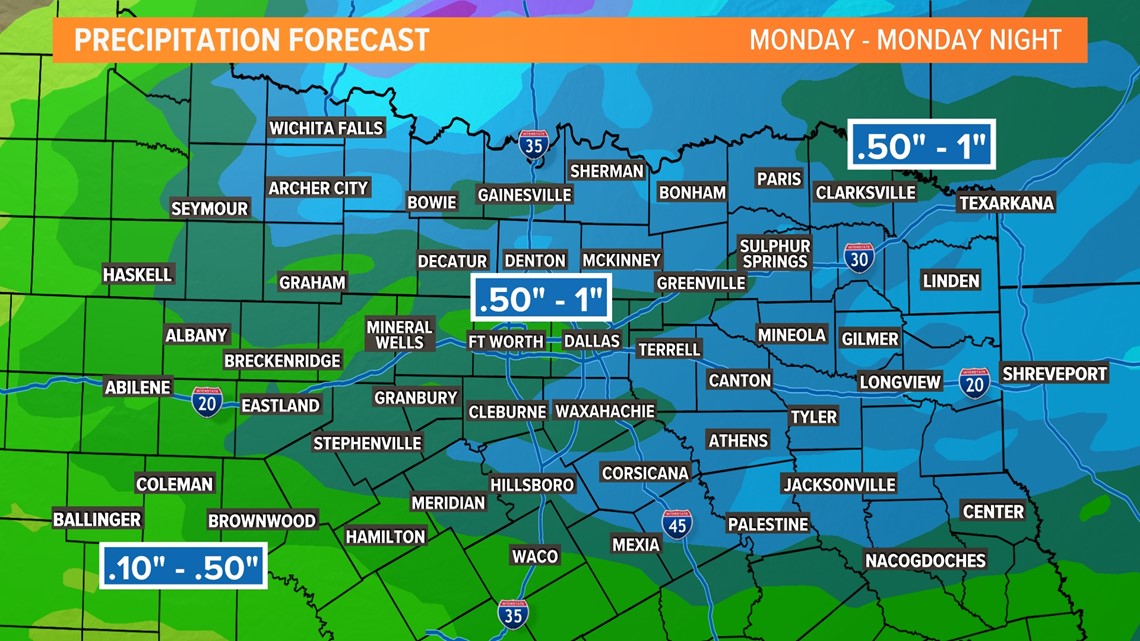 Here's a general idea of when and where to expect thunderstorms both Sunday and Monday. Timing and expectations of risks will change, so keep checking back for the latest!