DALLAS — Tuesday's snow has moved out as cold air settles in. Here is a look at what is next:
Dry weather the rest of the workweek
Cold mornings continue
Afternoon temps climb every day through Saturday
Rain chances this weekend through the end of the month
Tuesday's cold front brought in rain, snow, and severe weather across the state. Now that the moisture is out, the cold air filters in. As a result, the next several mornings will be downright cold.
Skies cleared overnight allowing temps to fall across all of North Texas some even seeing a freeze and frost Thursday morning.
This weekend
The 60s are back Friday as sunshine and southerly winds return.
On Saturday, the day will be cloudy, muggy, and breezy. Some spotty to scattered showers are possible mainly for eastern North Texas. A front moves in before sunrise Sunday morning. A few showers will be possible, but coverage will be very low. High temperatures on Sunday happen in the morning. We will notice 30s and 40s during the afternoon hours.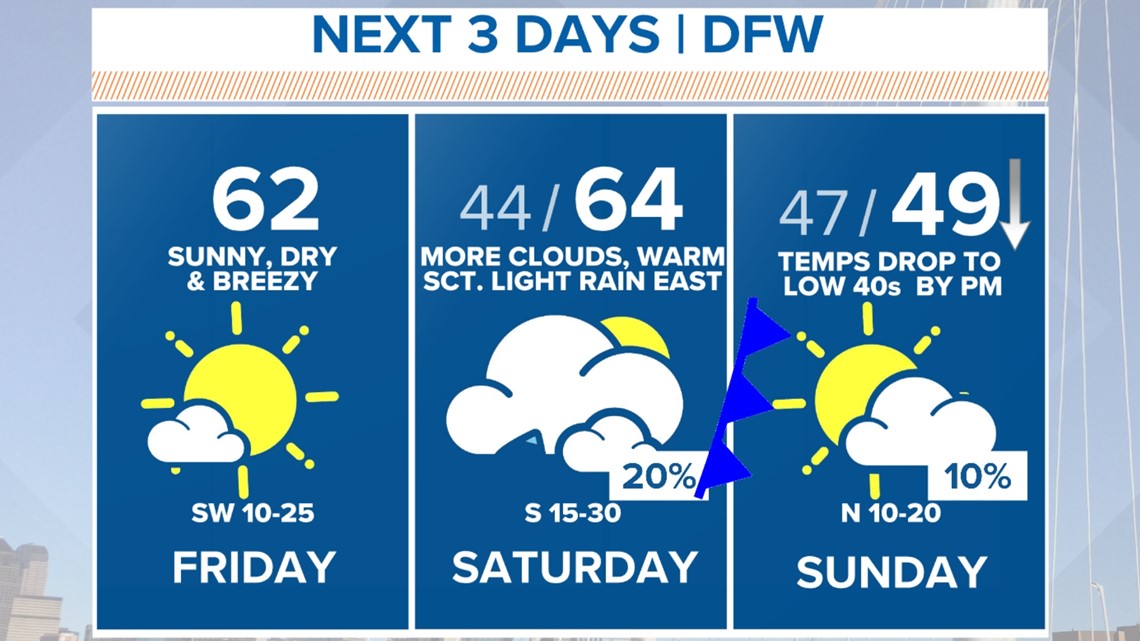 North Texas will be in an unsettled pattern with rain chances to end the month. It does look to be chilly as well. As of now, wintry weather chances look low for most, but we'll continue to keep an eye on temps and the pattern!