DALLAS — It is early March and winter is not done just yet!
A Winter Weather Advisory was issued for parts of North Texas through 6 p.m. Friday, but most of the wet weather was mostly clearing out of the area by the early afternoon. Shortly after 2 p.m., the advisory was cancelled.
But the cold temperatures were here to stay, heading into the weekend.
As any precipitation clears out Friday, temperatures will continue to drop. This will lead to an area-wide freeze Saturday morning. On average, the last freeze for DFW is March 12th, but a freeze has been recorded as late April 13th!
Temperatures recover through the weekend with highs in the upper 60s by Sunday. Next week is looking warmer!

A Wind Advisory was also in place for north winds from 15 to 25 mph with gusts up to 40 mph. Impacts: driving west to east or east to west may be tough for high profile vehicles. Wind chill will be in the teens and 20s.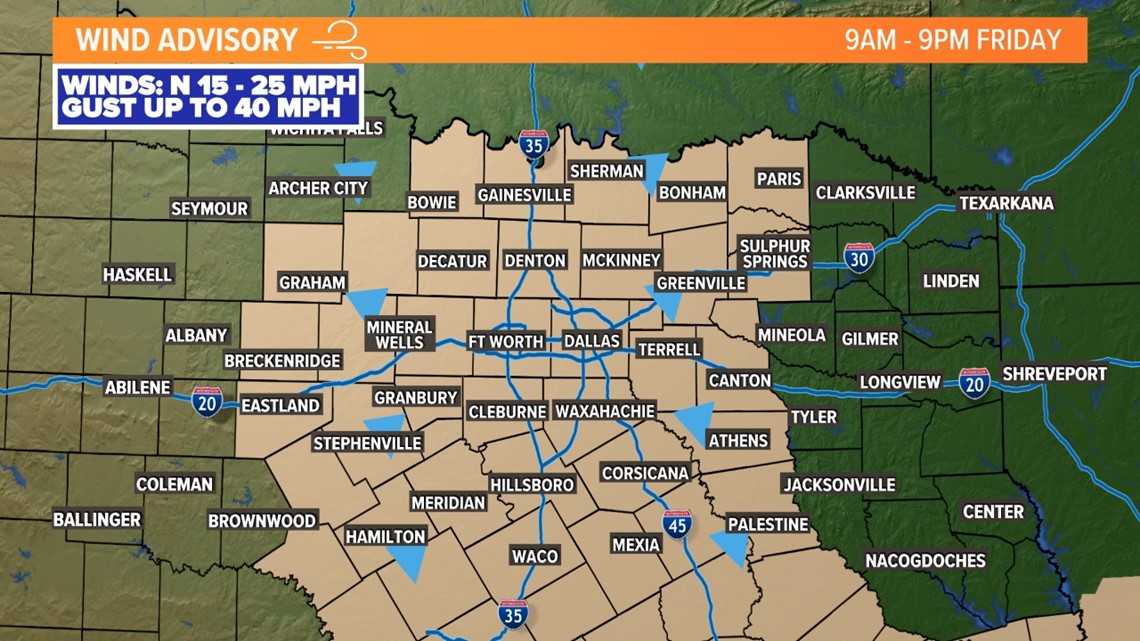 A cold front arrived in North Texas late Thursday night ushering cold air into the region. With the help of a strong north wind, temperatures stay in the low thirties the remainder of the day. As temperatures dropped, some rain transitioned to sleet and snow for some. Wind chills were in the 20s and teens early Friday.
Some rain and wintry precipitation was still moving through the northern counties of our area Friday afternoon, but no widespread travel issues were happening.
After the wet weather began to clear out, the cold temperatures remained.