This story will continue to be updated with the latest forecast.

5:45 UPDATE: We still see thunderstorms pulsing up across the eastern half of the metroplex. Flash flooding, large hail and damaging winds are the concern. A new Flash Flood Warning was issued for Dallas County after 1-3 inches of rain has fallen in a short amount of time.
A severe thunderstorm warning has been issued for several counties in North Texas as storms and showers pass through.
The warning was in effect for Dallas, Kaufman, and Rockwall counties but expired at 5:45 p.m.
The storms over the next few hours will pulse up quickly and weaken quickly.
If you have outdoor plans, keep an eye on the sky and move things indoors if you hear thunder or see lightning.
Remember to download the WFAA app to check one of our dozens of local radars near you as well, as the latest forecast, cameras, and current conditions.
This Week
More scattered showers and storms will be possible mainly Monday and Tuesday. Not everyone will see rain each day, but showers and storms should be out there.
As a result, temps will be "cooler" with highs in the upper 80s to low 90s to start the workweek.
Enjoy the cool-down and rain chances while they last because we could see our first triple-digit temps of the year by next weekend!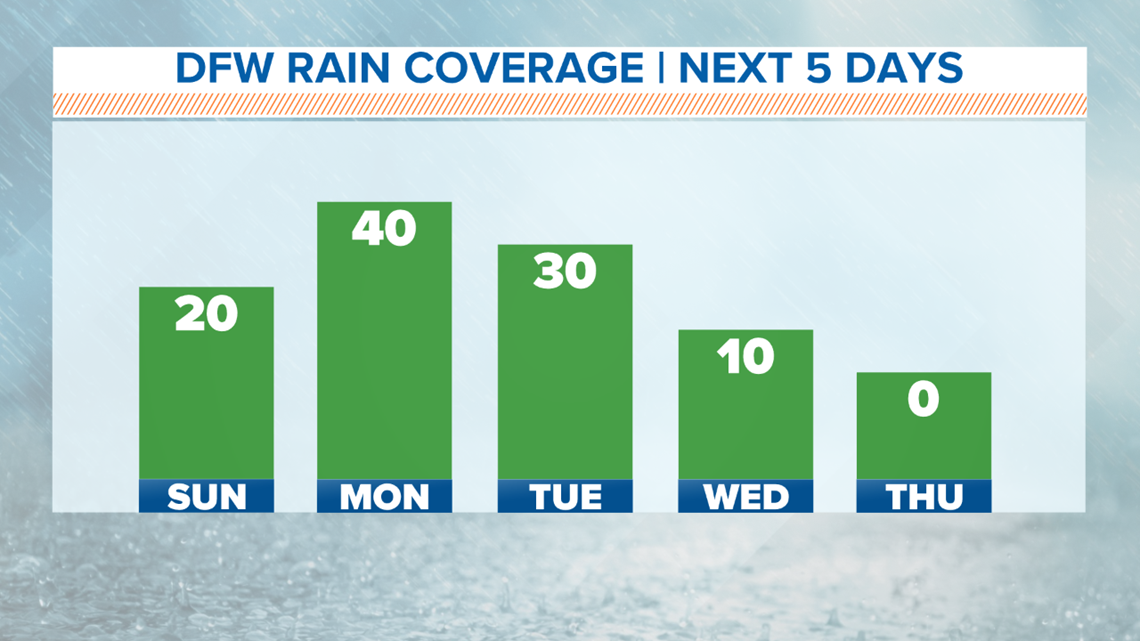 More on WFAA: