DALLAS — Editor's note: The video above is a previous explainer of La Niña.
So many of you have asked:
Will Dallas-Fort Worth see snow this year?
The short answer is maybe, but maybe not.
I'm going to be honest with you, forecasting weather more than 10 days in advance is not accurate. When it comes to winter weather, forecasting more than three to five days out is not accurate.
Jesse and Kyle summarized long range forecasting perfectly in their latest blog post, "The problem with 'social media-rologists:' Why it's important to not believe every weather map you see on social media."
Our job as meteorologists is to keep track of trends, analyze the data appropriately and insert a bit of reality to the forecast. And being realistic and having historical perspective on weather is extremely important.
Last year, North Texas saw one of the longest freezes on record. And the temperatures dropped well into the single digits.
Before that, the last time D-FW recorded single digit temperatures was 25 years ago.
This graphic from the NWS in Kansas City describes PERFECTLY why model solutions are not trustworthy.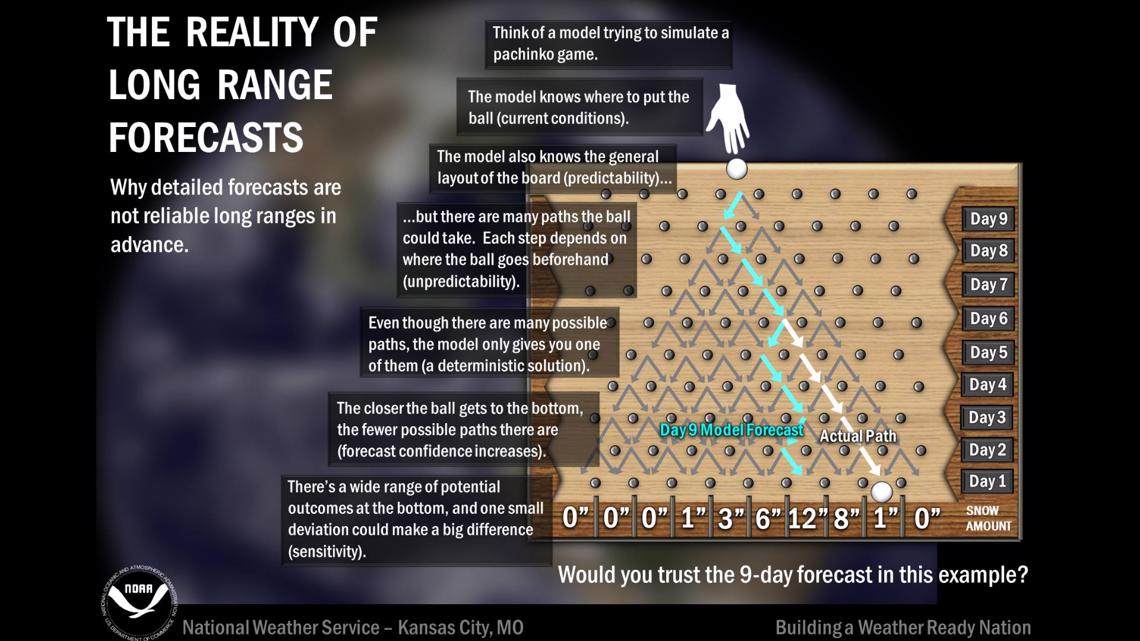 Now that we have that out of the way, lets talk about the snow potential this year. While we can't talk about an actual forecast, we can talk about actual trends.
La Niña winter
This winter is described as a La Niña winter, which generally means a warmer and drier weather pattern for North Texas. As of mid-January 2022, that is accurate. We have recorded the warmest December on record, and we have fallen into a widespread severe drought. Our rain deficit is 6.74 inches since the beginning of fall.
Okay, let's get to the point.
Overall, this pattern will likely continue. Expect weather that is warmer and drier than normal, and that seems to be outlook for the next two weeks, at least.

But, we cannot completely count out some cold spells and, yes, even the potential for wintry weather. In fact, the latest system to arrive this weekend could bring a flurry or two across our far northeast counties. There will not be much in accumulation and no impacts are expected.
Since the year 2000, DFW has reported at the very least a trace of winter precipitation every year. So while it is not looking likely for the next two weeks, don't completely count out a chance for wintery weather this year - just don't expect a winter wonderland.