DALLAS — World leaders are gathered in Scotland for a UN summit on climate change. Their mission is to make rapid cuts in greenhouse gas emissions and limit the danger we all face from a future of more extreme heat, drought, fire, flood and hurricanes. What's at stake for Texas?
Right off the bat, there are two things you need to know about Texas and climate change.
In case you're not up to speed on the UN summit, diplomats and heads of state are trying to set new targets that would quickly curb the burning of coal, oil and gas that heat up the planet. The mission is to avoid catastrophic warming that science shows would happen if we do nothing.
What does that look like? Take North Texas, for example. Average annual temperature has been on the rise since 1970.
Based on research from the United Nations, if world leaders do agree to significant emissions cuts, future warming slowly stops around 70 degrees. If they do nothing, temperature rises above 74 degrees.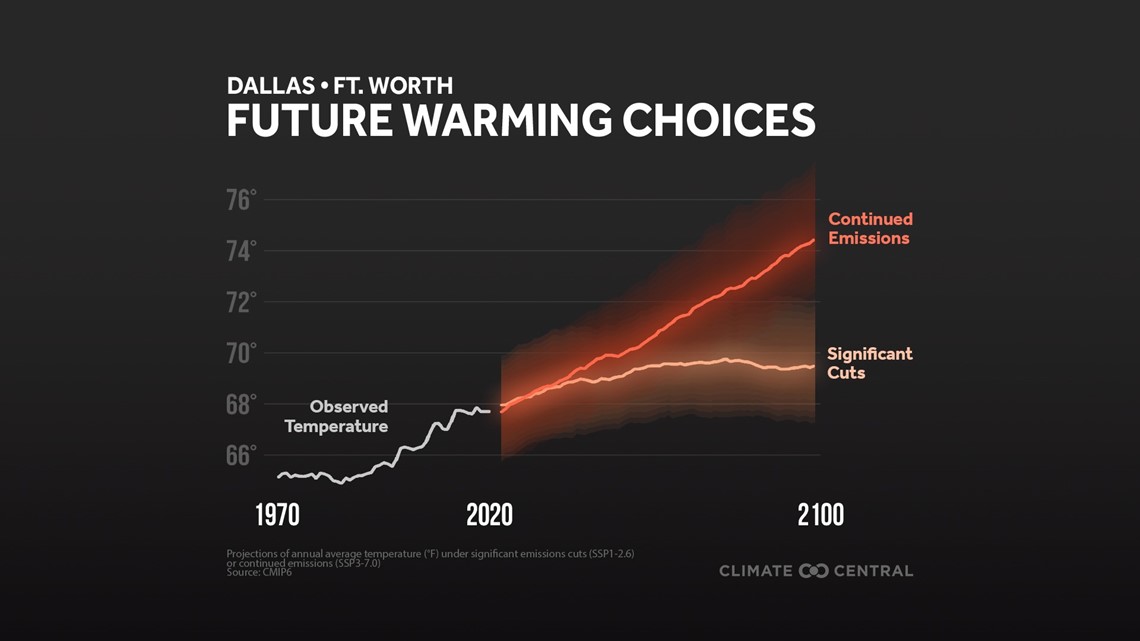 That kind of warming will create massive problems according to a recent report from climatologists at Texas A&M University. Because of climate change, it says, we're headed for a future of more. More 100-degree days, more extreme rainfall, more urban flooding, more intense hurricanes, more severe drought, more risk of wildfire.
"As I tell my students, the decisions that are made at this meeting and, you know, meetings next year and maybe the year after, these are going to determine what the world looks like when my students are my age," said Dr. Andrew Dessler, a climatologist at Texas A&M who did not contribute to the report.
In Scotland, the goal is to cut greenhouse gas emissions in half by 2030, eliminating them entirely by 2050. In Texas, that would mean a dramatic shift from producing oil and gas to producing renewable energy.
That kind of transition, though challenging, is exactly what Texas must do, according to the leader of the United Nations.
"If Texas wants to remain prosperous in 2050 or 2070, then Texas will have to diversify its economy and Texas will have to be less dependent on oil and gas," said UN Secretary General Antonio Guterres. "Texas will have to a leading state in renewable energy in the U.S.," he added.
When we first aired our interview with the Secretary General, it drew a strong reaction from Texas Governor Greg Abbott who tweeted, "Texas to United Nations: Pound Sand."
In Texas, it's important to understand the politics of climate change. A poll for the Texas Politics Project shows that voters are deeply divided with 88% of Democrats saying "climate change is happening" compared to 30% of Republicans.
Regardless of political opinion, Texas is actually a leader in renewable energy. According the US Energy Information Administration and trade groups, Texas is American's dominant producer of wind energy and number two in solar.
So, when it comes to the world working together to find solutions what's at stake for Texas? In one way we're headed toward a more extreme future just like everybody else is.
But in another, as the largest producer of oil and gas, the largest emitter of carbon dioxide and the largest producer of wind it's hard to imagine the world can hit its targets without Texas helping to lead the way.