DALLAS —
"it was the season of Light,
it was the season of Darkness,
it was the spring of hope,
it was the winter of despair,
we had everything before us,
we had nothing before us"
-Charles Dickens, "A Tale of Two Cities", 1859
This is a tale of two lefties. One in the winter of despair, one delivering us into the spring of hope.
Hope was supposed to be the banner unfurled upon former top pick Cole Ragans, who last year came in at #7 on our list. Alas, before he could even get going this year, the foul scourge of Tommy John Surgery cut him down. A year lost to the knife, a season lost to the inevitable fate befalling modern day throwers.
I do want to give you a brief reminder about Ragans, who still deserves to be a top rated prospect despite the surgery. Here's the important notes from last year's profile that remain unchanged:
-"Ragans has a legit three pitch mix, but like most top line prospects it's the fastball everyone likes. Coming into the draft it ranged between 89-93 MPH, but that was when the young man was still in high school. There's plenty of time for him to get on a professional strength program, add some muscle to his frame, and with any luck a couple more ticks of MPH. The fastball is also his best commanded pitch, though there's reasons to be excited for his changeup and curve as he develops them."
-"Based on what we know right now, I'd slot Ragans as a #3 starter one day. He's got three pitches that he's still improving, and he's got some filling out to do. As long as he stays healthy, by 2020 or so it's not hard to envision him starting every 5th day for Texas as their 3rd starter. If his fastball improves, and one of either his curveball or changeup drastically improves, he might be able to push for a #2 spot."
While much of this is still true, he did not stay healthy. Therefore, we must wait for the ice and snow of his ill fated 2018 to melt before we rediscover the bright green pastures of Ragans' future.
However friends, let me tell you about the current spring. The one that interrupted a harsh summer, arriving in Frisco this past Friday.
Hope blooms anew, as lefty Taylor Hearn made his debut taking on Corpus Christi. The former 5th round pick was the primary return from Pittsburgh for departed reliever Keone Kela, and we got a taste of the future that night on a moderately breezy North Texas night.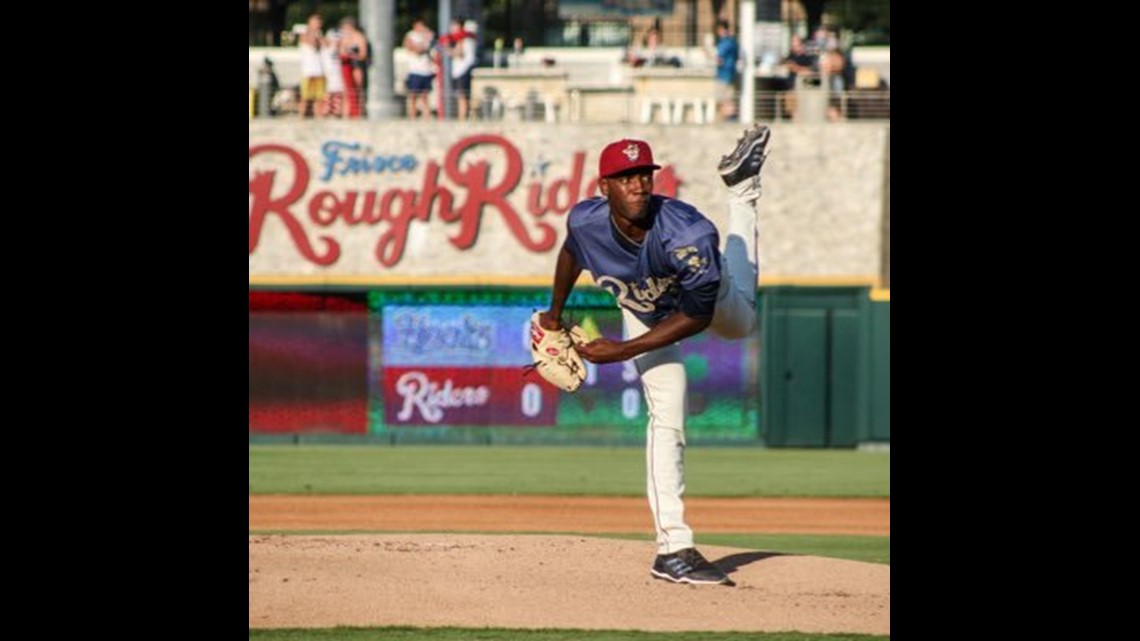 Hearn impressed all in attendance with eight strikeouts in 5 1/3 innings. The fastball is his best pitch, where Hearn hit 96 on the radar gun but sat more comfortably in the 94-95 MPH range. The changeup and slider we knew about showed up, with the slider in particular being better than previously reported. A couple times Hearn broke out a curveball that had been in hiding, including once for a strikeout in the fifth inning.
The stuff was good, probably major league bullpen good right this moment (I'll be shocked if he doesn't get a September call up), but what impressed me more was the stuff you can't see on a gun or in a box score. Hearn has the presence of a starter on the mound, which makes it wild that folks were calling him a reliever from the jump.
Hearn commands the pace, he doesn't get frustrated based on what happens to him, and he's even able to switch between windup and stretch with minimal, if any, differences. He owns the responsibility and status of a starter, and everything about the way he acts on the mound demonstrates that.
Yes, it was just one start, but everything that we had heard about Hearn from his previous stops rang true in that singular outing save for some minor details. This is not merely a bullpen pitcher in waiting, this is a legit starter at the next level.
One evaluator around me went as far as to say in their mind he was the third best prospect in the Rangers system now. Were Hearn in the system before we began this exercise, he'd have almost certainly been ranked in the top five.
Which brings us back around to how we started. This is the nature of baseball; for every winter a spring and vice versa. Ragans will be healthy next year sometime, and he'll begin his journey back. While he does that, there's a good chance Hearn will be well along on his tour of three tiered cathedrals. The good news is, there's a chance the two will intersect. That Texas will have not one but two strong, controllable, lefty starting pitchers at the same time.
When that day comes, the true spring of baseball hope will be upon us.
Click below for more of our Top 15 Prospect List:
Is Hearn the top left-handed starter in the system or do you still believe that Ragans still holds that claim despite a season lost to the knife? Make your opinion heard on Twitter to Samuel @thesamuelhale.