SAN ANTONIO -- TCU star quarterback Trevone Boykin has been arrested after allegedly getting into a fight early Thursday at a bar in San Antonio, then hitting a patrol officer. In addition, Boykin has been suspended for the Horned Frogs' bowl game on Saturday against Oregon.
Boykin is charged with assaulting a public servant, including bodily injury. He has been released from the Bexar County Jail after posting a $5,000 bond.
"Clearly this was not an appropriate way to act," San Antonio police chief William McManus said Thursday morning. "He was being heckled, and he responded to it. Unfortunately."
According to the police report, Boykin was at Pat O'Brien's when police arrived. Officers were motioned to Boykin's vicinity by bar employees, signaling a problem. The bar employees were attempting to remove Boykin from the bar.
Boykin was allegedly fighting with bar employees, when police stepped in. Police separated Boykin and his group from the bar employees.
At this point in the proceedings, it appears cooler heads had prevailed, and the event had subsided. But then, according to one officer's report, Boykin again became agitated:
"[Boykin] was very aggressive and was being held back by the group that he was with. Members of his group stated they would get him back to the hotel they were staying at. [Boykin] then walked northbound on Losoya with the group as I turned to speak with bar employees. I then heard a comotion [sic] behind me and turned to see [Boykin] charging officers that arrived to assist." - pulled directly from police report
Boykin was allegedly swinging at an officer before several other officers took him to the ground. Chief McManus told the media Thursday morning that Boykin hit one officer in the face.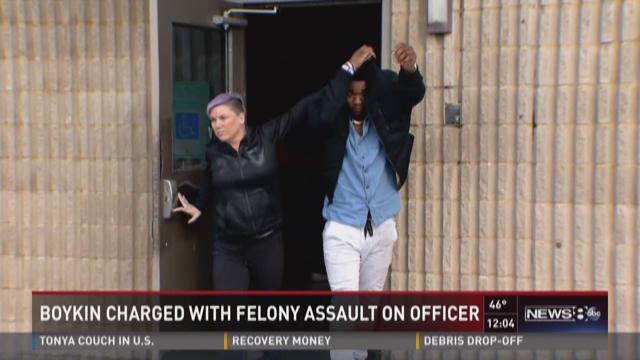 The altercation continued until an officer informed Boykin that he would use a Taser on him.
According to the police report, at that time Boykin was placed in the police wagon and taken into custody. The officer engaged with Boykin was treated by EMS.
"We attempted to reach the coach," McManus said, "But we were not able to reach him."
Instead, TCU head coach Gary Patterson released the following statement, suspending Boykin and teammate Preston Miller for Saturday's game:
"Trevone Boykin and Preston Miller have been suspended for Saturday's game due to a violation of team rules. We are disappointed in their actions and apologize to the TCU Horned Frogs Nation, Valero Alamo Bowl and city of San Antonio."
Boykin issued a written apology on Twitter later Thursday.