MILWAUKEE — The Cardinals-Brewers game scheduled for Friday afternoon has been postponed after two Cardinals players tested positive for the coronavirus.
The news was made official by the MLB Office of the Commissioner Friday afternoon.
"The rescheduling as a result of two positive COVID-19 tests in the Cardinals' organization is consistent with protocols to allow enough time for additional testing and contact tracing to be conducted," the news release states.
The game has been rescheduled to 1:10 p.m. CST Sunday as part of a traditional doubleheader. The teams are still planning on playing as scheduled at 6:10 p.m. CST Saturday.
"The St. Louis Cardinals learned late last night that two players have tested positive for COVID-19 in testing that was conducted on Wednesday, July 29, prior to their game against the Twins in Minneapolis," the statement reads.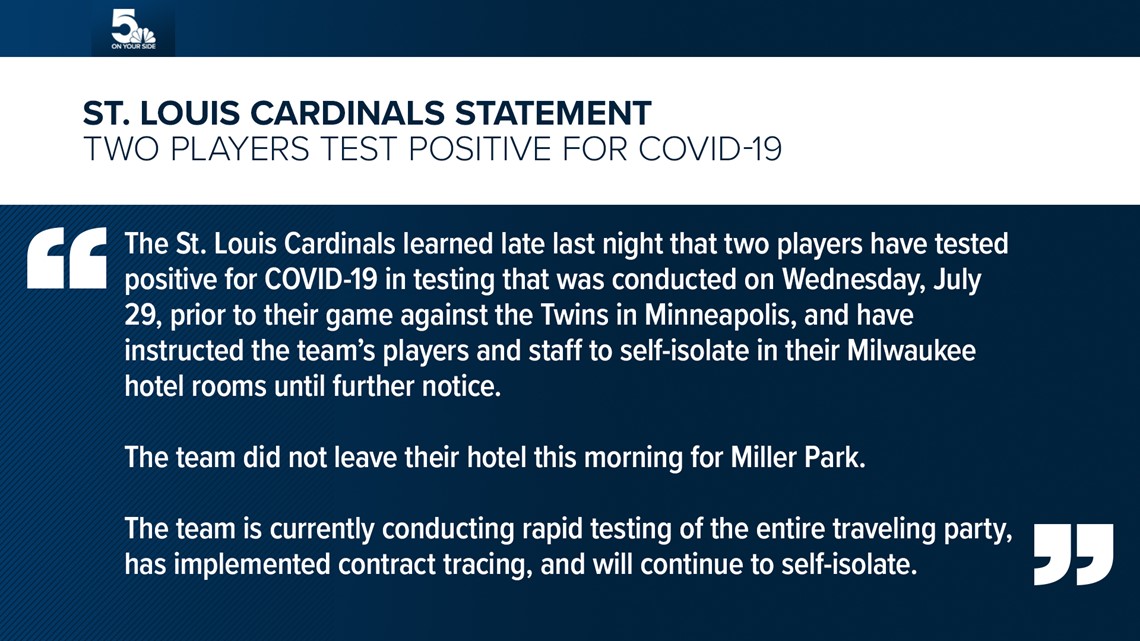 The team's players and staff members are self-isolating in their Milwaukee hotel rooms until further notice.
"The team is currently conducting rapid testing of the entire traveling party, has implemented contact tracing and will continue to self-isolate," the Cardinals said.
Friday's game was supposed to start at 1:10 p.m. CST. It was set to be the Brewer's home opener.
Two other games scheduled for Friday involving the Marlins, Nationals, Blue Jays and Phillies had already been postponed because of an outbreak among Miami players and two positive tests on Philadelphia's coaching staff.
The Associated Press contributed to this report.