It was after midnight by the time the game ended, thanks to a rain delay of more than two hours, which led to a 9:11pm first pitch. The Rangers had lost again, this time to the Astros, and with the loss, they fell 13 games back in the division. That one winning streak was fun, but it appears that designating Sam Dyson for assignment may just be the beginning of the goodbyes we will see as we watch this 2017 version of the Rangers. Enjoy 'em now while you can.
And about that word. "Enjoyment"...
We watch sports, in theory, because they give us some modicum of pleasant feelings in our lives, and when you expect a team to contend, it's hard to enjoy watching them lose repeatedly en route to not accomplishing that goal. So you have two choices: you can stop watching, or you can find other ways to enjoy the game; rescuing little nuggets of goodness from an otherwise unenjoyable loss.
Here are those three nuggets from tonight:
1. In the third inning, with runners on first and second and the count 0-2 to Carlos Correa, Robinson Chirinos tapped his glove emphatically on the ground as if to say "down here, bounce it. Down here! Bounce it!" tap tap tap. Then at the last second, he popped up, putting his glove at the uppermost limits of the strike zone. Darvish pumped in a fastball, and Correa swung and missed.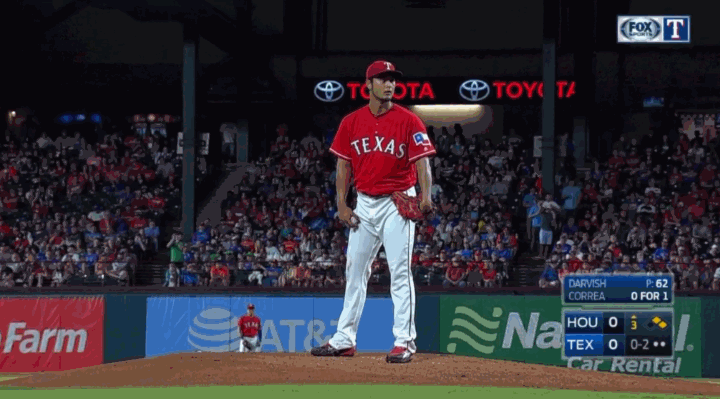 After the game, Chirinos confirmed that the Astros have a reputation of stealing signs from second base.
"Knowing when we played with Carlos Beltran here last year, the guys (on the Astros) steal signs like crazy on second base. That's why I was going to the mound every pitch, switching signs, making sure those guys wouldn't relay signs to the hitter. I think when we struck out Correa, we switched the signs just before he went to hit; if you see his swing, he was late because they thought we were trying the slider. (...) it's because they were relaying the wrong signs from second base. We knew that when we went to play in Houston, that's just something we have to do when we're playing Houston because we know those guys are relaying signs when they have a guy on second base. That's when I was moving in, going away, doing this (...) just to play with the guys on second base.
It's not the first accusation the Rangers have leveled at the Astros. Remember this?
2. In the sixth inning, George Springer struck out, and he was so mad that he did this.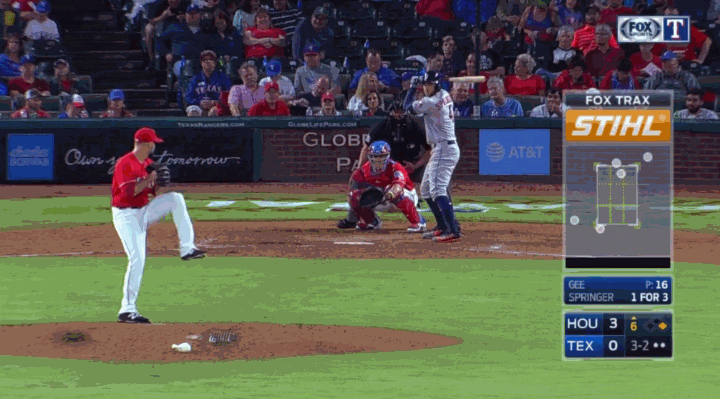 He was upset about the 3-0 pitch being called a strike, and he had a point: I once had a grifter in Los Angeles tell me that he had millions of dollars in a bank account, and was a long time friend of Mel Gibson's but that he had lost Mel's phone number, and could not find his account information, so the money was locked in a bank and irretrievable. That man's story made more sense than Ted Barrett's strike zone tonight. When your team is contending and every moment matters, that's super frustrating.
But when we set aside our expectations, we realize: tonight, we got to see George Springer lose his mind for a second, and that was great fun.
3. Adrian Beltre got two extra base hits tonight. The first one was a fourth-inning flyball down the right field line that Josh Reddick overran. It broke up what was at the time a Dallas Keuchel no-hitter, which made this move extra hilarious.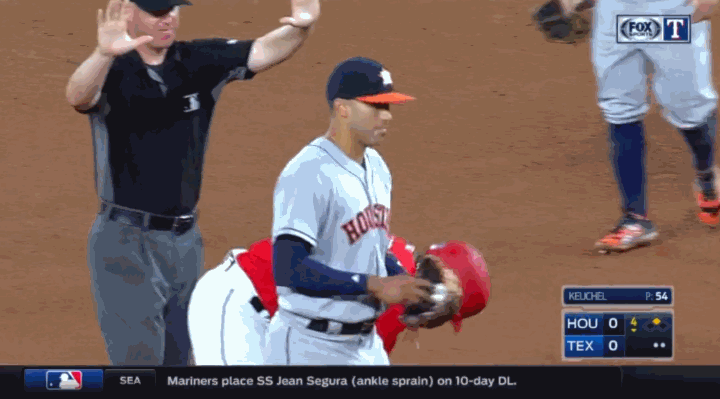 Sure, it was 7-0 when it happened, and–much like Beltre's arrival to the active roster this week–it was probably too late to rescue the thing, but hey: Adrian Beltre home run. Yay.
That was it for the enjoyment. I know this isn't a particularly informative game story, but it might ruin the little enjoyments if you looked up what Correa and Springer did later in the game.
It's going to be a long summer. Enjoy what you can.