Frisco— She pushes through a grueling training session on the tennis court. With every grunt and groundstroke, 16-year old Hadley Doyle lays the groundwork to reach her goal.

"I just think of the end result," she says. "Going to college getting a full ride scholarship somewhere. That's my overall goal and dream out of all this."

Hadley and her family have gone all in to give her the best shot to make it happen. Her dad, Danny, jokes that he may end up spending as much as a potential scholarship would be worth.

A year ago, Hadley enrolled full-time in the Lakes Tennis Academy. It meant opting for homeschooling, not to mention a 4-hour commute to the facility. Her mom Andrea says with a chuckle, it was, "great because she and I had a lot of time to talk." Andrea can laugh about it because now Hadley drives herself back and forth.

And, is she ever driven.
A typical day starts before dawn, lasts at least 10 hours, with up to 5 of those spent on the court. Add in school work, strength training, and conditioning and downtime is minimal.
And, that's just the week-day routine.
Most weekends mean tournaments. Andrea says Hadley usually competes in two or three tournaments a month.

"It's all day Saturday, all day Sunday, and a lot of times all day Monday," says Danny. The Doyles have fully committed in terms of time and money.

"There's a lot of kids out there competing for the same college scholarships as these kids are and they know it," says Hadley's coach, Greg Alexander. "They've got to be willing to run through a brick wall and you've got to have a parent that's going to let them." While everyone may not have available resources like the Doyles, Hadley's drive to earn a scholarship is shared by so many student-athletes.
The National Federation of High School Sports Associations says there are nearly eight million students playing high school sports each year.

Only about two percent of them will earn an athletic scholarship, though. With the rising cost of higher education, plus debt that lingers after college, the competition for scholarships has heated up even more.

So, which sports give you an edge in reaching signing day success?
Let's take a look at the best sports in terms of the ratio of high school athletes to college scholarships:

For boys, gymnasts have the best odds - one scholarship to every 20 athletes; fencers are not far behind. For football players, the ratio is 1-43 and 1-in-51 for golfers The odds even longer for other popular sports like basketball, baseball, and track and field.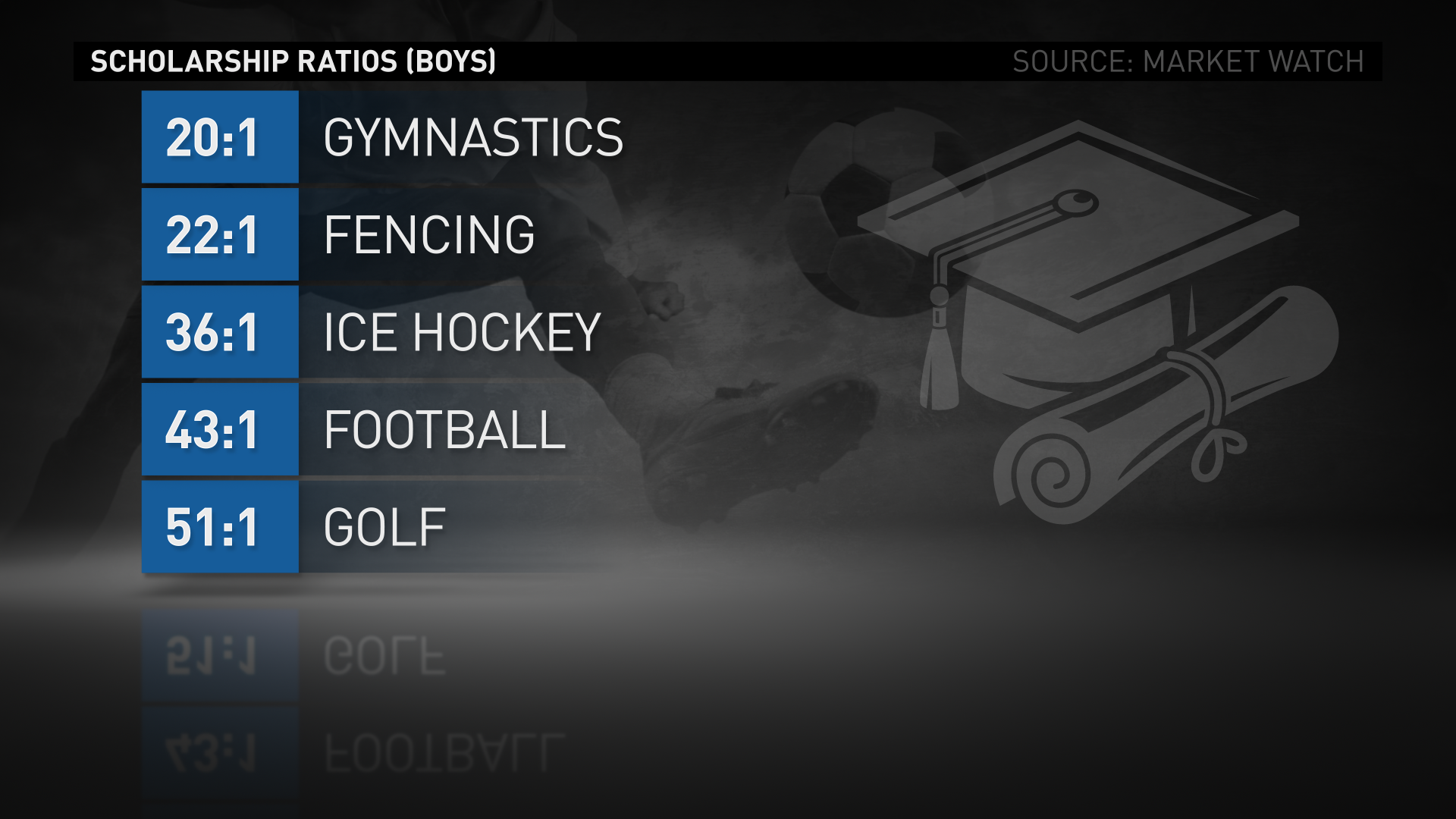 Rowing, equestrian, and rugby offer great chances for girls. Sports with greater participation rates, golf and gymnastics have the best odds at 24-to-1.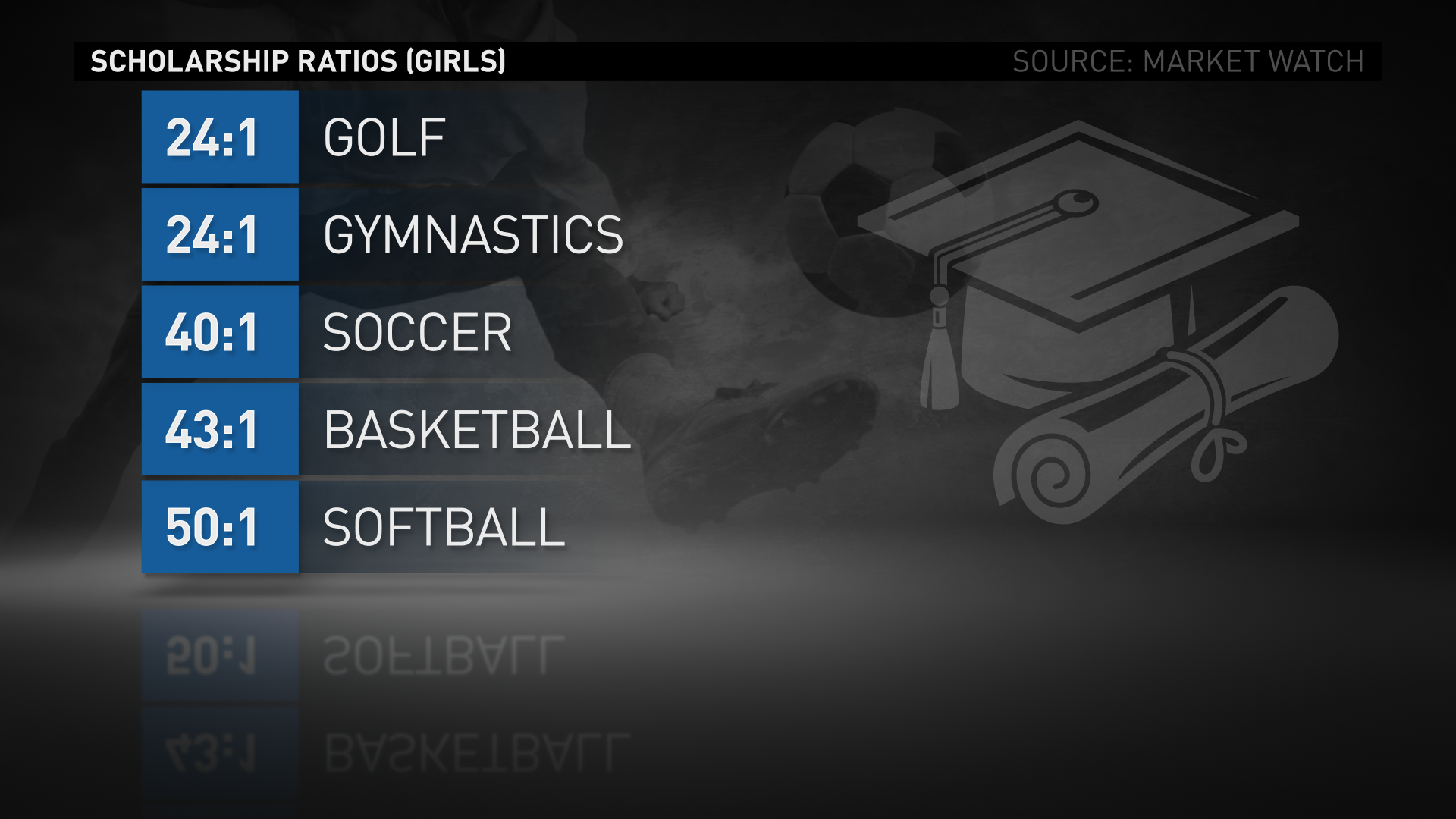 If your child isn't that five-star or blue-chip athlete, it's tough to navigate the maze that leads to landing a college scholarship, but there are steps parents can take to help beat the odds. Catherine Marrs has spent the last decade-and-a-half advising students on college admissions. The first thing parent should do, she says, is to create a game plan.

Here are some tips:

Make an honest assessment of your child's ability to see what type of schools and scholarships make sense.
Hit the books. It can't be stressed enough. All other things considered being equal, better grades break the tie.
Don't wait! Be proactive in terms of reaching out to several coaches.
Seek out influencers. These could be private coaches or others to help in development and relationship-building.
This last strategy comes with fair warning. "They [students] need to do their due diligence and they need to make sure they are good at what they do," says Marrs.
A trip to the NCAA's website is time well spent, too. While full-ride scholarships are available, they're not as common as you'd expect.

Landing a scholarship is a daunting task, but some 160,000 kids each year experience those unforgettable smiles by inking their scholarships on national signing day.

Meanwhile, Hadley continues to work on her game looking forward to what may come. Her parents say watching Hadley grow and develop in terms of the sport, as well as her personality, has made it all worthwhile.

"I dream about that day all the time," says Hadley. "My signing day, getting my offer, verbally committing, then signing. I'm so pumped about it."

And if you employ some of the strategies in this story, perhaps you can get pumped on signing day, too.