ATLANTA — Fourth of July is here, and that can only mean one thing in Atlanta - it's the return of the city's biggest July Fourth celebration!
This year was the Peachtree's 50th Running, and it was a special one.
60,000 runners plus thousands of supporters swarmed the heart of Atlanta for the world's largest 10K.
11Alive has put together this guide to help you quickly read everything you need to know about the race - from getting around to those sweet post-race deals - all in one spot.
For even more coverage of the AJC Peachtree Road Race, check out this page.
The 50th AJC Peachtree Road Race
What is the race course?
The race course stretches 10K - or 6.2 miles - from the start line to the finish line.
Runners took off from the intersection of Peachtree and Lenox, then it's just a straight shot from there until they run into 10th Street. Once you see that - it's the home stretch!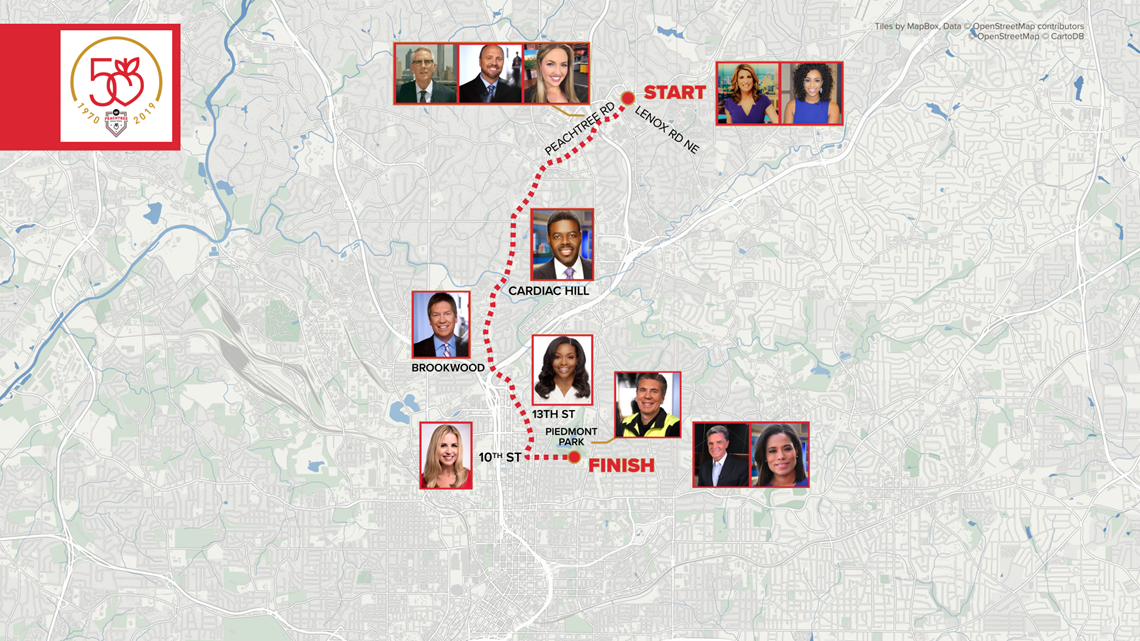 The finish line for the race sits near the intersection of Charles Allen Drive and 10th Street by Piedmont Park - and that's where you'll be able to say hello to some of the 11Alive talent! That's also where runners will get their coveted secret AJC Pechtree Road Race T-shirt.
What does the T-shirt look like?
The winner of the AJC Peachtree Road Race t-shirt has been announced. It will appear on more than 60,000 shirts handed out at the finish of the 50th running of the world's largest 10K.
The design called "Lucky Bib" by author Emily Giffin is the winner. Her shirt features a race bib commemorating the 50th running of the race.
How do I get there?
This will be the tricky part - as there are major road closures on race day.
Some streets around the race course begin closing as early as 3 a.m., including Peachtree Road near Lenox Square. Click here for a full list.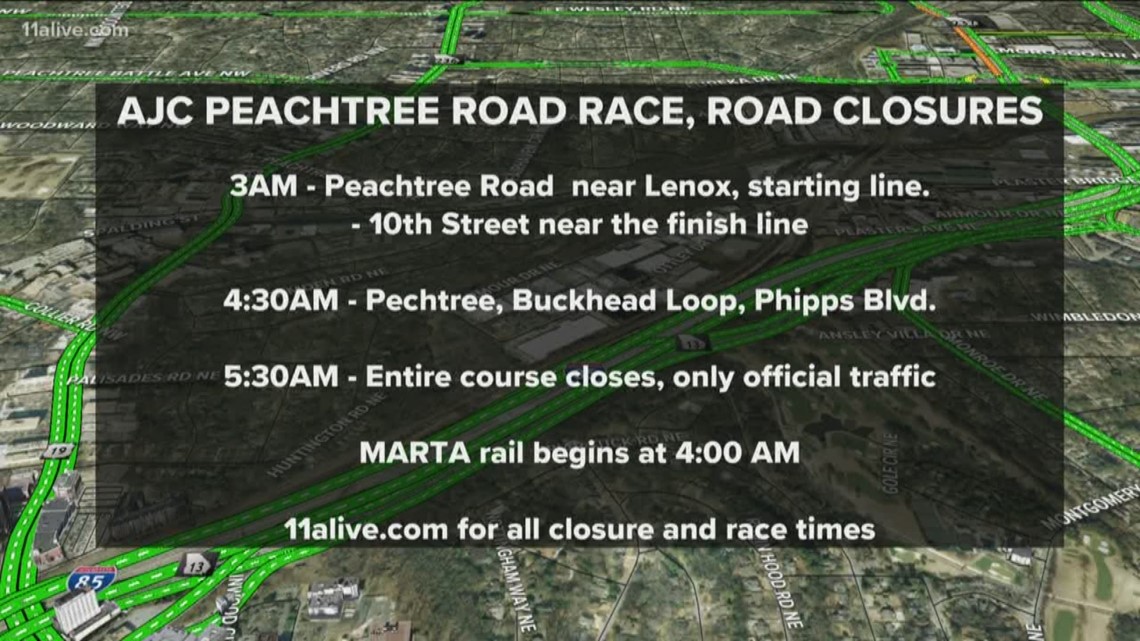 MARTA will likely be the best option for getting to and from the race. Trains began operating at 4 a.m. on race day, but there are modifications. Here's everything you need to know about taking MARTA for race day.
What will the weather be like?
The race began with a code yellow but ended in red.
Yellow means to use caution. But red indicated dangerous conditions.
As the morning went on, the heat and humidity increased as the cloud cover moved away.

What's the hashtag?
Easy! 11Alive is home for the AJC Peachtree Road Race, so get social with us and use the hashtag #Peachtree11 for all social media.
Anything else?
Runners can get access to sweet deals post-race. Most often, all you'll need to do is flash your bib. Check out this list of deals and specials in honor of the AJC Peachtree Road Race.
Aside from that, all that's left to do is HAVE FUN!