PONDICHERRY, India — Chithra lifts another heavy panful of concrete to her head, balances it on top, walks over to a wooden form, and pours it in. She and her village mates have endured the toil of bending, digging, lifting, and carrying for upwards of two and a half years.
But in a month or two, the 28-year-old mother of two and the rest of her community will have houses. For the last decade, she and the 75 others in this village near Pondicherry, fourteen hundred miles southeast of Delhi in southern India, have literally endured famine and pestilence living in grass huts.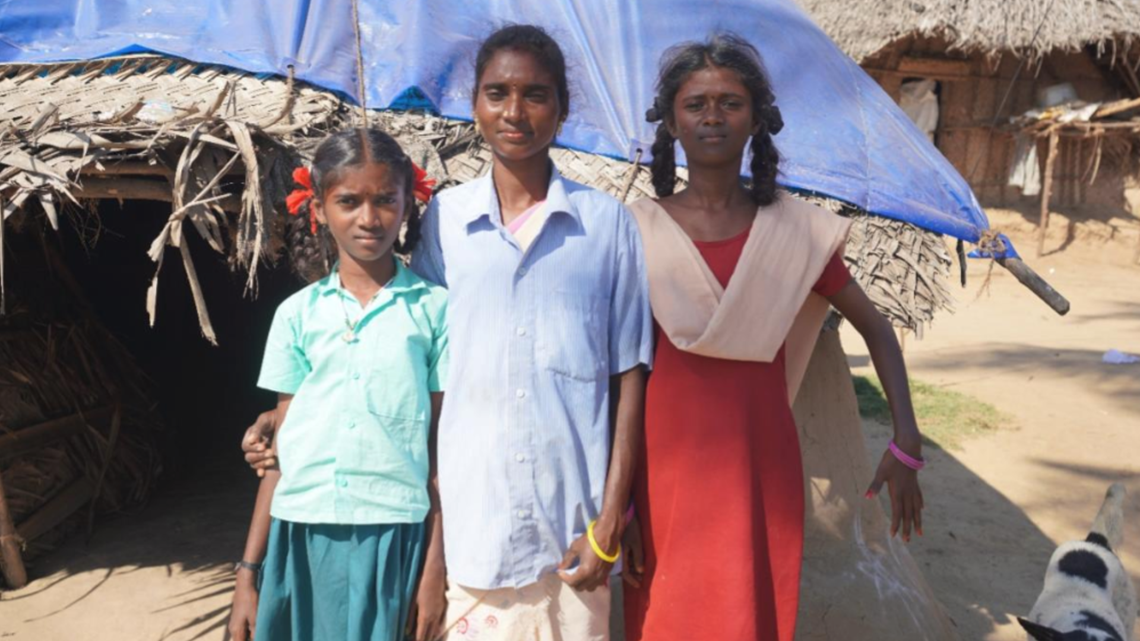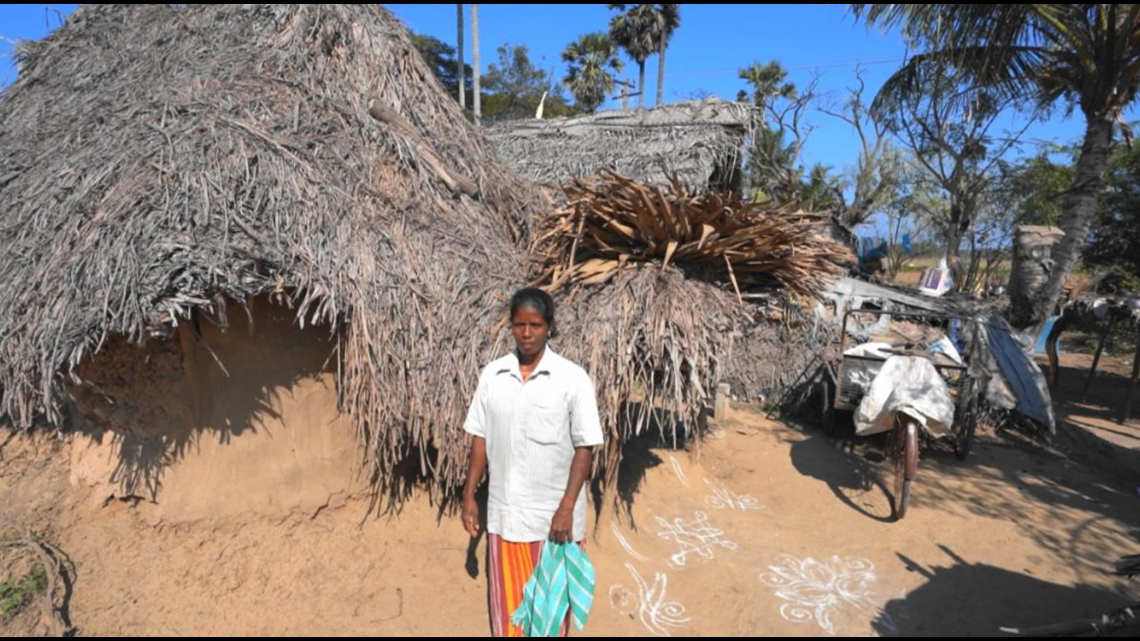 In 2015 their homes were swept away by a monsoon. They rebuilt using the customary mud, cow dung and palm thatch, but still, challenges most of us would consider insurmountable remained. The palm fronds they weave for roofs are home to spiders. And spiders are a favorite food of Indian red scorpions. About half as long as your index finger, the venom of an Indian red can put you in the hospital.
Hospitals are not an option here, because these people are "untouchables," members of India's lowest caste. They are shunned by other Indians, which lands them in this community, which, luckily for them, put them in the sights of Habitat for Humanity. Habitat, through its Global Village campaign, helps communities worldwide build themselves homes. Habitat provides funding. The communities provide about eighty per cent of the labor, and Habitat volunteers, from the U.S. and foreign countries, pitch in with working visits to job sites in seventy foreign countries. For five days, I and seven others from the U.S. and Canada were those volunteers.
The Pondicerry job site worked entirely on human power. The only machine was an electric disc saw, used to cut reinforcing bar. The rebar is needed to give structural stability to concrete -- concrete being the key factor -- because it can withstand monsoons. The floors are set on foundations three feet above the ground so the next time a monsoon comes it won't wash away the house.
But concrete means laboriously digging trenches, by hand. Mixing the concrete, by hand. Filling the trenches with concrete, by hand. Filling the foundation with dirt, by hand. The tools of choice here are the shovel, and the pan, a shallow metal saucer about two feet across, that can be passed one person to the next in a human chain, or put on one's head, full of dirt or concrete, to carry to the foundation.
For five days the volunteers worked aside the villagers, amazed at their endurance. We took breaks to keep from passing out in the humid Indian heat. The moms, as I'll call them, just kept going. We communicated via smile, gesture, and leadership. It takes a special kind of person to do this volunteer work. Stacy Maddox asked for the Global Village trip as a birthday present and her husband Keven obliged. Mina Parekh, now 68, was born in India in a house roughly the same size as we were building, about four hundred square feet.
Her daughter Megha, legal counsel for the Jacksonvile Jaguars, came to support her mom. Lisa Vagge was on her ninth global village venture. Janine Annett of British Columbia was taking a break from college. Our team leader Graham Robb had captained several Global Village trips previously.
But the villagers were the inspirational leaders. We were just trying to keep up with them. After lunches, provided by Habitat, the village got the leftover food, always received with the Hindu greeting of "Namaste," a slight bow and the pressing together of palms.
Three mothers, Chithra, 28, Shanthis, 35, and Sivagami, 35, will be the title holders of the last three homes in this twenty-two house community. Their husbands work in sugar cane fields nearby for about $2.50 a day, normally in ten to twenty day shifts. Rainy days can wipe a family out. Rain means no work. No work means no food. Rain also means staying inside a muddy thatched hut with the spiders and scorpions. "The huts leak during the rain," says Jason Lawrence of Habitat for Humanity, who is managing this project, one of several in India.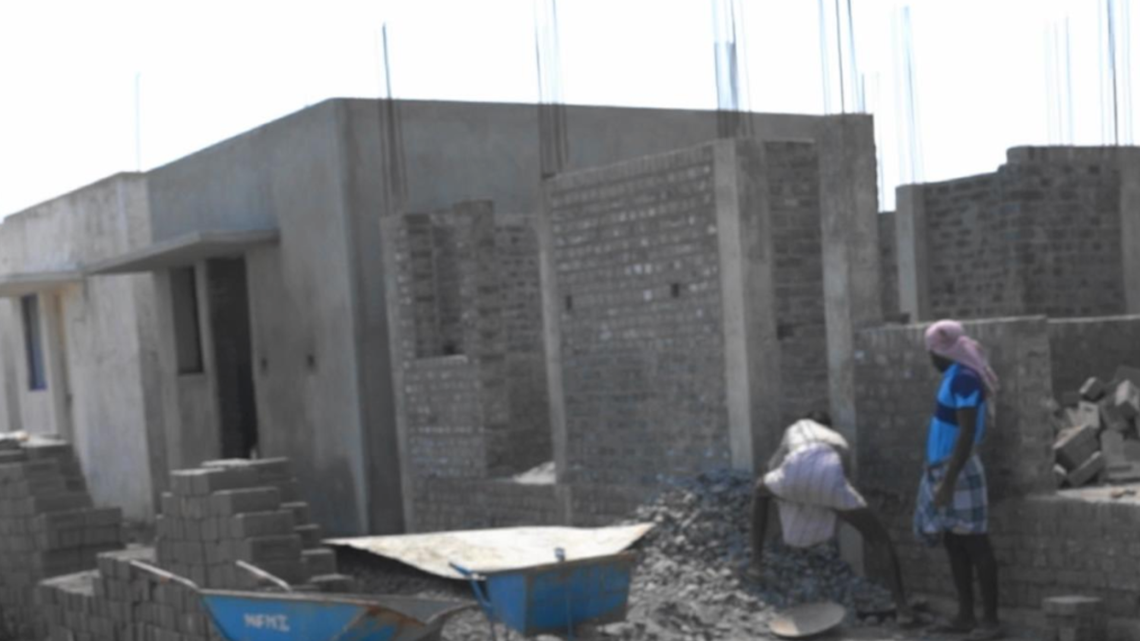 "They dream of sleeping on a cement floor. Every day is a big challenge to them," Lawrence says. "Their children get sick very often due to lack of hygiene, and they miss school, and their future is a question."
Even under these dismal conditions, one of Shanthi's daughters has made it to college in Pondicherry. Now with the luxury of a Kal Vitu, the word for stone house in the Tamil language, the possibilities are limitless.
"They will go to school and have their future," Lawrence says. "They will go to work and earn their living."