RHOME, Texas — An Air Force Reserve veteran is getting a helping hand from his fellow vets in Wise County after surgery to remove a brain tumor that he believes was sparked by his service to his country.
Martin "Chip" Kowalski, 62, has spent weeks in a hospital bed at Medical City Fort Worth.
He's a founding father of Rhome Veterans and is a self-employed IT specialist who fears his recovery time may limit his ability to work and pay his mortgage.
In May, Kowalski suddenly fell and broke his right shoulder. In June, he fell a second time and was taken to the hospital.
"That's when they found the tumor," Kowalski said.
The tumor ranged in size between 5 and 7 centimeters. It was removed June 26.
"I wasn't afraid of the surgery," Kowalski said. "I was afraid that I was going to end up under a bridge."
More than 1,900 veterans in Texas are currently homeless, according to the U.S. Interagency Council on Homelessness.
Kowalski worries he may add to that number.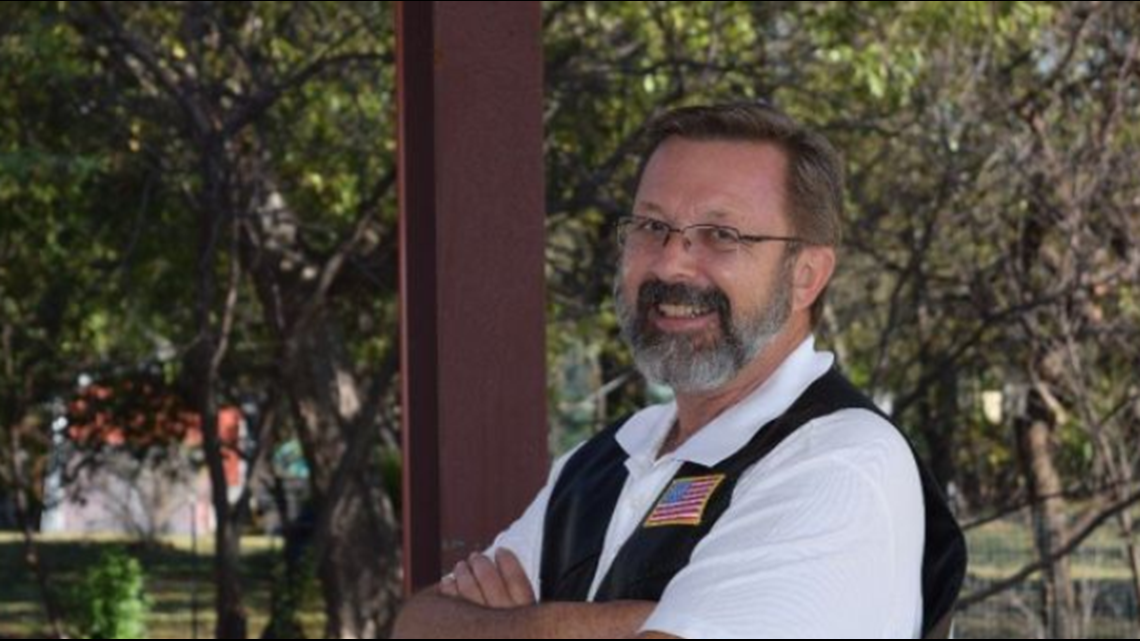 Agent Orange
Kowalski was in the Air Force Reserve Command from 1975 to 1986.
Following the Vietnam War, he worked on planes at Westover Air Reserve Base in Massachusetts that were used to spray Agent Orange.
Agent Orange was a tactical herbicide used during the war on trees and vegetation. Around 20 million gallons of different herbicides were sprayed during the war, and Agent Orange was the most common.
Since the war, it has been linked to a number of cancers and other diseases in veterans.
Around 2.8 million veterans were exposed to the dangerous chemical and later died when they returned home.
Kowalski is still waiting on pathology reports but believes the herbicide is linked to his tumor.
If anything, he wants other veterans who might have worked on the same planes as he did to be fully aware of the possibility.
"If it helps another veteran, then I need to do this interview," Kowalski said.
Long road to recovery
Kowalski has a long medical journey ahead of him.
He's waiting on an open bed at the Dallas VA Medical Center in Dallas so he can begin chemotherapy and radiation treatment to rid any residual cancer cells.
The average wait time there is around 20 days — which means Kowalski could be sidelined without income for weeks or months.
"There's no sick time for me," Kowalski said. "There's no getting paid while I'm here."
Kowalski's biggest concern is his mortgage. He pays around $1,100 a month for his house in Rhome.
He has already dipped into his savings but is afraid he won't have enough to pay his bills.
He's been able to stay afloat by dipping into his savings. But as of right now, he needs help.
Enter fellow Navy veteran Deborah Becraft, a co-founder of the Rhome Veterans organization.
"We just can't stand by and let this happen to another veteran," Becraft said. "If we don't help him, he will lose that home and he will be homeless."
Becraft and other veterans are donating to a GoFundMe to help Kowalski cover at least nine months of mortgage payments.
As of Monday, $1,465 has been raised toward the $10,000.
Kowalski appreciates every penny.
The veteran never saw combat and never fully understood the phrase "no man left behind" until now.
"It is a wonderful brotherhood," Kowalksi said. "I never realized how many people I've touched to the point where they're willing to help in that way."
The help, Becraft said, is something every veteran is wired to give.
"We're still under oath to protect this country and to take care of each other," she said.
More WFAA coverage: