Several VERIFY readers submitted questions about Facebook ads promoting free bathroom remodels or renovation grants, and wondered if the ads were scams.
David shared screenshots of a Facebook ad about grants for bathroom remodels, while Dianne asked about a "2023 bathroom replacement service." A third viewer asked about ads that say they're looking for 100 bathrooms to renovate for free.
THE QUESTION
Are Facebook ads for bathroom remodel grants legitimate?
THE SOURCES
Independent VERIFY analysis of the individual ads
THE ANSWER
No, Facebook ads for bathroom remodel grants aren't legitimate.
WHAT WE FOUND
The links in the various bathroom remodel grant ads on Facebook do not link to a government website or to the website of any other entity that offers legitimate grants. They are produced by digital marketing companies looking for clicks and personal data.
These ads go to one of two places. Some go to websites that try to get your personal information to show you "quotes" for bathroom remodel prices. Others go to suggested searches pages that, for the most part, refer visitors to search engines.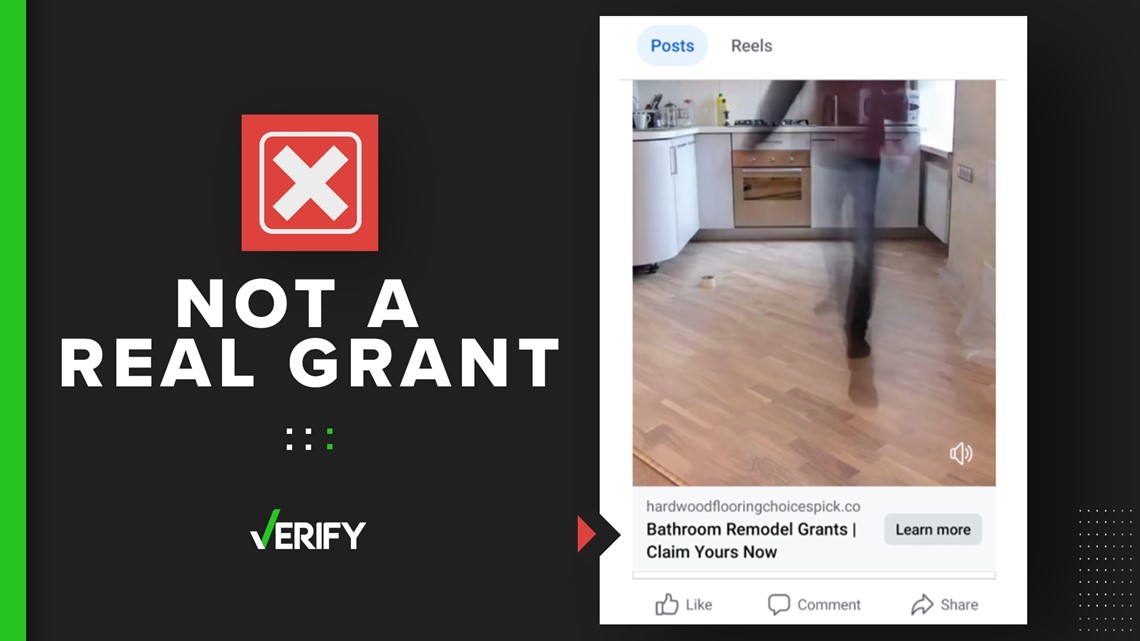 An example of the first type is the "looking for 200 homeowners" ad, which goes to a website called bathandshower.org. Bathandshower.org asks for personal information to "compare bathroom remodel prices." The site does not mention anything about grants.
According to bathandshower.org's website, it is owned by Quinstreet, Inc., a digital marketing company. Many people report being spammed by phone calls and emails after giving Quinstreet-owned websites their information, according to reviews and complaints from people on Quinstreet's Better Business Bureau (BBB) page.
The second type of ad, which leads to search results, also doesn't offer any information about grants.
The ad sent by David, for example, starts with six referral options. VERIFY selected the option for "Free Grants to Remodel My Bathroom." That gave VERIFY three more search options, and again VERIFY picked search results for "Get Grants to Remodel My Bathroom." That gave VERIFY a search engine's results page which didn't link to any webpages about bathroom remodel grants.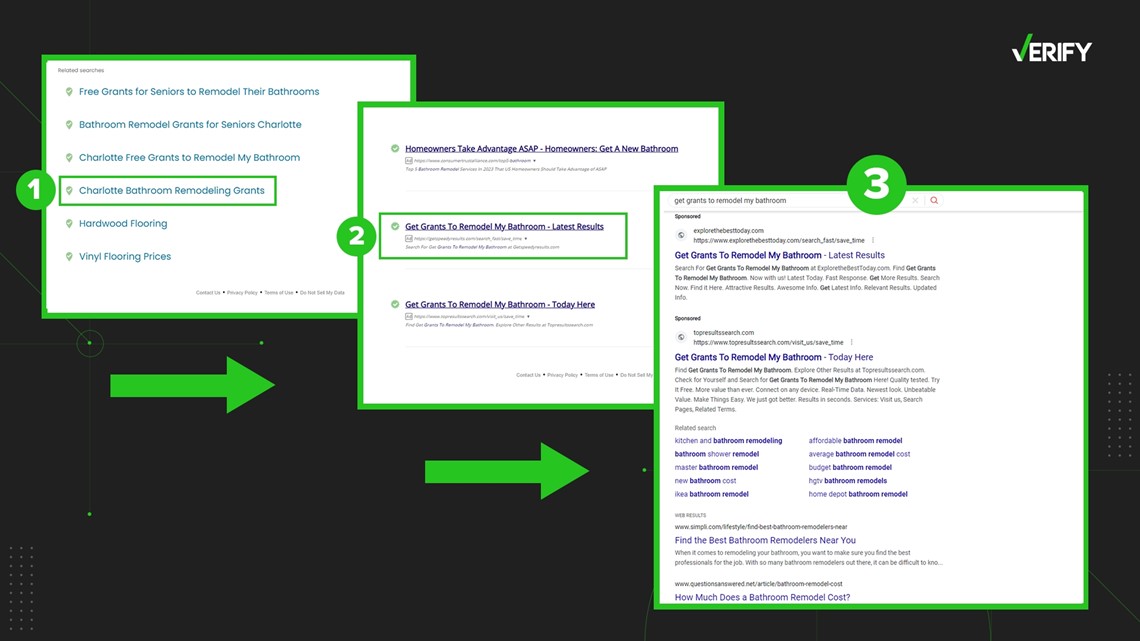 The terms of use for the suggested searches website begins by saying "this website is a market place" and the site "receives payment for each qualified potential customer referral." That means websites that appear in the search results are paying to bring their site clicks.
Many people click on these types of ads expecting no-strings-attached discounts or government-funded grants. But really, the advertisements are misleading marketing tools meant to attract customers and collect personal data.
USA.gov warns the federal government does not offer or promise people "free money," but instead offers "government benefits or loans" to help people with expenses. That means the government isn't going to try to lure you in with sensationalist, too-good-to-be-true promises.
A similar warning can also be found on USA.gov's page for government assistance programs to repair or renovate your home. It says the federal government doesn't offer "free money" to people to repair or improve their homes, and websites or ads that claim to offer "free money from the government" are often scams.
There are a few federal government assistance programs for home or bathroom remodels, but they typically target specific groups of people, specific kinds of homes or specific kinds of remodels. For example, one grant is for low-income homeowners 62 or older who own rural homes. The grant can only be used to remove health and safety hazards.
State and local governments typically attach similar strings to financial assistance, and more specifically grants, for home improvement projects. Non-profit organizations also typically have limitations for who and what they provide help for.
In general, don't give out your personal information to anyone you haven't verified is someone you trust, and especially don't give it out to anyone who baits your click with a misleading ad. The Federal Trade Commission (FTC), the U.S. Department of Health and Human Services and Grants.gov say that many scammers claiming to offer government grants will try to get you to hand over your financial information or Social Security number to drain your bank accounts or steal your identity.
You can read more about avoiding government grant scams in a previous VERIFY.