On March 20, several viral social media posts claimed that a highly drug-resistant fungal infection was spreading in the United States, and that it can cause death.
VERIFY viewer Gabriella recently sent a text to our team asking if these claims were true.
THE QUESTION
Is a drug-resistant fungal infection spreading in the U.S.?
THE SOURCES
THE ANSWER
Yes, a drug-resistant fungal infection is spreading rapidly in U.S. health care facilities. It was first reported in the U.S. in 2016.
Health experts say Candida auris fungus is generally not a threat to healthy people, but it poses a danger to individuals with weakened immune systems.
WHAT WE KNOW
Candida auris (C. auris), a highly drug-resistant yeast (type of fungus), has been spreading rapidly in U.S. health care facilities in recent years, according to a health alert issued by the CDC on March 20. C. auris has been detected in 35 states since it was first reported in the U.S. in 2016. The CDC says the "rapid rise and geographic spread of cases is concerning."
C. auris infection poses a danger to people with weakened immune systems, including those on ventilators, with lines and tubes that go into their bodies, who frequently stay in hospitals or nursing homes. The CDC and MedlinePlus say C. auris is generally not a threat to healthy people.
The CDC does not receive mortality information on C. auris, and there is no national database for C. auris mortality. However, based on information from a limited number of patients, the CDC says about 30% to 60% of people with C. auris infections have died. But the agency says many of those who died "had other serious illnesses that increased their risk of death."
"This is a bug that likes to be active in institutions of health care, whether they're nursing homes or hospitals, and it tends to prey on people who are already very ill," William Schaffner, M.D., told VERIFY. "It doesn't have the capacity or interest, if you will, in attacking people who are perfectly healthy."
C. auris was first discovered in Japan in 2009. The fungus has since spread to more than 30 countries, including the U.S. The first C. auris case in the U.S. was reported in 2016. However, a 2013 case was retrospectively identified later.
According to a recent CDC report, reported cases of C. auris have increased each year since it first emerged in the U.S., with the most rapid rise occurring between 2020 and 2021. The CDC says it has also continued to see an increase in case counts for 2022.
"The timing of this increase and findings from public health investigations suggest C. auris spread may have worsened due to strain on health care and public health systems during the COVID-19 pandemic," the CDC said.
C. auris case counts are provided by local and state health departments to the CDC every month. Since 2013, there have been 5,654 clinical cases and 13,163 screening cases of C. auris reported in the U.S. Clinical cases are defined as cases in which C. auris infection is present while screening cases are defined as cases in which the fungus is detected but not causing infection.
Nationwide data shows that clinical cases of C. auris rose from 476 in 2019 to 1,471 in 2021. That number increased in 2022 to 2,377 clinical cases and 5,754 screening cases.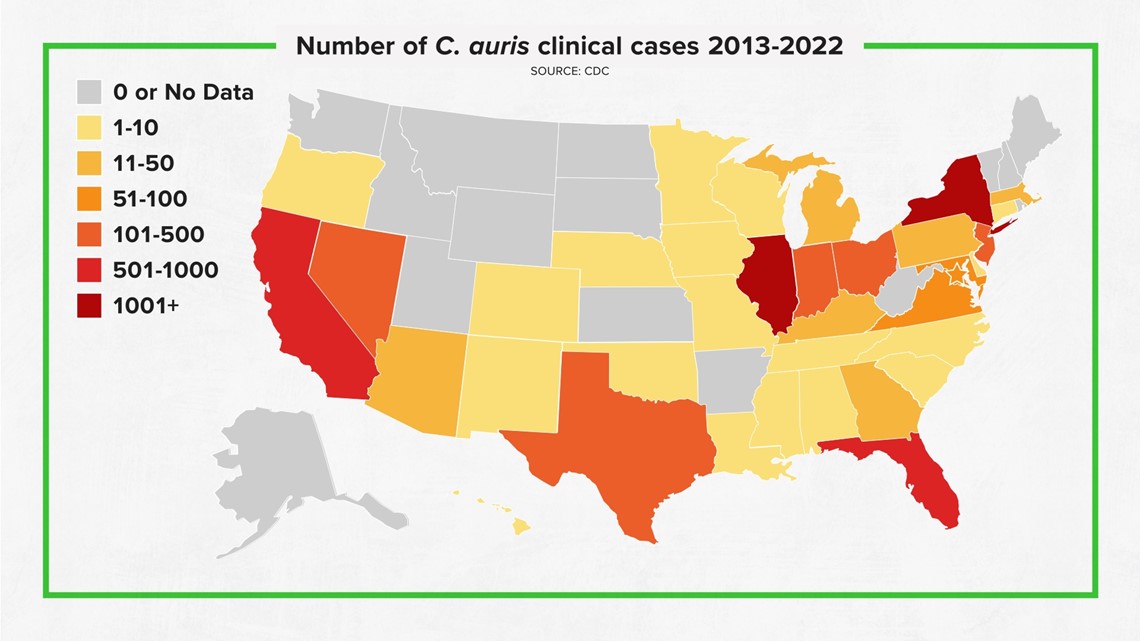 The CDC deems C. auris as an urgent antimicrobial resistance (AR) threat because it is often resistant to multiple antifungal drugs, it spreads easily in health care facilities and it can cause severe infections in very sick people, which could lead to potential fatalities. The World Health Organization (WHO), which released its first-ever list of health-threatening fungi in 2022, also identified C. auris as a global priority.
C. auris most often spreads from person to person or from contact with contaminated objects or equipment in health care facilities. According to the CDC, people who recently spent time in hospitals or nursing homes with breathing tubes, feeding tubes or central venous catheters seem to be at the highest risk for C. auris infection. Other risk factors include people who take antibiotic or antifungal medicines often or individuals who recently had surgery.
MedlinePlus says some people can carry C. auris on their bodies without it making them sick, which means they can easily spread the germ without knowing it. However, these people are still at risk of getting an infection from the fungus.
C. auris can cause bloodstream infections, wound infections and ear infections. It has also been isolated from respiratory and urine specimens, but the CDC says it is unclear if C. auris causes infections in the lungs or bladder. A C. auris infection is harder to identify than more common types of Candida, and special laboratory tests are needed to detect it.
The CDC says that most C. auris infections are treatable with echinocandins, a class of antifungal medications. However, some C. auris infections have been resistant to all antifungal medications, which makes them more difficult to treat.
There are ways to prevent the spread of C. auris, including practicing hand hygiene methods, such as washing your hands with soap and water or cleaning your hands with an alcohol-based hand sanitizer, especially before, during and after visits to hospitals, nursing homes or other health care facilities. The Environmental Protection Agency (EPA) also shares a list of disinfectant products that may be able to kill C. auris on surfaces on its website.
"It's very important to wash hands — the usual stuff we do for infection," said Mahmoud Ghannoum, Ph.D., the director of the Center for Medical Mycology at Case Western Reserve University. "And if you are in a hospital, it's very important for people to use gloves to ensure that they don't get the organism and spread it to other people."
If you suspect you may have a C. auris infection, you should contact a health care provider as soon as possible.