DALLAS — "I mean they have tons of different games here. You can play Xbox or Wii," said Evan Jurgensen, sounding like a tour guide.
"Over here is where kids can do crafts," he said.
Evan knows every inch of the Child Life Zone on the fifth floor of Children's Medical Center in Dallas.
You learn a place when you live there almost two years.
"I think of this as like my second home," he said.
Evan is 11 years old. He spent the better part of 24 months in the hospital battling and eventually beating cancer. Twice.
He vividly remembers a December day in 2016 when someone stopped in to visit — someone who said to call him "Uncle Dirk."
"He had to actually bend down almost all the way just to get through the doorway and walk into the room," Evan said with a smile. "I mean, I did laugh a little bit. It's a really tall door!"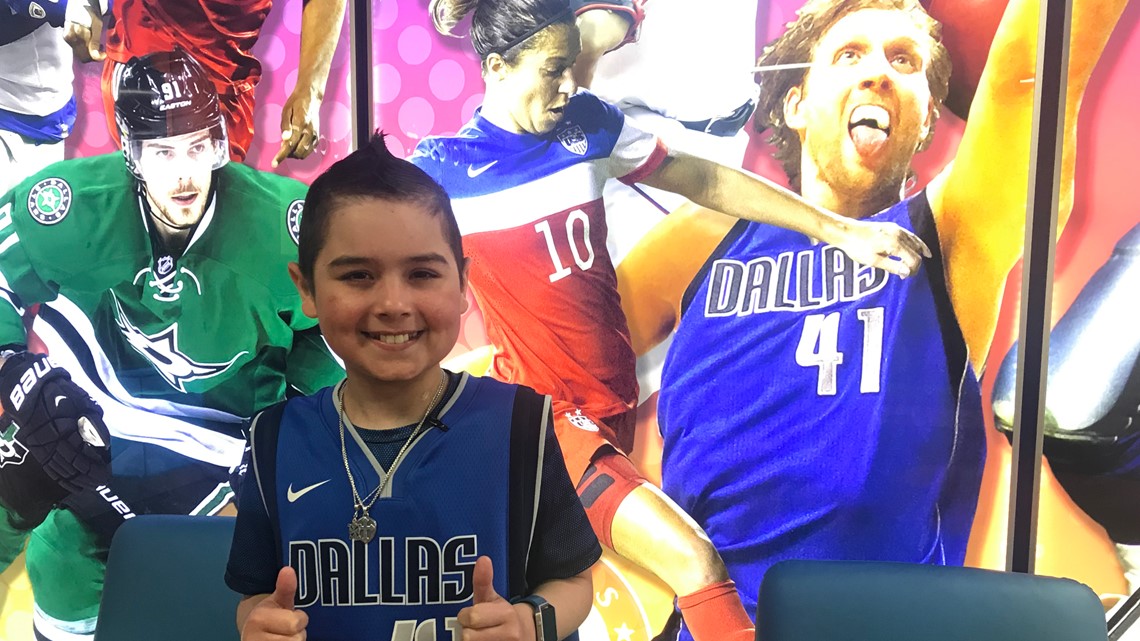 The 7-foot-tall Santa quietly comes to the hospital every Christmas.
Celebrity visits are common here, but no one does it like Dirk Nowitzki.
No entourage. No publicity allowed.
Nowitzki brings a photographer from the Dallas Mavericks so he and the families can have mementos. But, except for one rare occasion when The Dallas Morning News documented his visit, news cameras were never allowed.
"It's unheard of. Nobody does that," said Keri Kaiser, chief marketing officer and chief experience officer for Children's Health.
Keri is one of the few employees who have been able to watch the magic happen room after room, year after year, child after child.
"He shows up with such a whole heart," Kaiser said. "His empathy is amazing. He is humble. He is genuinely there to do whatever it takes to make that day better for that child and family."
Kaiser is responsible for marketing, but marketing is out the window when Nowitzki comes because he wants to visit in secrecy.
Instead, Kaiser often follows behind the basketball legend, pushing a laundry cart loaded with presents specially purchased for the patients he's planning to visit — patients selected by hospital staff. But he brings extra gifts for children he bumps into in the hall.
Kaiser said Nowitzki often plans to spend two hours, but usually ends up staying for five.
"Watching him when he does these visits is an absolute privilege," she said.
She admitted she woke up Tuesday feeling "incredibly emotional" at the thought of it being the day of his final game in Dallas.
"There's no one like him," she said. "I don't think this community understands the character of this man."
Evan cherishes the silver Beats headphones Nowitzki gave him during a visit he'll never forget. More than two years later, the headphones still look pristine — not a scratch.
"I mean, every time I always think of how I got them, every single time, I think of Dirk," he said.
Nowitzki's surprise visit to Evan's room came as a medical team was waiting in the hall to transport him to yet another painful surgery.
But Nowitzki has a way of forging deep personal connections that make even scared kids smile.
"If you have an extremely famous basketball player coming into your room, seeing you personally, it feels like a really, really big deal," Evan said. "Dirk Nowitzki has been one of my favorite basketball players and I like to think of him as like a friend."