The Satanic Temple is asserting its stance on corporal punishment in schools with a billboard put up in a small town northwest of Fort Worth.
Drivers headed down Route 199 in Springtown, Texas will now see a black billboard with a prominently-displayed message: "Never be hit in school again. Exercise your religious rights."
The billboard, paid for by the Satanic Temple, also lists The Satanic Temple's Protect Children Project website, the temple's online hub for promoting the "inviolability" of the body.
Placing the billboard in Springtown, about 25 miles outside of Fort Worth, is strategic. Springtown ISD still permits corporal punishment in its schools.
"Corporal punishment — spanking or paddling the student — may be used as a discipline management technique in accordance with the Student Code of Conduct and policy FO(LOCAL) in the district's policy manual," according to the Springtown ISD student handbook.
The issue really flared up in 2012, after a male assistant principal spanked two female students at Springtown High School.
In a press release Thursday, Satanic Temple spokesman Lucien Greaves said the district has received "some negative attention, but not enough, in the Temple's opinion" in the wake of the 2012 incident.
Greaves called Springtown a "barbaric backwater town" for its practice of corporal punishment in schools. He said in the release that the billboard should be "disturbing" to the city's residents.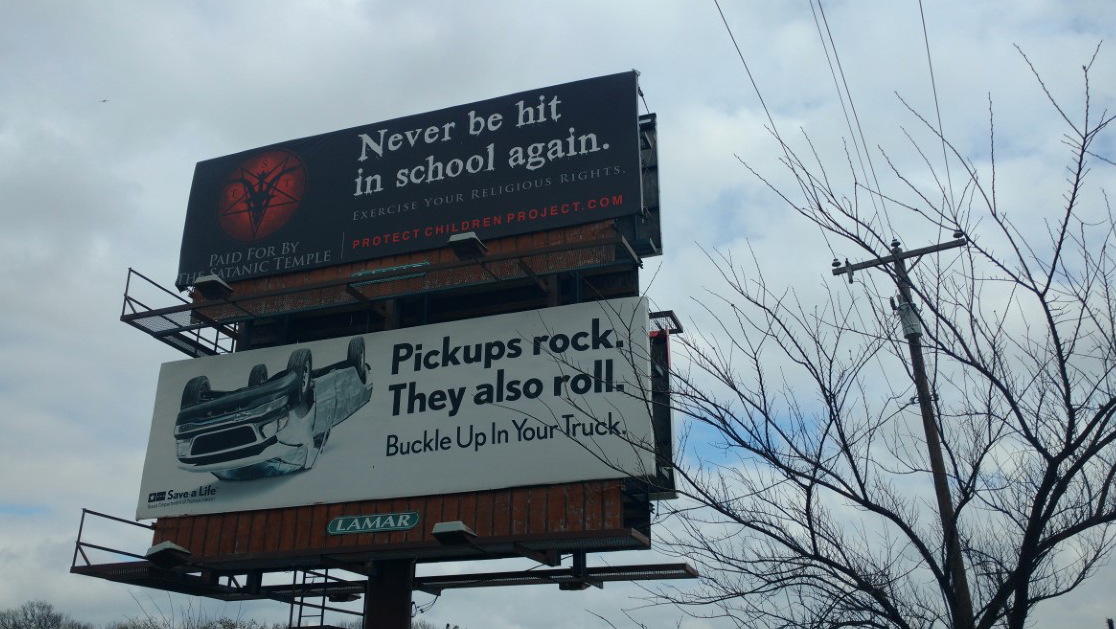 But Springtown ISD Superintendent Mike Kelley said the information put out on Thursday is misleading at best.
"We haven't practiced it in several years," said Kelley. "It's not a deal where parents can opt out, it's parents have to opt in. They have to sign a letter care requesting corporal punishment be utilized."
Kelley said administrators can also choose not to participate, and that all of the district's current staff use other disciplinary techniques.
"I had no idea these folks were interested in Springtown ISD," said Kelley, who noted the message was posted during the district's spring break week.
The group says its Protect Children Project website is the temple's online hub for promoting the "inviolability" of the body.
"The Protect Children Project utilizes the First Amendment to protect public school students from being subjected to corporal punishment, solitary confinement, physical restraints, and the deprivation of bathroom access as these abusive practices violate our religious belief of bodily inviolability," the site reads.
Students can register at the site, signing a form that says such harm is a violation of their beliefs. If a registered student then experiences corporal punishment, a letter will be sent on the student's behalf to the local board of education.
Texas is among 19 states that still allow corporal punishment, according to Business Insider. The Satanic Temple's press release claims 110,000 students experience it in schools each year. That number stood at 223,190 in 2008, according to a Human Rights Watch article that year that cited the U.S. Department of Education.
According to its website, The Satanic Temple does not worship Satan, but rather believes Satan is "symbolic of the eternal rebel." The group's stated mission is to "encourage benevolence and empathy among all people."