Finding the right nursing home is difficult, but a great tool is knowing what violations the government has found during inspections. But finding this information can be difficult. That's why we've made it easy for you. We compiled inspection data from the federal Centers for Medicare & Medicaid Services for nursing homes and made it searchable by facility name, or zip code if you want to check out several facilities in a geographic area.
(NOTE: SCROLL DOWN FOR A LEGEND EXPLAINING THE INSPECTION RECORD TYPES)
LEGEND: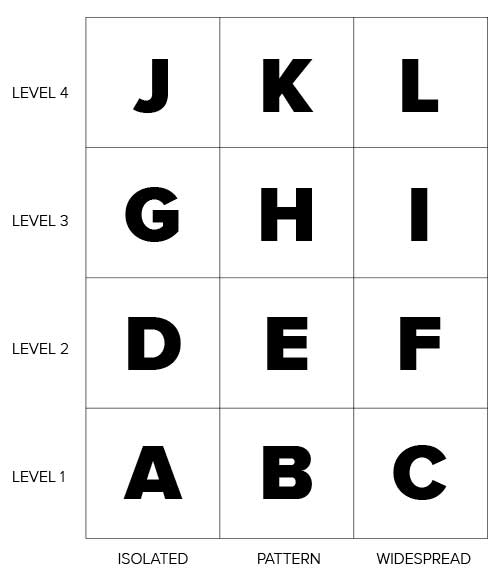 Legend Explanations:
LEVEL 1: Letters A, B, and C – means no actual harm to resident(s) occurred nor was there the potential to cause anything more than a minor negative impact on the residents.
LEVEL 2: Letters D, E, and F – means the violation the nursing home received did not cause actual harm but results in minimal discomfort to the resident or has the potential to cause harm. These are very common citations in nursing home surveys.
LEVEL 3: Letters G, H, and I – mean actual harm has occurred to nursing home resident(s).
LEVEL 4: Letters J, K, and L – represent immediate jeopardy, a situation in which immediate corrective action is necessary because the nursing home's violation has caused, or is likely to cause, serious injury, serious harm, impairment or death to a resident receiving care in the facility.

ISOLATED: meaning the problem affects a very small number of residents or a limited number of staff are involved or that the situation occurred only occasionally. A good rule of thumb for this isolated column is 3. If something affects 3 or less residents, it will usually be considered "Isolated."
PATTERN: meaning more than a few residents are affected, more than a limited number of staff are involved, or there are repeat occurences. The rule of thumb for this column is 75%. If a deficient practice affects more than 3 residents but less than 75% of the nursing home population, it generally will be considered a "Pattern."
WIDESPREAD: meaning the problem affects a large number of residents or there is a systemic failure in the facility. The rule of thumb here is if the deficient practice affects or has the potential to affect more than 75% of the nursing home's residents.

Vivamus integer non suscipit taciti mus etiam at primis tempor sagittis sit, euismod libero facilisi aptent elementum felis blandit cursus gravida sociis erat ante, eleifend lectus nullam dapibus netus feugiat curae curabitur est ad. Massa curae fringilla porttitor quam sollicitudin iaculis aptent leo ligula euismod dictumst, orci penatibus mauris eros etiam praesent erat volutpat posuere hac. Metus fringilla nec ullamcorper odio aliquam lacinia conubia mauris tempor, etiam ultricies proin quisque lectus sociis id tristique, integer phasellus taciti pretium adipiscing tortor sagittis ligula.