MCKINNEY, Texas — A Republican Texas House of Representatives candidate headed for a contentious May runoff was the focus of an investigation conducted by the Texas Rangers stemming from a February campaign sign-stealing allegation from his opponent.
The investigation is now being reviewed by a special prosecutor in Hopkins County to determine if any charges should be filed, WFAA has learned through the Texas Department of Public Safety.
The candidate in question is Frederick Frazier, a former McKinney council member and an active member of the Dallas Police Department assigned to the Marshal Fugitive Task Force.
WFAA has obtained part of the Rangers report on the case. It confirms Frazier was being investigated on allegations of impersonating a public servant and a potentially related theft.
Frazier has vehemently denied the allegation, and said that he's cooperating with the investigation.
The investigation was launched by the Rangers after Frazier's runoff opponent, Paul Chabot, filed a police report in McKinney following the theft of some of his campaign signs.
Chabot and Frazier are facing off in a May 24 runoff election for Texas House District 61 seat.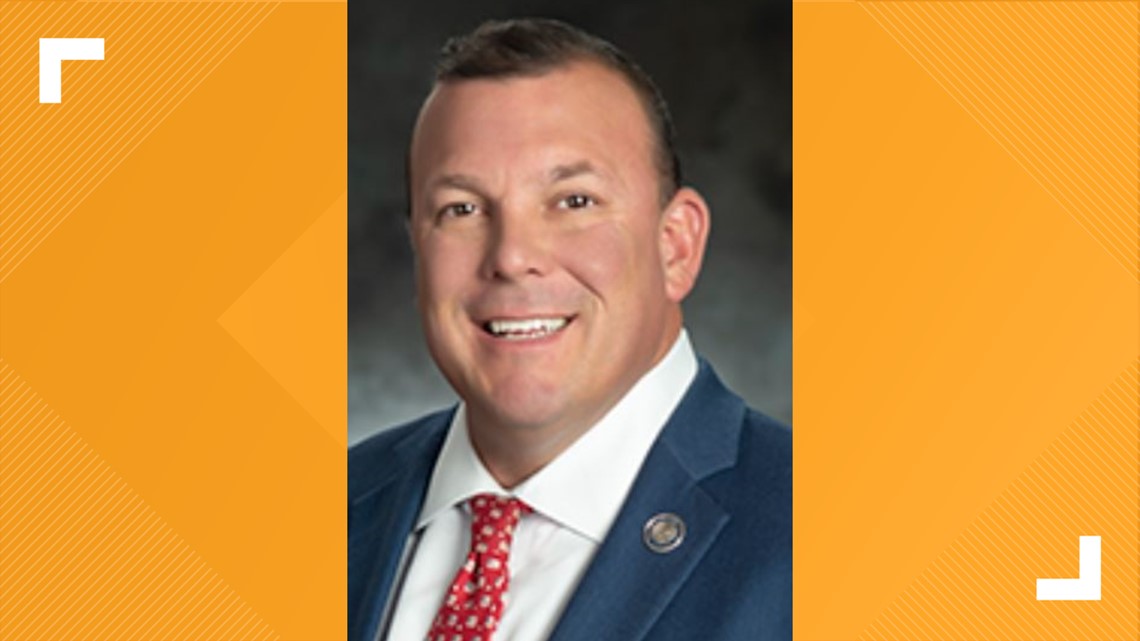 Chabot told WFAA he was surprised in December to receive a call from a manager of a Walmart located off of Virginia Parkway in McKinney.
The manager, per Chabot, said that someone had been in the store and, after identifying themselves as a code compliance officer with the City of McKinney, asked that Walmart call Chabot's camp to remove Chabot's campaign signs near the business because they were supposedly out of compliance.
Chabot told WFAA he believed his signs were in compliance, and that he went to McKinney City Hall to confirm as much with the city manager upon hearing the complaint.
"The city manager told me that no code compliance officer was ever sent to the Walmart, and said my signs were fine," Chabot said.
Two days later, Chabot said a four-foot-by-eight-foot campaign sign of his was stolen at the Walmart, at which point he proceeded to file a police report about the theft and the alleged code compliance officer.
Chabot said he was called by McKinney police in late January and was told the Texas Rangers were taking the case.
"This was pretty surprising," Chabot said. "It didn't seem right, but I also didn't know why they started investigating the issue."
Through a public records request, Chabot obtained the front page of the Rangers' report into the matter, which he shared with WFAA. (WFAA is working to independently obtain the entirety of the same report.)
Chabot told WFAA that Texas Ranger Lt. J. Rodney Odom interviewed him in Garland on February 1 as part of the investigation. Chabot also provided WFAA photographs of the meeting.
The front page of the Rangers report, which WFAA independently verified with DPS, has most of its contents blacked out aside from the synopsis of the investigation.
The report reads as follows: "On 2/4/2022, at the request of the Collin County District Attorney's Office, I was assigned an investigation for potential criminal violations by Texas State Representative District 61 candidate and former McKinney City Councilman, Frederick Frazier (Resigned 1/15/2022)."
It continues: "The alleged criminal violations were of Impersonating a Public Servant and potentially related Theft."
WFAA reached out to the Collin County District Attorney's office for more insight -- but Bill Wirskye, the county's first assistant district attorney, declined to comment on the case, saying his office does not comment on pending or potential investigations.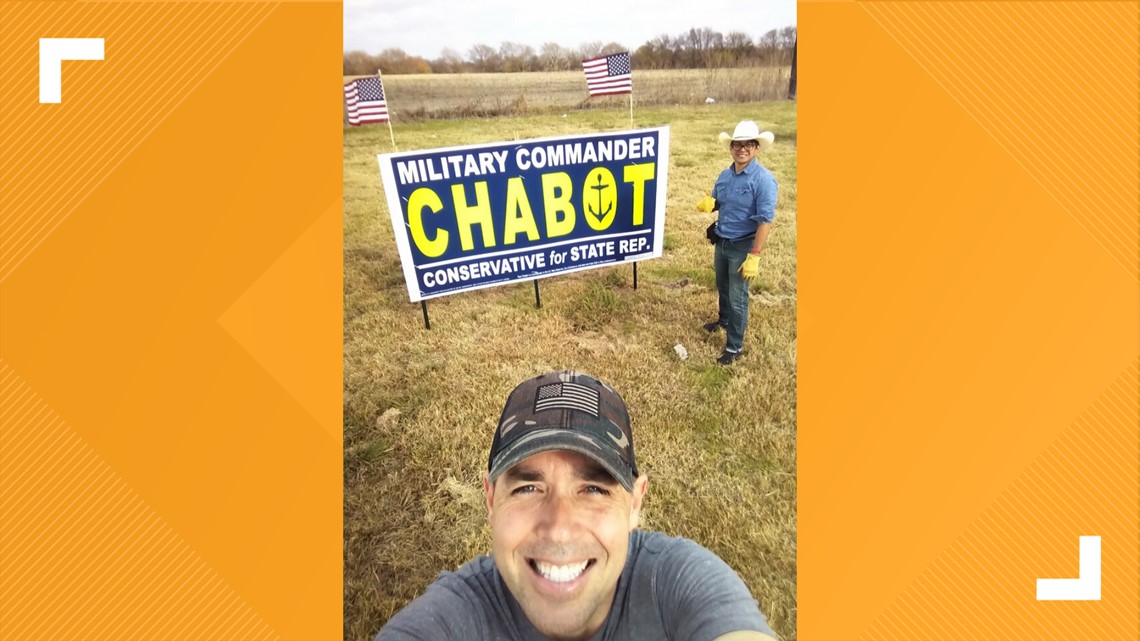 Chabot also provided emails to WFAA last week from the Collin County Civil Division Chief Debbie Harrison, which read in part, "…our office recused itself from this case, and a Special Prosecutor was appointed. The investigative file has been sent to the Special Prosecutor, and that would be the appropriate individual/office to contact regarding any records request. The Special Prosecutor is the District Attorney for the 8th Judicial District, Will Ramsay."
WFAA reached out to Ramsay for comment Thursday and is awaiting a response.
WFAA has also reached out to DPS for a general comment regarding the investigation. A spokesperson referred all questions to Ramsay.
On Tuesday, Frazier campaign spokesman Craig Murphy acknowledged that the campaign was aware of the investigation.
"No matter how frivolous Chabot's complaint is, they need to investigate because that's what you do," Murphy said. "You don't want a conflict of interest. Frazier is a former councilman, he's a cop. They don't want a conflict of interest."
"But," he added, "that doesn't give any credence to the issue. It's preposterous. There isn't any substance to it. Frazier will cooperate with the investigation."
WFAA also reached out to the Dallas Police Department regarding Frazier's status as an officer. Dallas officers under criminal investigation by law enforcement are generally placed on restricted duty or administrative leave.
The department told WFAA it wasn't made aware of the investigation by the Texas Rangers, the Collin County District Attorney's Office or by Frazier himself. Per the department's general orders, Frazier should have been required to inform DPD he was under investigation.
Frazier posted a tweet Wednesday about an operation he was working with DPD involving the arrest of an out-of-state fugitive. A spokesperson with DPD also confirmed to WFAA that Frazier is still currently an active member of the force.
Per sources, the department has not launched an internal investigation yet because it doesn't have any evidence relating to the ongoing criminal investigation.
House District 61 was previously known as House District 70. It makes up a large part of Collin County, including parts of McKinney and Frisco.
Frazier received 42 percent of the vote during March's primary election, while Chabot received 37 percent. A third candidate, Jim Herblin, didn't advance to the runoff after receiving 21 percent of the vote.
It's a tight GOP runoff, and Frazier and Chabot each have over two decades of law enforcement experience. Chabot also served as a naval intelligence officer with Joint Special Operations Forces in the Iraq War. Frazier, meanwhile, has been endorsed by President Donald Trump, Texas Gov. Greg Abbott and Texas Lt. Gov. Dan Patrick.
The Frazier campaign notes that Chabot has accused a previous campaign opponent of sign-stealing during a California campaign in 2016.
WFAA reached out to the Redlands Police Department for further comment on their investigation, but did not hear back as of the publishing of this article.
The Frazier camp told WFAA that accusing an opponent of sign-stealing is just an old part of Chabot's act.
Said Murphy: "This is a Hail Mary pass [from Chabot] — again."
Retorted Chabot when reach for a response on that comment out of Frazier camp: "That sounds like a campaign spiraling out of control."